Alert readers may have noticed that the hypothetical Wings list party is once again the talk of the steamie, with the usual suspects stamping their feet and pouting about it yet again on social media, in particular the firmly-ensconced SNP MP Pete Wishart and the worryingly obsessed former poll-analysis website WINGS OVER SCOTLAND IS BAD AND TERRIBLE AND STUART CAMPBELL SOMETIMES DOES SWEARS SO NOBODY WOULD EVER VOTE FOR HIM! Goes Pop.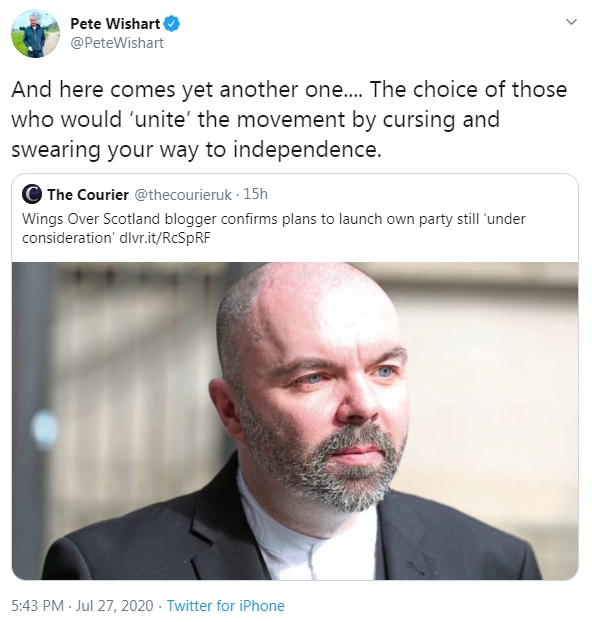 (We're not sure where this sudden outbreak of 18th-century Puritanism about Scottish people using colourful language has come from, to be honest. It seems the weirdest and least plausible grounds for objection imaginable in a country that's literally world-famous for its enthusiastic embrace of swearing, but *shrug*.)
The trigger was a bizarre piece in yesterday's Courier (also picked up by the National, the Evening Express and others). They phoned us last week ostensibly to talk about a new website set up by a bunch of loony Unionist zoomers who with amusingly ironic timing have named themselves "The Majority", and whether we thought they'd have any impact or be able to attract funding.
We chatted perfectly amiably to the reporter for several minutes on the subject, so we were quite surprised when the story that eventually appeared didn't contain a single mention of them, and instead was solely about the Wings party, which he'd also asked us a couple of "Oh, by the way, while I'm here"-type questions about.
So let's just clarify a couple of things for the record (again).