Pointing out the spectacular levels of imbecility among Scotland's elected Tories has threatened to become a full-time job for this website in recent months. We wish we could say that today's example was even a particularly noteworthy one, but tragically it's about par for the course.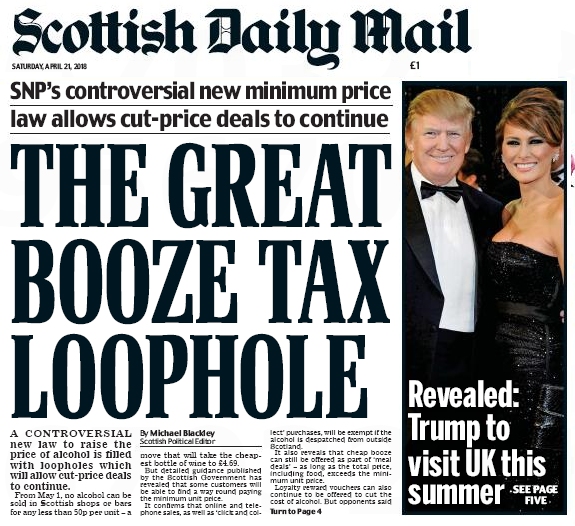 Today's Scottish Daily Mail leads with a rather limp piece about some fairly minor and unavoidable loopholes in the legislation for minimum alcohol pricing. It notes, for example, that if people order alcohol online and it's despatched by the supplier from outside Scotland, the Scottish Government will have no jurisdiction over the price.
(Because the UK has no internal border controls and there's no law against someone buying cheaper booze in England and bringing it home to Scotland.)
Retailers, of course, can easily block this loophole if they choose to, by refusing to deliver cheap alcohol purchases to Scottish addresses, so it's not much of a problem.
And the other "loopholes" aren't actually loopholes at all – one*, according to the Mail, is that "loyalty reward vouchers can also continue to be offered to cut the cost of alcohol", which is a bit like saying it's a "loophole" that employers could give people pay rises that they might use to buy more beer.
But if you thought THAT was stupid, Annie Wells MSP is here to raise the bar.