We're seriously starting to think there's some sort of competition going on among the Unionist parties of Scotland to see who's the thickest. We've spent quite a bit of time pointing out the scarcely-believable dimness of the Scottish Conservative benches, but this week Scottish Labour really pulled out the stops to try to seize back the initiative.
As a warm-up act they came out swinging with one of their big hitters (which for taste reasons we've expressed as rhyming slang) in the form of our dear old pal and former Edinburgh South CLP chair Duncan Hothersall – last seen attacking a six-year-old girl for selling 50p cups of lemonade to thirsty festivalgoers – who impressively contrived to badly lose an argument with a bridge.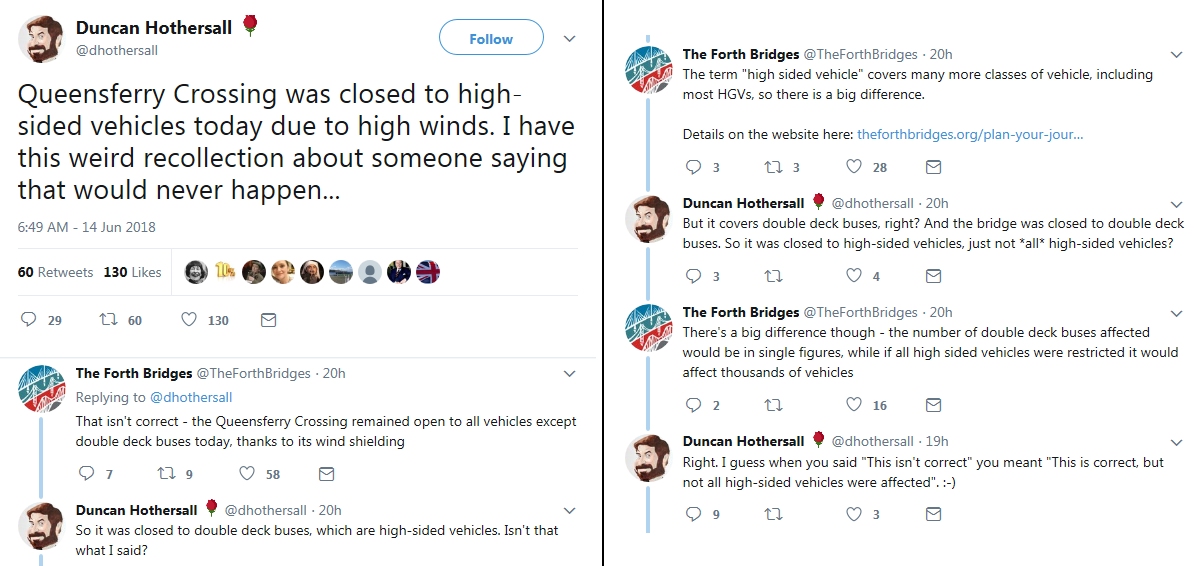 But hilarious as that was, it wasn't the high point by a distance.
And we don't even mean the conspiracy theory he tacked on: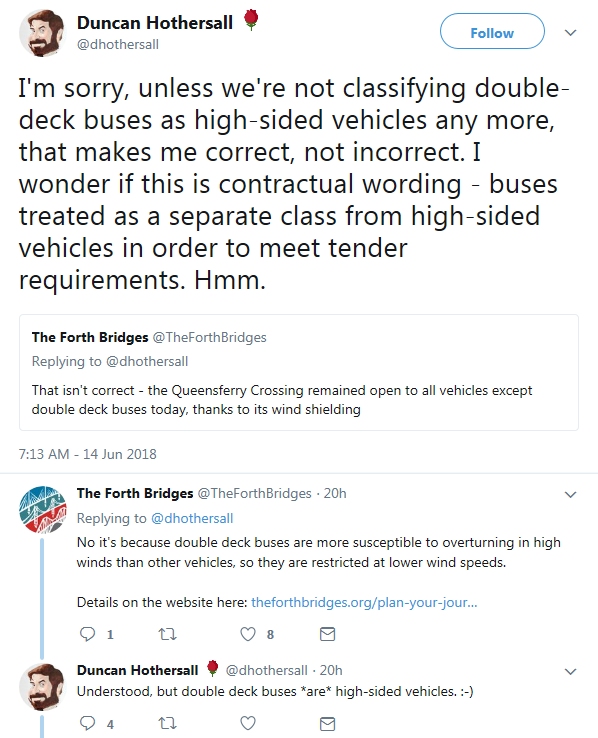 (In passing we should perhaps note that Hothersall's argument was both factually and logically fallacious. Firstly, it was never claimed by anyone that the bridge windshields would totally prevent closures, just mostly. And secondly, as numerous people pointed out, his reasoning could equally be used to say "buses are vehicles, so that means the bridge was closed to vehicles – just not ALL vehicles".)
Luckily for Dunc, though, there was no shortage of other volunteers in Scottish Labour to rush to the battlements of brainlessness and distract some attention from his embarrassment. Putting in a tireless shift was another old chum of Wings, and another stalwart of the party's Edinburgh cohort, Councillor Professor Doctor Scott Arthur:
First up, the slow-witted municipal seat-warmer fell for a bit of weak propaganda being put around by the Tories, namely that the SNP had left the "script" for their PMQs walkout on Wednesday behind them – despite the fact that the document was in reality their points of order from the previous night's EU debate.
Which could be easily missed, unless you spotted the words "EU WITHDRAWAL BILL – POINTS OF ORDER" printed in capital letters in a box right at the top of it.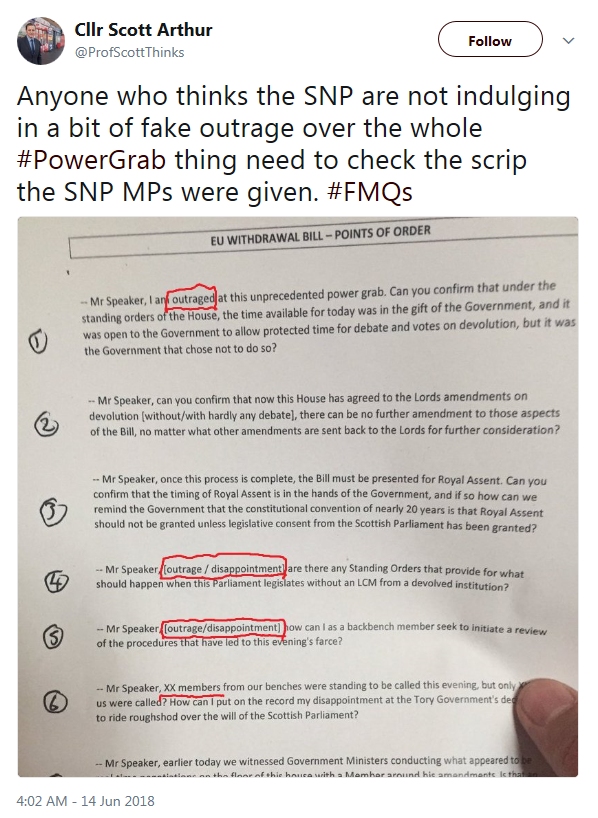 (As well as it referring to "this evening" rather than "this afternoon".)
But there could be no mistaking that Cllr Professor Doctor Scott was fuming about the SNP's walkout. First he raged that the party's MPs were "sheep" for following their leader out when he was ordered to leave the chamber.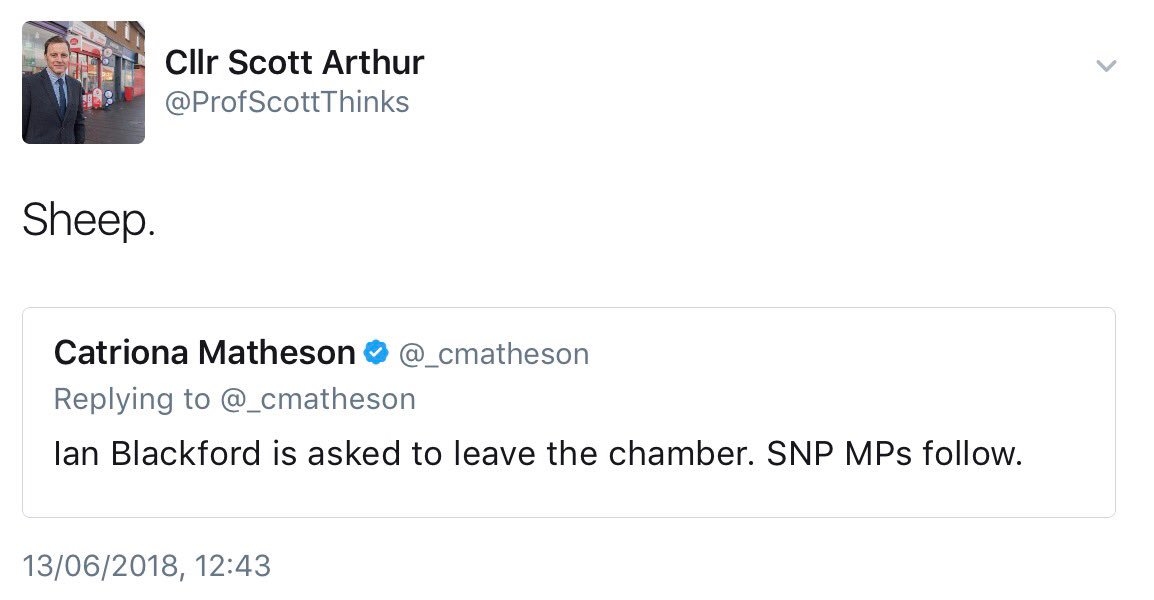 Which rapidly backfired when it was revealed that the SNP had merely been borrowing a tactic from Donald Dewar's Scottish Labour, and for the exact same reason.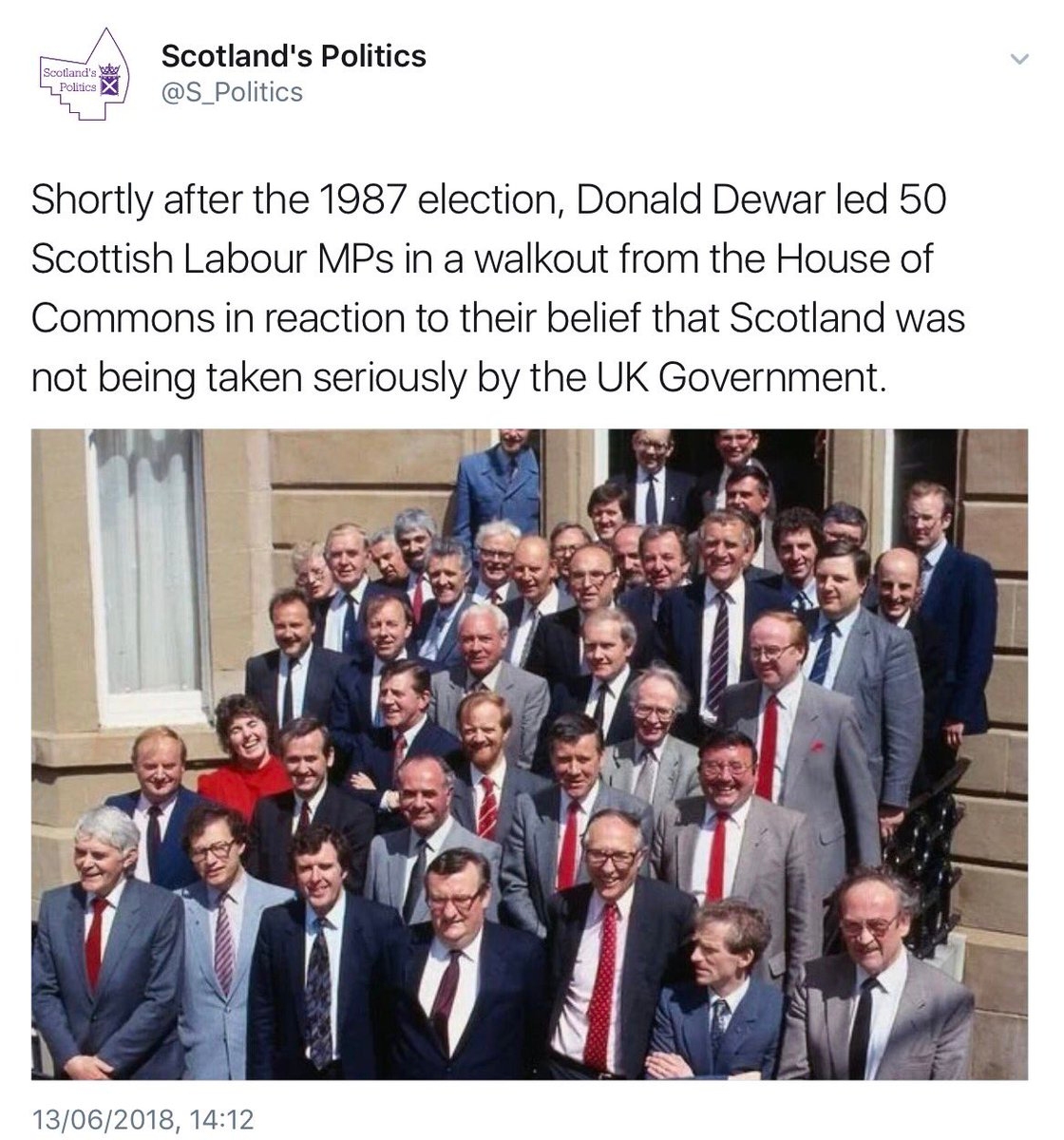 And his Twitter poll on the subject didn't pan out quite as he presumably hoped either.
But a true leader leads his party from the front, so Labour's Scottish branch office manager stepped up to the plate on Thursday with a trap question for Nicola Sturgeon about primary school testing, in which he asked her if she knew another name for a hummingbird's beak, a question which was apparently reducing the nation's five-year-old children to shattered, weeping, broken husks.
Except it turned out Leonard was being somewhat dishonest (yes, we're as surprised as you are), because he'd neglected to mention the fact that the question actually put to kids was non-hummingbird-specific, multiple-choice, and a none too tricky one, as journalists quickly pointed out.
But rather than quietly and hurriedly backing away after having the crude ploy exposed for the embarrassing attempted chicanery it was, Labour doubled down. Edinburgh MSP Daniel Johnson – expensively privately educated at Stewart's Melville College and a double graduate from both St Andrews and Strathclyde universities – proclaimed, inexplicably proudly, that this brainteaser was beyond his capabilities.
Which means, we can only assume from the data provided, that this 40-year-old man with two degrees genuinely thought people might refer to the pointy bit at the front of a bird's face as either its "skin" or its "body".
(Incidentally, other than results generated by yesterday's story, literally the second and third Google results for "hummingbird's beak alternative name" clearly identify the answer as "bill" even before you click on the links.)
Admirably, though, Johnson was determined to find out more.
Wait, HOW fast? 30kHz means 30,000 times a second. Which is a lot.
Hummingbirds are unquestionably amazing creatures, but if they really flapped their wings 30,000 times a second the tiny avians would vanish in a puff of smoke and feathers. The actual frequency is from 12 to 80 times, or 0.15% of Johnson's claim: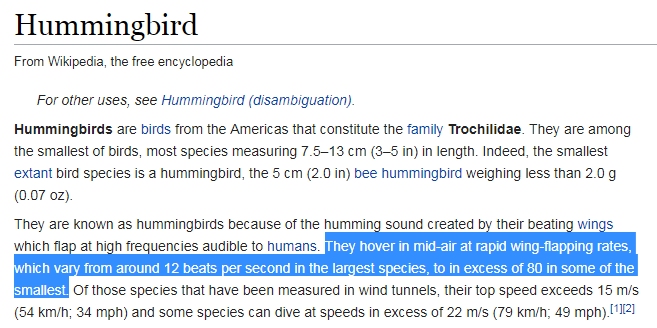 We suppose we shouldn't be shocked that the party whose top-team frontline talent comprises James Kelly, Jackie Baillie, Neil Findlay, Anas Sarwar and Iain "where would we get the money for an oil fund?" Gray is hapless, innumerate thickos all the way down. We're just looking forward to the Tories upping their game in response.
There are, we presume, prizes at stake.