We'll be honest with you here, readers – even though it's only July, when it comes to sheer ham-fisted, tin-eared, clown-shoed, foot-shooting idiocy we didn't think anything in Scottish politics in 2017 could possibly top the SNP's decision that the surefire way to win back voters after a poor election result was literally mutilating puppies.
After all, that's the sort of thing you say as a self-evidently ludicrous and hyperbolic joke: "Ha ha, the SNP are so dominant in Scotland these days that the only way they could lose an election would be if Nicola Sturgeon went on telly and started hacking the tails off week-old puppy-dogs without anaesthetic! LOL!!!!!"
It couldn't even be defended as a grotesque but cynically cunning attempt to win votes from the rural hunting-and-fishing lobby – they did it right AFTER the election, when all those people had just gone out and voted Tory anyway.
But bless their hearts, Scottish Labour never once saw a low bar that they didn't try to slither under, and today they pulled off the seemingly impossible.
They didn't just jump straight in, though – they warmed up first. The Scottish Labour Campaign For Socialism, a left-wing faction convened by list MSP Neil Findlay, had put out a press release this morning in which they came to the conclusion that Scottish Labour's ineptitude had held back the UK party in June's election.
The only startling thing about that blindingly obvious, logical and sensible deduction was that anyone in Scottish Labour had had the wit and self-awareness to spot it. Sure enough, it was only a matter of hours before Findlay himself interrupted his holiday to angrily disassociate himself from the least stupid thing he'd ever said.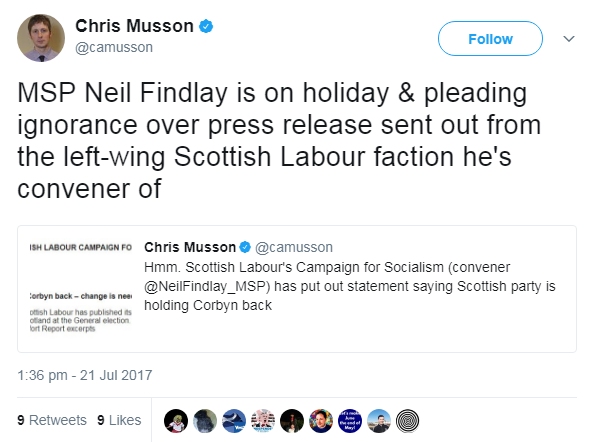 But those were just the stretching exercises. The headline act was still to come.
Most of the press had earlier reported the stupefyingly cretinous decision made by four London trading standards officers last weekend to hand a £150 fixed penalty notice to a five-year-old girl who'd been selling homemade lemonade for 50p a cup from a little table in the street near her house to people going to a local music festival.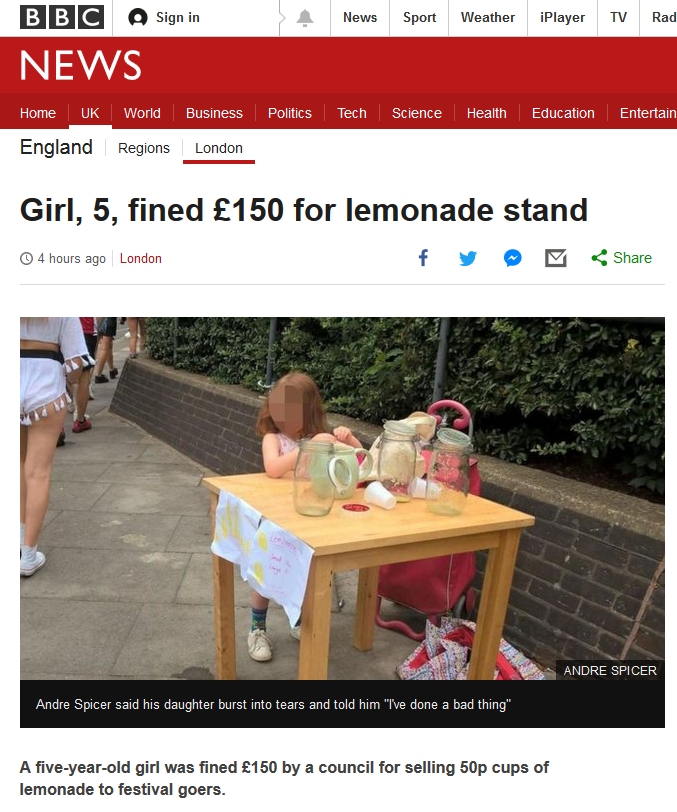 The story even made CBS in America, where children having lemonade stands is an icon of culture as big as Oor Wullie's bucket, conkers and scrumping apples (WHICH IS OF COURSE THE SERIOUS CRIME OF THEFT) are on this side of the Atlantic.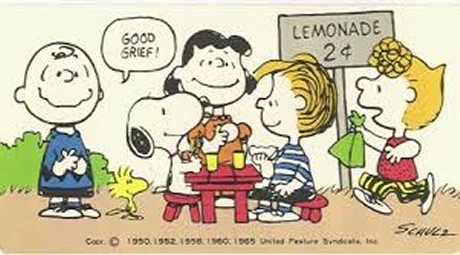 When the news got out a rightly-embarrassed council quickly cancelled the fine and apologised, but the damage was done. The little girl, who'd been terrified and reduced to tears by the heavy-handed attitude of the enforcement officers, said she didn't want to do it again because she was too scared.
And you'd think that'd be the end of a needlessly miserable story of jobsworth morons. But at that point entered our dear old pal, Scottish Labour activist Duncan Hothersall.
We read the article FOUR times to make sure we weren't missing some cleverly arch and ironic joke. But we weren't. It really was advocating fining five-year-old girls a year and a half's pocket money for selling refreshing drinks to passers-by on a hot day.
The main justification – and remember, we're not making this up – was that the little girl was a danger to public health, and also that she might be evading tax:
Never mind that it's pretty hard to poison anyone with lemon juice, sugar and water in a paper cup. And never mind that the council accepted that the officers were in the wrong and in breach of the most staggeringly obvious application of common sense imaginable. By God there was an IMPORTANT SOCIALIST PRINCIPLE at stake here, and Hothersall wasn't about to side with an ENEMY OF THE STATE.
But then the Morningside Mussolini told us what was really on his mind.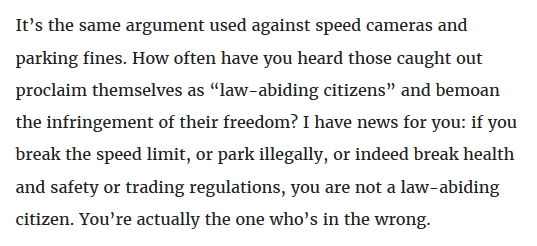 And that was an example your humble editor could relate to personally, so indulge me for a few paragraphs in an anecdote.
The last time I got a speeding ticket, many years ago now (and one of only two in over 30 years of driving), I was heading home from a poker game at 2am. I went through a camera at 41mph in a non-residential industrial and retail estate with a 30mph limit, with not a single other car on the road.
Now, speed cameras are there for a reason. Going too fast through what in daylight hours is a busy traffic bottleneck with shoppers, McDonalds customers and teenage children from a nearby school absent-mindedly wandering into the road while staring at their phones is a reckless and dangerous act. But at an empty, brightly-lit junction at two in the morning – with not a living soul either on wheels or on foot to be seen – it's a different story, and plainly isn't a risk or even an inconvenience to anyone.
Conversely, around the same period, coming home from another game at a similar hour one damp winter evening I got caught in the worst fog I've ever seen in my life, high up in the hills surrounding Bath. I literally couldn't see a foot in front of the car's bonnet and was crawling along at 7 or 8 mph, but even then still bumping up onto the grass verge from time to time. The only thing justifying moving at all was that being stationary would probably have been even more dangerous to other road users.
Suddenly another car came what felt like hurtling past me from behind on the single carriageway – in reality doing what was probably no more than 30 mph in a 40 limit, but nevertheless absolutely insanely excessive for the horrendous conditions.
The driver of that car wasn't breaking the law, but if they didn't kill themselves and/or others it was by miraculous luck rather than judgement. (If they ended up wrapped around a tree or dead in a ditch 50 yards further on – and frankly I hope they did – I'd never have known about it, because you couldn't see two feet to the side either.)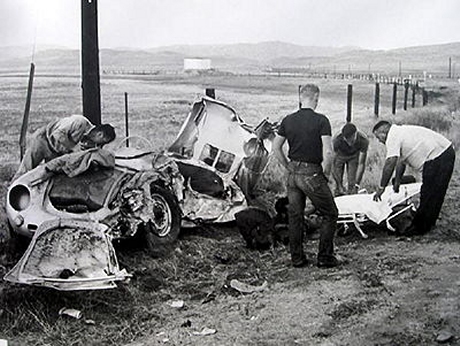 There's a pretty obvious point to this. If the fog driver didn't die they got off scot-free. Meanwhile, having – unlike them – endangered absolutely nobody I'd found myself in front of a magistrate, who exercised no more common sense than the Tower Hamlets enforcement officers and fined me money that at the time I seriously couldn't afford, along with three penalty points that could have made the difference between someone being able to get (or keep) a job and not.
And of course that was technically nobody's fault but my own. I was bang to rights breaking the law. But justice that takes no account of common sense is no justice at all, and I was raging that something so spitefully, pointlessly, vindictively unjust could happen to somebody who'd hurt no-one. (I liked to dramatise.)
I held the system in contempt for not being able to look at the merits of a case and say "Look, you shouldn't speed but in circumstances like these a warning is enough". I was bitter that money I needed for food was being taken away, and I was furious that the administrative costs of punishing me for doing no harm almost certainly outweighed the fine. I was angry that police and court time had been wasted when proper criminals were walking free and the courts all have huge backlogs, and all the other clichés.
The only tangible product of the entire process, in other words, was the creation of a grudge. And I got over it after a while. But for someone else it could have been the straw that broke the camel's back. And even if it wasn't, it had only a negative impact, because pretty much everyone hates being treated like an idiot who can't be trusted to make adult decisions like how fast it's safe to drive on a straight empty road.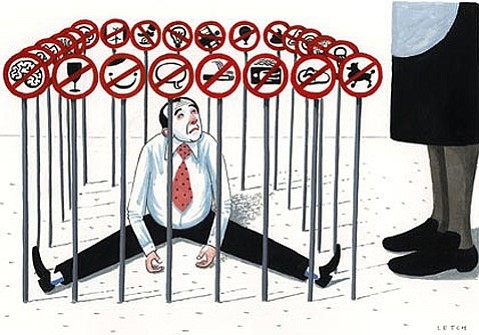 A civilised society relies at the most fundamental level on people treating each other with respect and decency because they want to, not under fear of punishment. Laws are a pretty useful framework for broadly codifying the society's principles, but blind and inflexible adherence to them that flies in the face of all possible common sense generates nothing but toxic and anti-social reactions.
That innocent little London girl will now grow up afraid and mistrusting of authority. resentful, cowed and fearful of ever doing anything nice or enterprising. Who has that helped? What good has that done? Who was the winner here?
If FOUR fully-grown humans couldn't somehow come to the conclusion between them that maybe it wasn't really necessary to fine a five-year-old £150, what hope is there for mankind? We're truly all doomed.

And if your response to them doing that isn't facepalming horror but to shout "hooray for the enforcers", then you're not a "monster", because that's unfair to monsters. Monsters can't help it. Monstrousness is in their nature. All that you actually are is a petty, officious, snivelling, pompous, tiny-minded, horrible wee wank. And it's you, not a primary-school lassie with a lemonade stand, that is the ruin of humanity.