When we started the week with news of the UK government's statement on debt, we wondered aloud whether it would be a game-changing moment. Judging by the No camp's reaction since then, shrieking and flailing and lashing out blindly in all directions simultaneously, our question's been answered.
It's been hard to keep track of it all, but we'll have a go.
The most spectacular outbreak has been in the Telegraph, where complete insanity has taken hold. Today's paper carries a full-blown tinfoil-hat frothing-at-the-mouth rant from columnist Damian Thompson. At first it looks like it's going to be another tired run-through of the SNP's supposedly Nazi history from the 1930s, but in fact turns quickly into something much more demented and sinister, openly claiming the current party – and Alex Salmond in particular – to be fascists.
"If Scotland votes for independence, will its government confiscate the estates of English landowners? The SNP is talking about a tenants' 'right to buy' – three such innocuous little words! – even if the landowners don't want to sell. As my colleague Charles Moore pointed out in The Spectator, 'one great independence leader who played this issue politically was Robert Mugabe'."
(We'll pause just for a brief moment here to observe that the 'right to buy' for tenants has apparently now become a signifier of terrible ideological evil to Tory commentators, despite the fact that they regularly present it as Margaret Thatcher's great act of empowerment to the working class when it concerned council houses.)
"Cue shrieks from cybernats, the digital wing of the SNP, masters of coordinated outrage. They always go bananas if anyone compares Alex Salmond to a dictator. Which happens a lot these days. There's an authoritarian streak in the Scottish government that is making people nervous.

It's funny – words like "apparatchik" keep attaching themselves to the First Minister's retinue. Meaning that he's an old commie? No: it's a reference to leadership style. Another rude word you hear, sotto voce: "fascist". Again, no one thinks Salmond has far-Right sympathies. It's a reference to the SNP's cult of the leader.

No politician in the country craves power so desperately as Alex Salmond. He would never behave unconstitutionally, says the Yes campaign. But what if he has his own constitution to play with?

The SNP has persuaded commentators that it has achieved a natural fusion of nationalism and liberal social democracy. But nothing in 20th-century history suggests that these two ideologies complement each other.

As the referendum nears, Alex Salmond's jovial grandiosity has acquired a menacing edge; so has the behaviour of his lieutenants. If, say, you work in Scottish media or creative circles and you haven't made up your mind how to vote, then you can expect to have your arm twisted sharply by one of the First Minister's artistic commissars."
Quite the picture, isn't it? One might suggest, if one still had at least a token grip on one's senses, that fascism is quite a tricky thing to pull off in a country with a proportional electoral system which makes majority government a once-in-a-generation rarity, but Thompson appears to be hinting that after a Yes vote the "desperately power-craving" Salmond will pass some sort of Hitler-esque Enabling Act outlawing opposition and that'll be the end of that.
And he's hardly alone. The Telegraph has carried numerous articles in a similar vein in recent months, many of them spewing from the green-inked pen of the equally deranged Professor Tom Gallagher. One of them this week suggested:
"Scotland seems poised to veer further away from the north European norm of personal liberty, guaranteed by representative government, to a cool and drizzly Third World where these rights are at the discretion of the ruler and his henchmen.
(It is, in fact, the UK that wants to withdraw from the Human Rights Convention.)
The SNP leader is the kind of nationalist who is obsessed with territory and woe betide anyone who dares get in his way as he bids to remake the social geography of the north of Scotland.

Surely only months remain before Alex Salmond will have his own mighty jet, sleeker and more comfortable than any puny royal aircraft. In the future, he will be able to take his wife, his pals, and sycophantic officials to gatherings across the world where his presence is felt to be indispensable.

Many who have been softened up to vote in the "Braveheart spirit" in the referendum of September 14 are likely to flee in whatever direction they can once it is clear how little their wellbeing figures in SNP plans. Not only does Salmond dislike English devotees of country sports who dare to fetch up in Scotland, but he doesn't like the still numerous Scots who fail to sign up to his every whim.

The wind turbines which snake their way across numerous Highland glens are already a monument of sorts to a runaway ego. Scotland's man of destiny surely has other gargantuan plans for his plucky little nation which will leave any Scottish Willie Shakespeare of the future not short of imaginative and (dare I say) terrifying plots."
If stuff like this appeared on some random anonymously-penned blog it'd be roundly (and rightly) mocked as the paranoid ravings of gibbering cybernats, yet one of Britain's most august broadsheet newspapers apparently considers it serious and reasonable political commentary.
To be frank, we could spend all day just quoting the Telegraph in this vein. (Heck, we haven't even mentioned Alan Cochrane or Simon Johnson yet.)  But those two were only the most extreme examples of an epidemic of unhinged scaremongering which seems to have been triggered by the crumbling of the main pillars of the No camp's argument around debt, Europe and currency, ranging from mere warnings of economic challenges to the very collapse of world civilisation.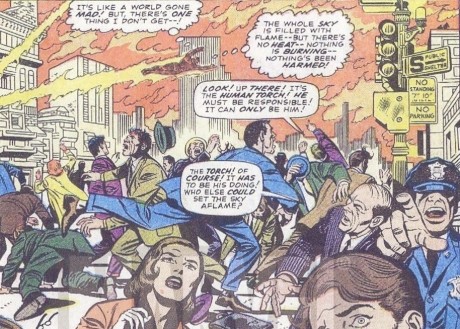 Actual politicians have been no better than the maddest hacks of the right-wing press. Yesterday no less an eminence than the Foreign Secretary, ably assisted by his Scottish Oompa-Loompa Ruth Davidson, calmly suggested that a Yes vote would facilitate the rape of women and children in African warzones, while over on the (notional) left, Harriet Harman insisted that independence would be a cataclysmic disaster for the working poor, with the minimum wage slashed.
(Just like it, um, hasn't been as a result of Ireland sharing a land border with the UK.)
Hague also found time to insist that an independent Scotland would lose billions of pounds in EU funding, a particularly audacious claim considering how recently his government stole almost £1bn in EU money from Scottish farmers. Alistair Darling was sent to terrify schoolchildren with bogey-man warnings about how they had "the most to lose" from independence, while apparently today Margaret Curran has been delegated to the task of frightening women.
The Liberal Democrats didn't want to be left out either, with the Secretary of State for Portsmouth compiling no fewer than 20 reasons why his countrymen shouldn't run their own affairs like a normal nation.
So, where are we? Vote Yes and Scotland will be awash in poor women working for 50p an hour (except in some other unknown currency) while their children are sent up chimneys to stave off starvation, uneducated because our colleges are empty and our universities are populated only by English students getting free degrees (although actually we won't be able to afford free education at all), and hungry and clad in rags because we'll have to pay VAT on food and children's clothes.
The countryside will be confiscated by Mugabe-esque decree and turned into collective farms, and the streets will be roamed by black-uniformed goon squads "disappearing" anyone who dares to disagree with Alex Salmond, any Scottish citizens who flee abroad will find themselves imprisoned in foreign jails, while everywhere else in the world the defenceless are being raped en masse. And all because Scots wanted to elect their own governments.
Don't you just love that positive case for the Union, readers? All of this has happened in the last five days alone, as the No camp frantically tries to distract Scots from the disintegration of almost everything it's been telling them for the last 18 months. Whether it be the shattering of another great myth or a further descent into hysteria, we can hardly wait to see what's coming next week.