The election campaign is one day old and already we want to kill everyone.
Alert readers may have spotted a rather conspicuous absence there. (And here.)
That's some pretty bad news for Lesley Riddoch, and all other sane people.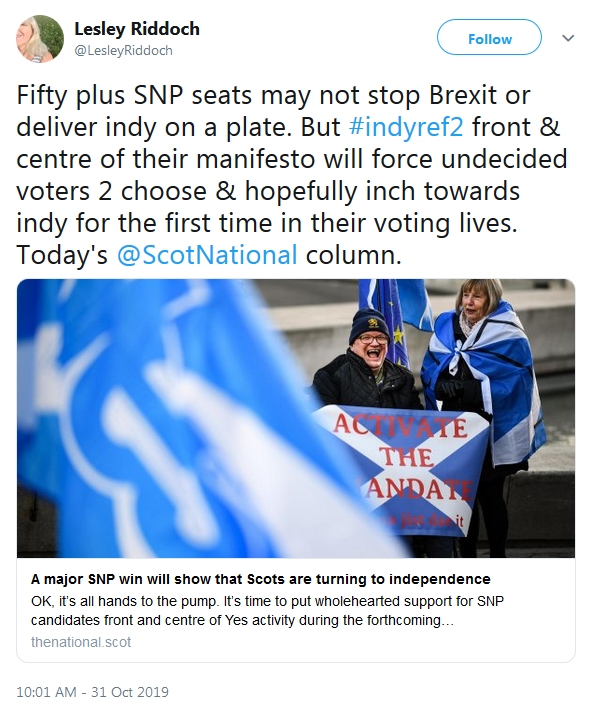 Although "the SNP must on no account actually campaign for independence!" seems to be a view increasingly widely held in the SNP.
It's not just the SNP who seem to have lost sight of what their party's supposed to be for, of course. Here are the Lib Dems announcing that they're standing aside for a Tory MP, ostensibly in the name of a "Remain alliance".
So are they doing that in our next-door constituency of North-East Somerset, where Jacob Rees-Mogg is the sitting MP and the Labour Party are the clear challengers and getting closer?
No. No they're not. In fact, they're punting out madness like this about the seat.
You may enjoy a closer look at that small print.
Wow. "Vote for us in this seat to get the Tory out – even though we only got EIGHT percent of the vote last time – because our crazily-loaded poll question showed that if the actual challenger didn't exist and there was literally nobody people could vote for to oppose Rees-Mogg except us, WE'D STILL LOSE."
Poor old Labour, eh? It must be horrible to be the victim of such underhanded tactics, and we're sure that Jeremy Corbyn's kinder, gentler party would never oh right.
(We're unclear why The Times hasn't chosen to illustrate that story with a picture of Ian Blackford, btw. Just too obvious?)
Still, we can perhaps put that one down to nasty, embittered old Scottish Labour. We can count on the sainted Jeremy to play with a straight bat, we're sure.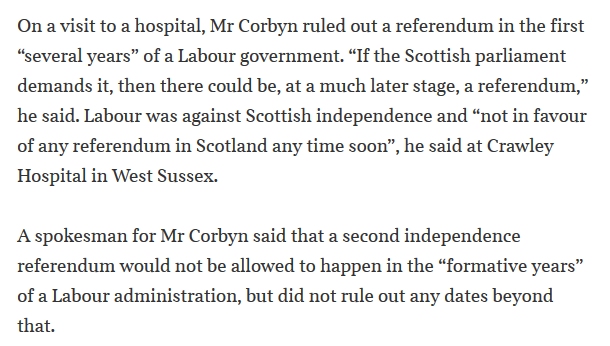 How much later is "much later"? How many years are "formative"? Is he aware that the Scottish Parliament has ALREADY demanded a second referendum, in a democratic vote? It doesn't take a lot of decoding to realise that the above is simply the words "now is not the time" rephrased in a slightly woollier way.
And meanwhile: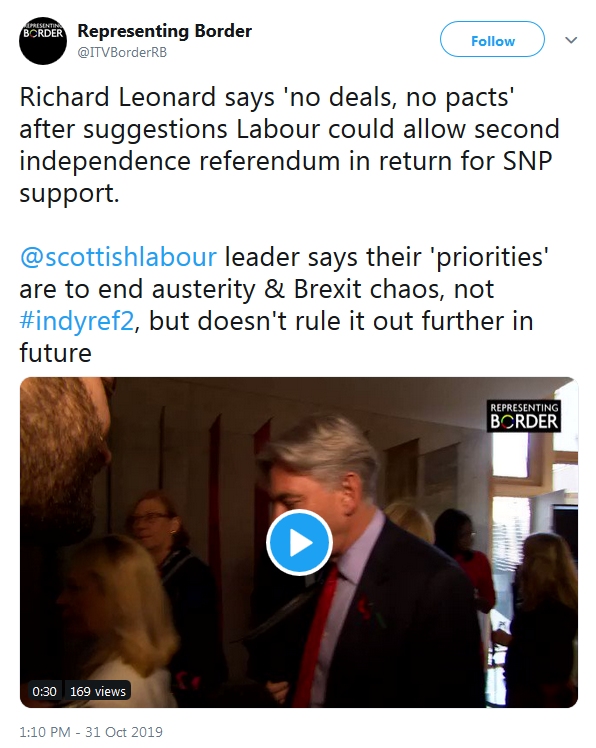 We note in passing that "ending Brexit chaos" is a carefully-worded phrase which does not necessarily entail stopping Brexit. Dear lord, these times are so upside-down that we find ourselves forced to agree with Kezia Dugdale.
The SNP's big problem is that Corbyn knows they're bluffing. The outraged reaction to the suggestion (made by ourselves and others) that the Nats should have done a deal with the Tories to pass the Brexit bill in return for the power to hold a new indyref demonstrates that the SNP live in absolute mortal terror of being accused of helping the Tories in any way.
So if Corbyn refuses to grant a Section 30, the SNP will be put in a position where refusing to support him might let the Tories back into government, and we know that the merest suggestion of that dissolves their spines.
In any event, polling suggests there's almost no chance of an election result in which the SNP would actually hold the balance of power. Either Labour will do better than predicted and the Lib Dems alone would be enough, or any prospective Labour administration would require the support of both the Lib Dems AND the SNP – in which case the Lib Dems would block any indyref and Corbyn could keep his hands clean.
But we know that neither Labour nor the SNP can trust the Lib Dems an inch anyway. The bizarre campaigning that we've detailed above in North-East Somerset isn't even the weirdest thing Jo Swinson's party has done to their supposed Remain allies. Last night's Reporting Scotland revealed that they're currently putting this leaflet through people's doors: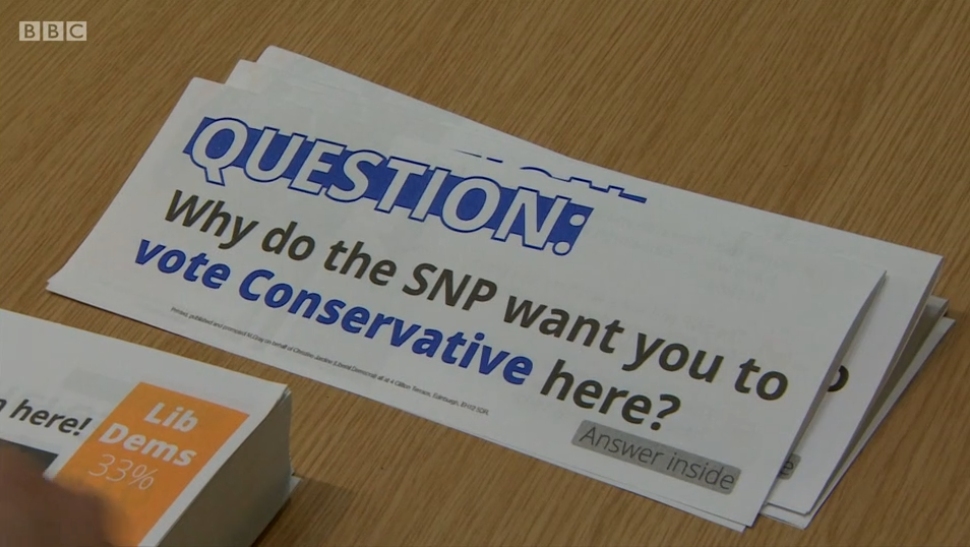 We're genuinely curious to find out the answer to that question. We know the leaflets have been delivered in Edinburgh West, currently held by Christine Jardine with the SNP  in second place less than 3000 votes behind the noted imbecile, so voting Tory would be the absolutely last thing the SNP would want anyone to do.
We'll get back to you on that one when someone sends us the leaflet.
So to recap:
– independence/a referendum isn't even one of the SNP's top five priorities at the most crucial juncture for independence in Scottish history.
– the Lib Dems, while demanding a "Remain alliance", are willing to openly stand aside for Tories but are using the sleaziest tactics of misinformation against other Remain parties (and also Labour), including literally sending Scottish voters leaflets with the words "VOTE CONSERVATIVE" highlighted on them. 
– Labour are pretending they'd let Scotland have another referendum, while actually saying they'd rule it out for an untold number of years and make it conditional on a mandate which already exists and which they've consistently refused to accept.
Oh, and the Tories? They won't even admit who their leader is.
This will be the worst and most dishonest general election of our lifetime. Seriously, folks, take the next six weeks off. Your mental health will thank you for it.