It should now be abundantly clear to any rational person that time has very nearly run out to avoid a no-deal Brexit.
Theresa May has been sent swiftly home from Europe with a skelped arse and told that any further negotiation is out of the question. But she's insisted that the meaningful vote in the UK parliament on her Brexit deal won't now happen before Christmas, which in practical terms means before mid-January.
That means that if Labour wait until the deal is thrown out before they call a vote of no confidence – which is their current position, so far as anyone can tell what their position is – then by the time the government falls it'll already be February.
(Under the Fixed-Term Parliaments Act, after a successful VoNC there are 14 days for someone to try to form an alternative administration before an election is called.)
Add in the six weeks minimum that are required for an election campaign and you're halfway through March, literally just a few days before the UK will automatically crash out of the EU with no deal.
Even if a couple of months extension of Article 50 were to be granted – and we're not sure who'd be asking by that stage – that's plainly nowhere near enough time for a new government to come up with anything the EU would agree to.
(Remember that the withdrawal agreement was supposed to be done and dusted by October in order to give the EU six months to ratify it. Their patience with the UK is plainly at an end, and it's hard to see them agreeing to drag the whole mess out for another year or more, which would be the realistic timescale.)
"And that's all very well", readers might be thinking at this point, "but that's a picture of Kezia Dugdale, an insignificant backbench Holyrood list MSP. What the bloody hell's it got to do with her?"
And the answer is that it's all her fault.
No, really, bear with us on this.
The reason Labour haven't called a vote of no confidence yet, and probably won't, is that they want Brexit, but they don't want to be the government when it happens. Jeremy Corbyn, quite rationally for a man who's always wanted out of Europe, wants to take over shortly afterwards, on a platform of sorting out the Tories' giant mess and building a great socialist utopia etc, but without the stigma of being the one who was holding the Brexit baby when it took a catastrophic dump all over the British economy.
The result of the 2017 election, in which the Tories were left crippled but just barely clinging onto the doorframe of Downing Street, was the perfect outcome for Corbyn in that respect. Had he actually become Prime Minister he couldn't possibly have stalled for a year and a half without taking a position one way or the other. And had the Tories won with a decent majority they could probably have forced something through. But a stalemate gave him exactly what he wanted.
And how did the Tories end up with just enough MPs to form a government but not enough that it had the power to do anything? Because they unexpectedly got 13 seats in Scotland, up from the previous tally of 1. And that happened because of this:
Just days before the election, Dugdale – as explicitly as she could ever practically do – told voters in the Borders, Highlands and North-East that voting Tory was a better way to stop the SNP than voting for her own party's candidates, even though Theresa May had said the same day that her government was on a knife-edge: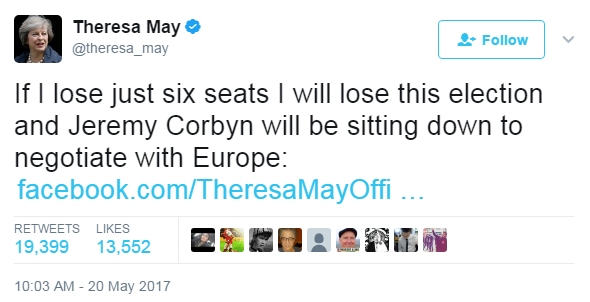 Unionist voters duly took Dugdale's advice (not just in that one Sky News interview but underpinning Labour's entire campaign in Scotland), returning a clutch of new Tory MPs in those exact regions, who were just enough to enable Theresa May to cobble together a Parliamentary majority with the help of the DUP.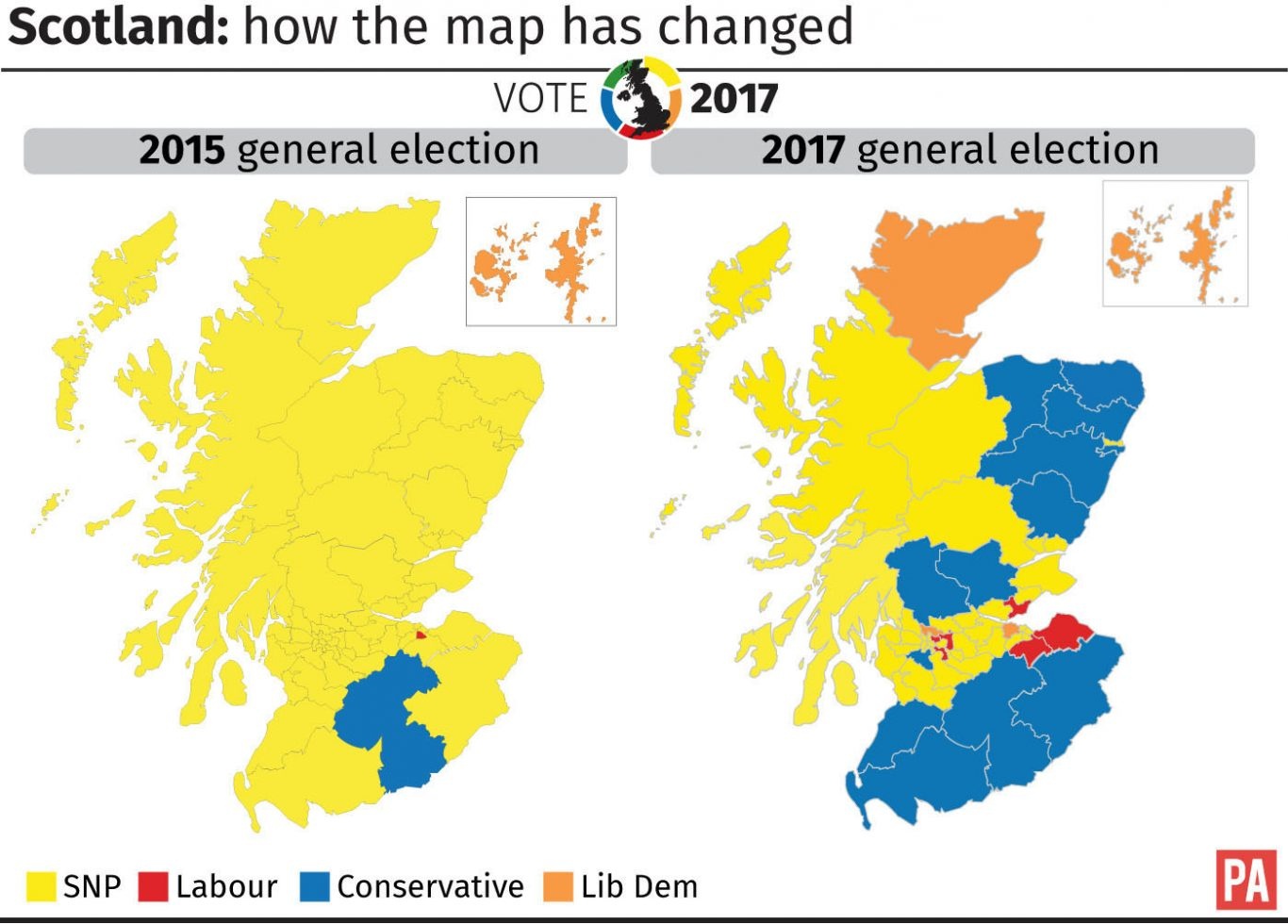 Scottish Labour activists even now often try to furiously deny that Dugdale did what everyone saw her do ("She didn't literally say the exact words 'vote Tory', so it doesn't count!"), but the truth has a way of coming out.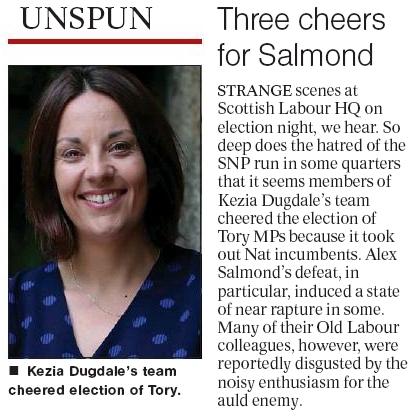 (This site had of course warned in advance of the danger, to no avail.)
And to make sure nobody was left in any doubt, Scottish Labour and the media trumpeted the election result – in which Labour had come a distant THIRD and seen Scotland's anti-Tory contribution to the House Of Commons arithmetic reduced from 58 to 46 – as a massive triumph:
But what if Labour hadn't run a campaign focused solely on beating the SNP? What if the Tory gains had all stayed SNP and Theresa May hadn't been able to scrape up some sort of almost-functional government?
Dugdale, of course, would have been mortified. Bitterly opposed from the beginning to Corbyn's leadership of her party, she'd have been fuming if he'd been the person to actually deliver a Labour government.
But nevertheless, the Parliamentary Labour Party which could have taken control at that point – backed by the pro-Europe SNP and Lib Dems and still full of pro-Remain "moderate" Labour MPs – would have been able to exert huge pressure on Corbyn to bring about, at the very least, the softest Brexit possible.
(The Tories would have had just 305 MPs. The combined strength of Labour, the SNP and the Lib Dems would have been 321 – an effective majority with backing from Plaid Cymru (4) and the Greens (1) plus the absence of the seven MPs of Sinn Fein.)
Instead, Dugdale's futile determination to destroy the vile Nats – and deny the Scottish people the second vote that she now indignantly demands over the EU – let the Tories sneak in through the back door and left the country where it is now: rocketing down a tunnel towards a no-deal brick wall, with no visible exits and no brakes.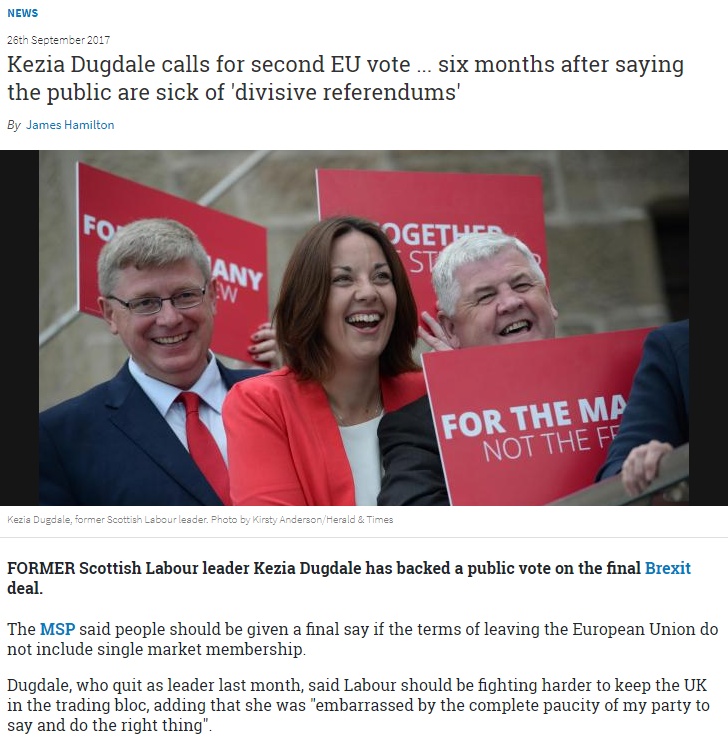 Those of us who follow politics in Scotland, of course, have long known that Scottish Labour prefer even the most disastrous UK Tory government to any independent Scottish one. Normally it's only Scotland that pays the price. But in just a few weeks' time, barring some sort of unforeseen miracle, the whole of the UK is going to feel the full force of that blind tribal hatred as it slams into reality.
If we were Kezia Dugdale, we'd be praying that they didn't look too closely into who it was who ultimately brought them there.