We must admit we haven't been keeping fully up to date with our Thickest Politician In Scotland rankings recently, mainly because they've been so deluged with submissions that we can barely scratch the backlog.
This month alone, for example, we've seen Murdo Fraser try to blame the SNP, Labour and the Lib Dems for his party's shambolic Brexit fiasco, millionaire Tory landowner Sir Edward Mountain sneering that the SNP's Ian Blackford is too rich because he has a Range Rover, James Kelly of Labour humiliating himself (again) over the budget and boneheaded Lib Dem barrel-scraping Christine Jardine mocking someone for having an inferior intellect while she failed to even nearly spell the word "supporters".
And that's before we even get to the Tory MSP who stood up at this afternoon's FMQs and suggested that lowering the drink-drive limit had somehow led to an increase in road traffic accidents, presumably in the belief that it would actually be better and safer if everyone bombing up and down Scotland's motorways had had a few beers first.
But pretenders are one thing. There's still an undisputed king.
And this isn't even his best work today:
What actually happened in the Supreme Court this morning was summed up concisely by an alert reader, so we'll let them spell it out: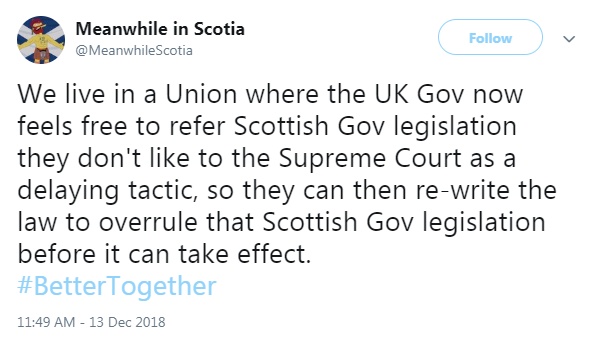 As even the Scottish media was forced to admit with varying degrees of grudging reluctance, Holyrood's EU continuity bill was (with one minor exception), entirely legal and within the Parliament's powers at the time when it was voted through.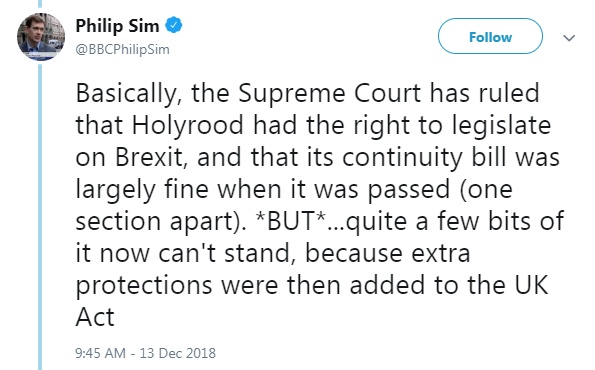 However, the UK government booted it to the court so that they could hastily change the rules and render it illegal before it received royal assent.
As was noted by the professor of public law at Strathclyde University, as she delivered a stinging slap-down to fluidly-principled Tory constitution spokesoaf Adam Tomkins on the subject:
But the hapless Greene could at least claim he was merely parroting his superiors on that count. This one was all his own:
Because as some alert readers may have observed, the period 2019-2023 is in what philosophers call "the future". It hasn't happened yet, so there are no "records" of it. Which means that if it wasn't already amazingly stupid to compare forecasts from two entirely different organisations – one of which has a truly epic record of being wrong about nearly everything – doing it several years in advance certainly was.
We must admit, while we had a very low estimate of Jamie Greene's IQ before now, we had at least credited him with the basic understanding of the linear nature of time that almost all living organisms are born with. We apologise for our error.
We'll recalibrate our measuring equipment accordingly, but for now we're delighted to announce his return to the top of the table where he rightfully belongs.