As we write this, Boris Johnson's new Brexit deal appears to hang in the balance. According to Sky News this morning the arithmetic is poised on a knife-edge.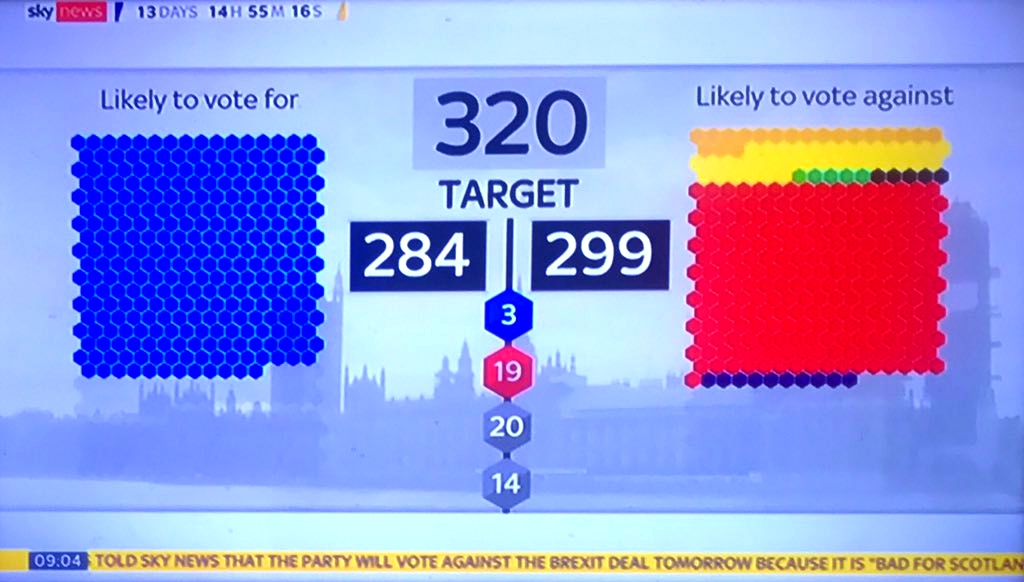 The four "in play" groups down the middle of the graphic are, from the top: three Tory "Spartans" (hardcore Brexiters who might yet back the deal), 19 Labour MPs who've suggested they might do so for various reasons, 20 former-Tory "rebels" who had the whip removed by Johnson for voting to block no-deal, and 14 independents, mainly from the "Change UK" wing or whatever they're called this week.
The government needs 36 of the 56 to vote with it to get the deal through, and can probably count on most of the 20 former Tories. Labour sources are suggesting, quite plausibly, that double-figure numbers of their 19 will also back the deal. So it's close.
If it passes, England and Wales will get what they voted for (Brexit), Northern Ireland will – after a fashion – get what it voted for (effectively staying in the EU), and Scotland will get shafted. It'll be placed at a significant economic disadvantage to NI, at a likely severe cost in jobs and investment. The nation which voted the most decisively on Brexit (for either option) will be the only one not to get its democratic wishes respected.
And slightly surprisingly, the whole UK thinks that's unfair.