So this isn't true, any more than it was when Labour first promised it 22 years ago.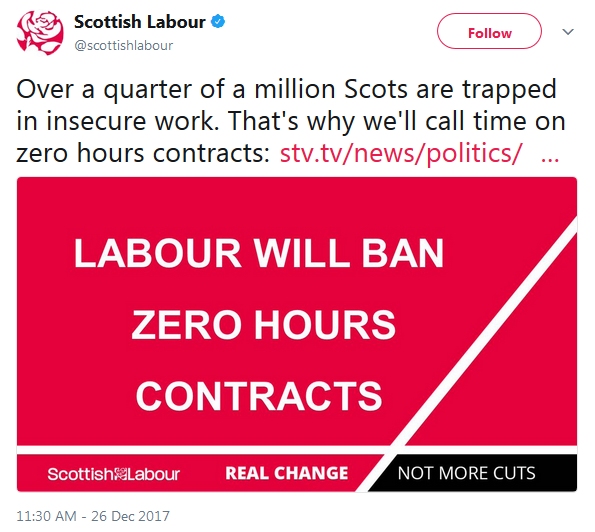 But the sheer number of ways in which it's a lie is quite the thing.
Firstly and most obviously, Scottish Labour can never enact such a policy. They could win every single seat at Holyrood and still be completely helpless to do anything about zero-hours contracts, because employment law is reserved to Westminster.
And who ensured it was reserved to Westminster? Scottish Labour, of course.
Months before the independence referendum, Scottish Labour made it unequivocally plain that the power to ban zero-hours contracts (or set the minimum wage, and much else besides) must NOT be devolved to the Scottish Parliament, and the party took that commitment successfully into the Smith Commission negotiations.
Had they backed the SNP's position of devolving employment law in 2015, zero hours contracts could already be outlawed in Scotland. But Labour want to hold Scotland hostage for the sake of Labour's own political power, by ensuring that such a move can only happen in Scotland if England elects a Labour government at Westminster.
And sure enough, in the only part of the UK where Labour is in power – Wales – there have been no attempts to do anything about zero-hours contracts. Well, that's not quite true. There have been numerous attempts, but not by Labour.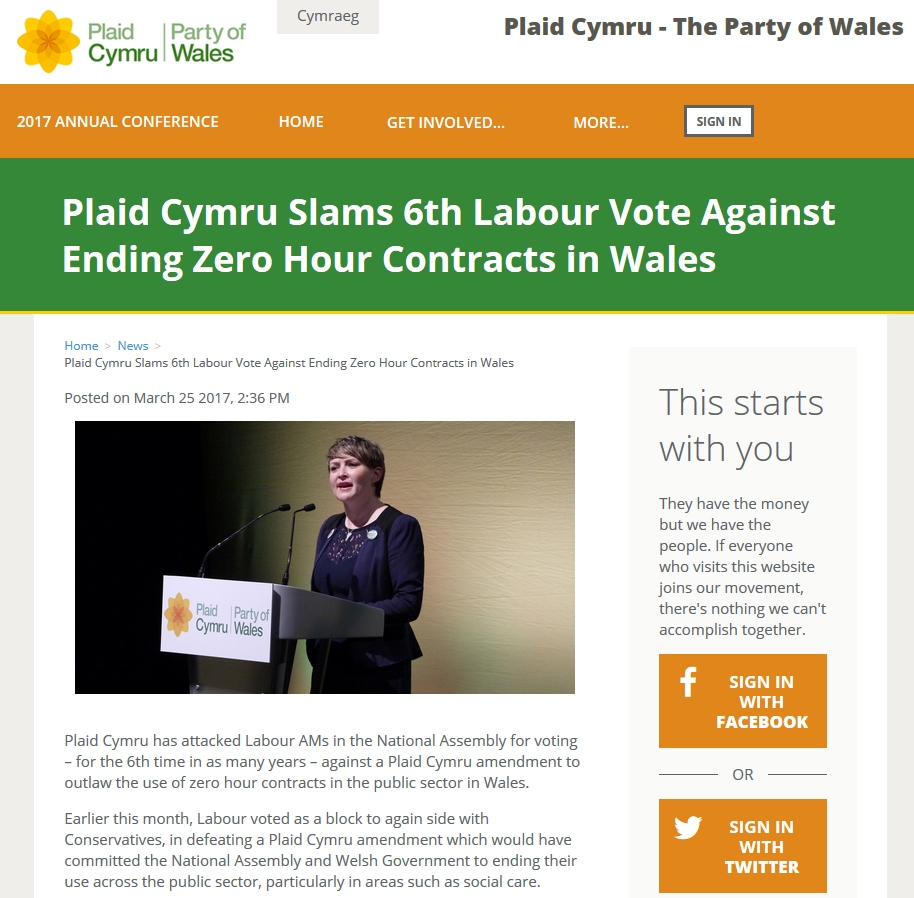 On SIX separate occasions since 2013 Plaid Cymru have tried to introduce legislation which would end zero-hours contracts in the Welsh public sector, ie for people directly employed by the Welsh Assembly – the one area where the devolved administration does have the power. And on every occasion, Welsh Labour has teamed up with the Tories to vote the legislation down.
(The Scottish Government doesn't employ anyone on a zero-hours contract.)
Alert readers may notice some similarities between these positions and the respective parties' policies on public-sector pay increases, where the Scottish Government has lifted the pay freeze but Welsh Labour refuses to, despite demanding it be ended anywhere that Labour ISN'T in power.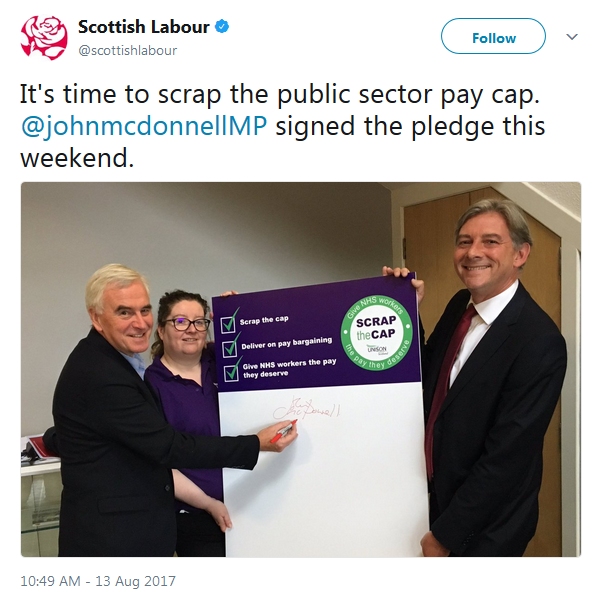 Even the Tories have begun removing the 1% pay cap in England, leaving Labour-run Wales the only part of the UK where the freeze still applies.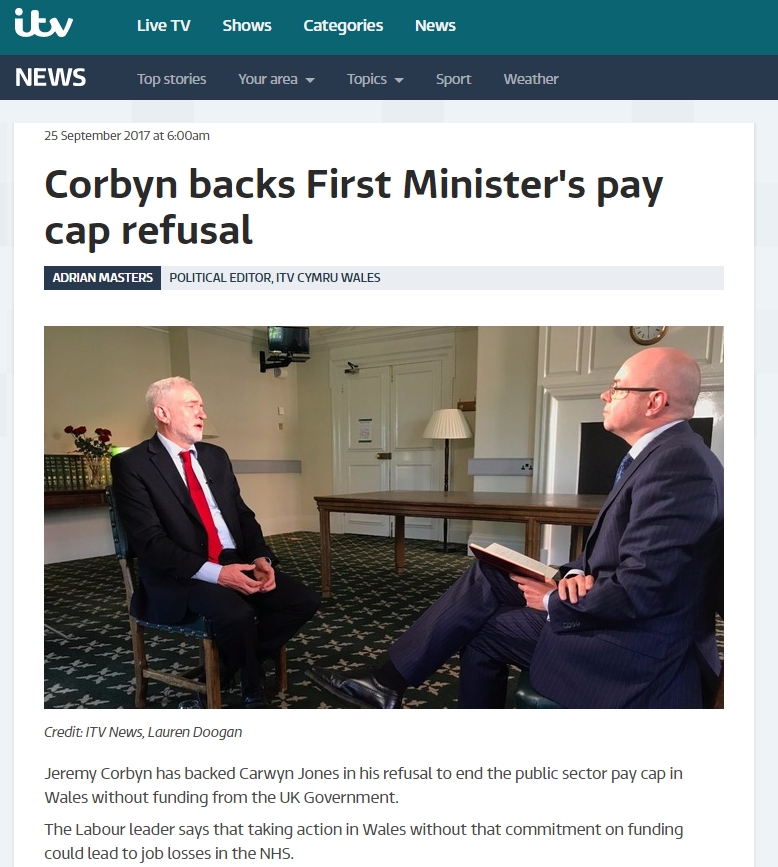 (Labour's policy in the UK is also to NOT give public-sector workers a real-terms pay increase, ie one above the rate of inflation.)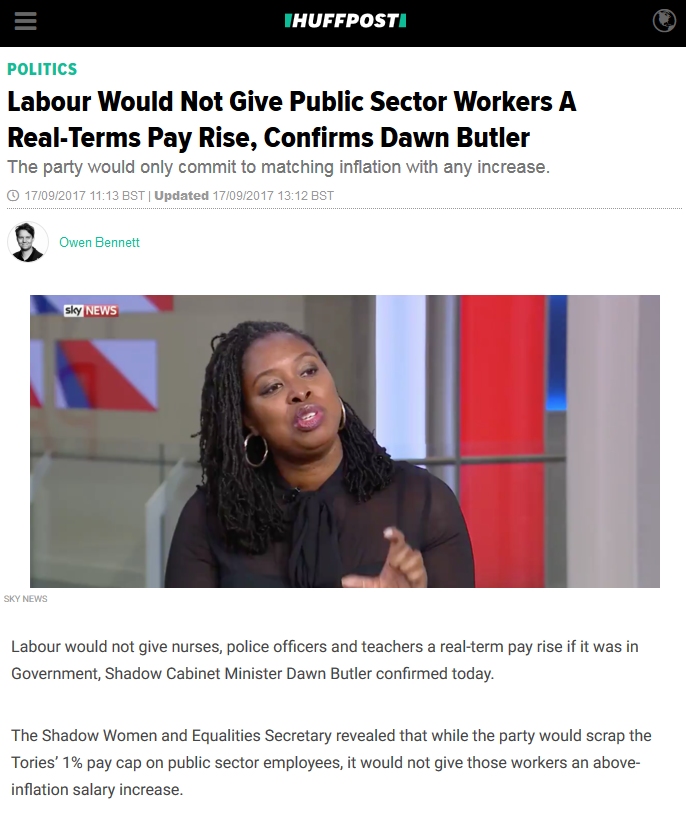 Yet hilariously, when the SNP enacted the public-sector pay rise in Scotland that Welsh Labour refused to bring forward in Wales, Scottish Labour tried to claim the credit for it.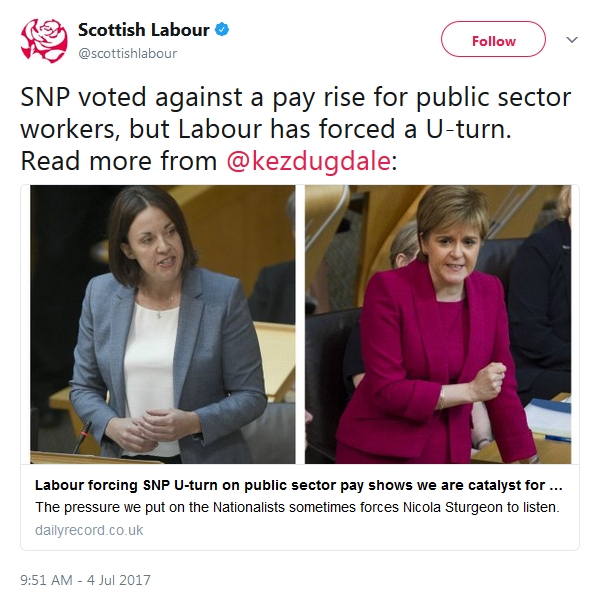 In fact, with uncanny consistency Labour advocates left-wing policies ONLY where it ISN'T in a position to implement them. Wherever it IS in power, it fails to. It furiously calls for nationalisation of railways in Scotland and the UK, for example, but in Wales is actually increasing privatisation of the network.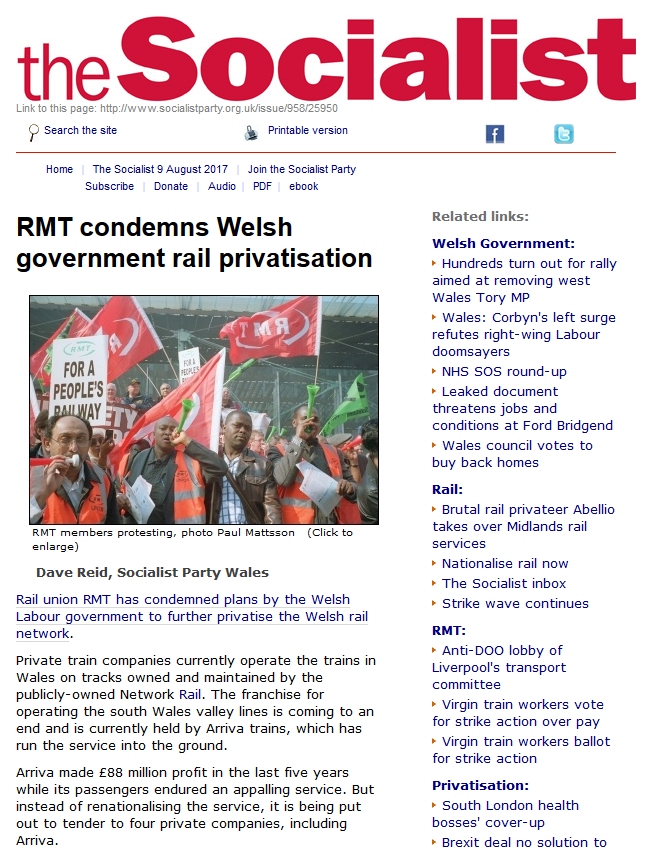 Some might consider these positions to be two-faced. Some might even drily suggest that when it comes to having positions on any given subject Labour was "for the many, not the few". But the reality is even less principled than that.
Because in truth Labour HAS no policies, merely slogans. Any stance Labour takes is only for the purposes of a soundbite – as soon as any actual action is required, whole manifesto pages simply blink out of existence altogether, replaced with Schrodinger-esque mysteries where Labour is both for and against Trident, or both for and against Brexit, or both for and against a second independence referendum, or simply abstains on everything so nobody knows what it's for.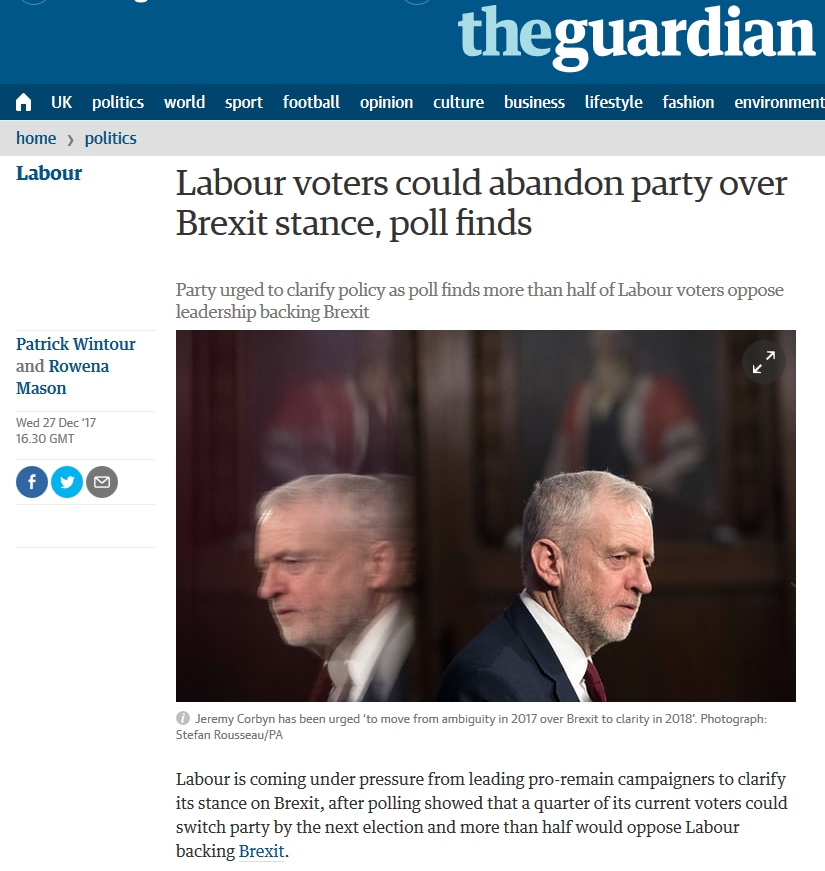 Which may be why, if the most recent polling is anything to go by, voters think the most likely person to have a zero-hours contract in the coming years will be Jeremy Corbyn as Prime Minister.