Last month Scotland on Sunday published some findings from a poll covering, among other things, backing for Trident and for a second independence referendum in the event of a Brexit vote.
We didn't think much about it until a reader told us that Labour MSP Jackie Baillie had trumpeted the Trident result – a wafer-thin 43-42 majority in favour – in her column in the Helensburgh Advertiser. We were curious to see the finer details and set about finding the full data tables for the poll, which was conducted by ICM.
(Under British Polling Council rules, pollsters have to release full data within 48 hours of any headline findings being made public.)
Weirdly, they didn't exist.
ICM's website and Twitter account made no mention whatsoever of the poll. Tweets and emails about it went unanswered. The Advertiser's website didn't carry Baillie's column and her own site had nothing about the poll either. But today, two and a half weeks later, we finally got hold of the data, and it was pretty interesting.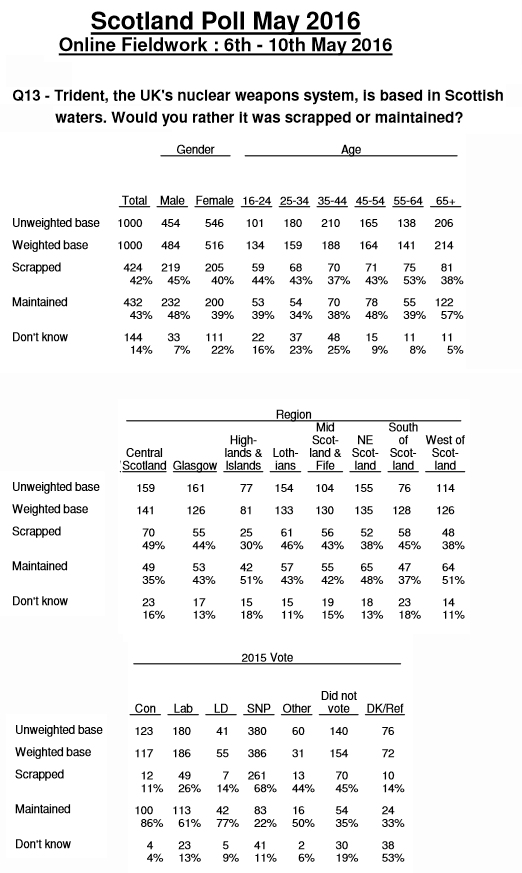 That the over-65s were the age group most in favour of keeping the nuclear missile system was no great surprise. And it's perhaps also not all that much of a shock that the geographical areas happiest with it were mostly the ones located furthest away from the missiles – the North-East, with a 10% majority in favour, and the Highlands & Islands, with a whopping 21% margin.
(Bigger even than that in the West, where the submarines at least provide jobs.)
But the more interesting result was that among voters of the respective main parties. By a huge margin (68% to 22%) SNP voters wanted Trident scrapped. But the voters of Baillie's own party, which has recently adopted an official policy – in Scotland – of opposition to the nuclear "deterrent", were hugely in favour of keeping it.
Just 26% of Labour's remaining Scottish voters wanted rid of Trident, with a thumping 61% in favour of the weapon of mass destruction. You'd think that Baillie, who now stands alone in Scottish Labour in supporting the nukes, would want to make more of the fact that the party's voters stand full-square behind her.
But the impressive thing about the poll findings is that they achieve something we'd have previously thought impossible – complicate Labour's Gordian Knot of a policy on Trident even more. To recap the latest:
UK Labour official policy – IN FAVOUR
UK Labour leader Jeremy Corbyn – AGAINST
UK Labour party conference – IN FAVOUR
UK Labour voters – AGAINST
UK Labour defence committee – IN FAVOUR
Scottish Labour official policy – AGAINST
Scottish Labour leader Kezia Dugdale – IN FAVOUR
Scottish Labour conference – AGAINST
Scottish Labour voters – IN FAVOUR
100% of Scottish Labour MPs – AGAINST
Faslane's constituency Scottish Labour MSP – IN FAVOUR
For the branch office and the party's own good, it's perhaps for the best that they're not going to be in a position where they have to actually decide any time soon.