We were having an idle browse on Google Play Books this morning for some bargain holiday reading when we happened upon a startling new cover for Chris Mullin's 1982 classic A Very British Coup.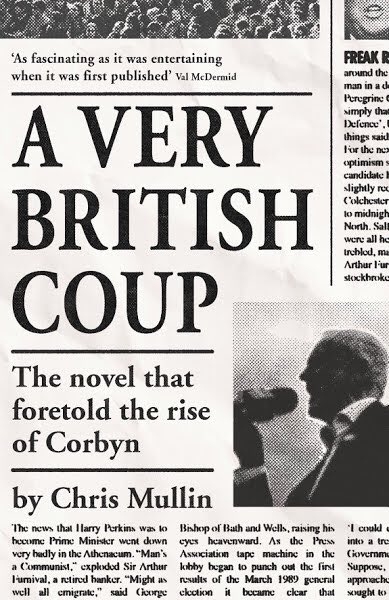 We found ourselves thinking "rise to what, exactly?"
And as it happened, we had some new Panelbase polling data on that.
Do you think Jeremy Corbyn will ever be Prime Minister of the UK?
– Yes: 25%
– No: 52%
– Don't know: 23%
(excl. DKs: Yes 33% No 67%)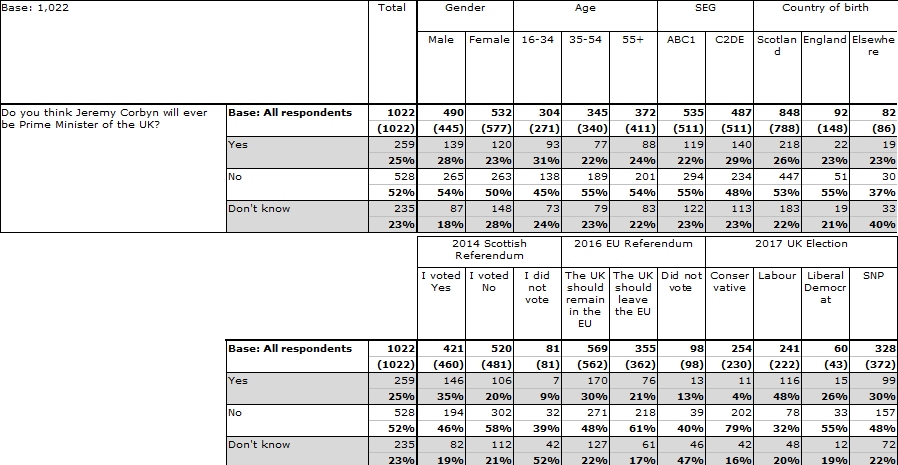 Even among people who voted Labour in June, fewer than half – 48% – believe their man will ever actually sit in 10 Downing Street. And they're in no hurry to find out.
When do you think the next UK general election (due 2022) should be?
– In 2018: 19%
– After Brexit negotiations are concluded, but before Brexit happens: 16%
– Immediately after Brexit happens: 12%
– In 2022 as scheduled: 38%
– Don't know: 15%
Fewer than a fifth of Scots – and only a quarter of 2017 Labour voters – want a chance to kick the Tories out next year. And just over a third of respondents (35%) want a shot at changing the UK government before Brexit is signed, sealed and delivered.
(Only SNP voters could muster more than 50% for another election before Brexit happens, with the Lib Dems surprisingly keen to just get on with getting out of the EU despite the party's policy being for a second referendum – a mere 27% of Lib Dems wanted a pre-Brexit election. Even among Remain voters just 45% back the idea.)
Most Scots – 59% if you exclude Don't Knows – want to wait until the UK is firmly out of Europe before they contemplate going to the polls to elect a government again.
So what about another EU referendum instead? Here there's more support:
When Brexit negotiations are concluded and the final deal is known – currently due to happen in late 2018 – do you think there should be a second referendum on the UK leaving the EU?  
– Yes: 47%
– No: 41%
– Don't know: 12%
SNP and Lib Dem voters – both by more than 2:1 margins – are ironically united in their support for a second referendum on Brexit, despite the Lib Dems' hypocritically implacable opposition to another vote on independence.
Scottish Labour voters are also comfortably in favour, though less strongly (about 1.5 to 1). The overwhelming opposition (more than 4:1) of Tory voters to a Brexit re-run, however, holds the overall level of support below 50%.
(20% of Remain voters DON'T want a second bite at the cherry, while a very similar proportion of Leave voters – 17% – are willing to put the matter to the vote again and risk having their victory overturned.)
But it's all moot, because there isn't going to be a second EU referendum. Neither the Tories nor Labour back the idea, and the Lib Dems and the SNP couldn't form a UK government even if there was an early election, which voters are against in any event. There is no viable UK parliamentary route to avoiding Brexit. 
So whichever question you ask, the answers all ultimately come back the same way. Jeremy Corbyn and Labour can't save Scotland from being dragged out of the EU against its will. Independence is the only possible escape.