Leaflets being given out by Labour today in Scotland and England respectively: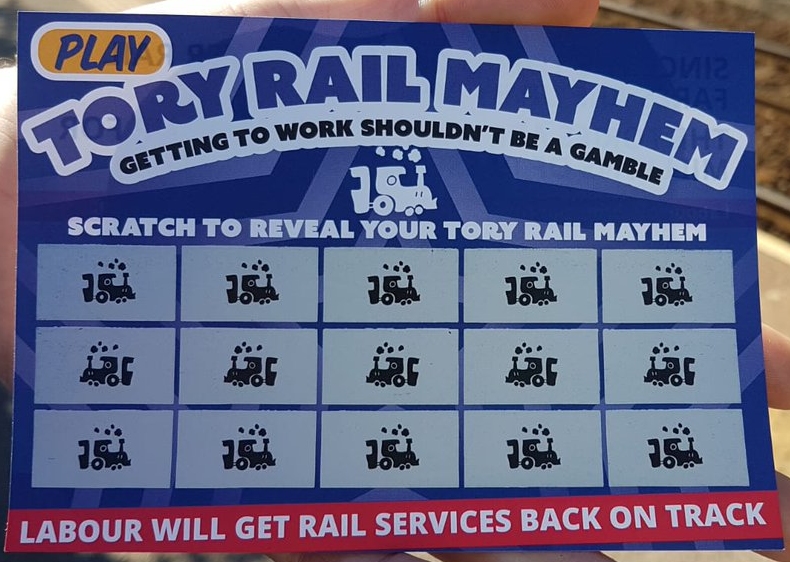 But for some reason there don't seem to be any going around in Labour-run Wales.
We can't think why. Because it's certainly not that the problems identified by the cards – fare increases, overcrowding, delays and cancellations – haven't been happening in Wales too, as you can clearly see.
Despite Labour having spent years furiously and constantly demanding that Scottish railways be taken back into the public sector – something which wasn't legally possible at the time – and complaining that the service was run by Dutch (public-sector) firm Abellio, the Labour administration in the Welsh Assembly was last year given control of rail franchising and promptly awarded the contract to two private-sector companies from France and Spain.
So we'd understand it if readers were therefore somewhat sceptical about Labour's promises. Having done absolutely nothing to either renationalise the railways or even allow public-sector operators to bid for them during 13 years of power at Westminster, and having done nothing about it when given the power in Wales just months ago, the party's ability to talk a good socialist game appears rather light on supporting actions.
Still, we have to give Labour some credit for using a scratchcard as the delivery vehicle for their message – after all, people are already used to gambling on those with the promise of extravagant rewards, but then getting nothing back.