With the "biggest party forms the government" lie now sunk and rusting slowly on the seabed (weighed down even further by polls suggesting that Labour actually will be the largest party even if they lose all of Scotland to the SNP), and four weeks of campaigning left to fill, Scottish Labour have had to grab a hammer, smash the glass on the "EMERGENCY – IN CASE OF DESPERATION" box and clutch desperately at whatever they found inside.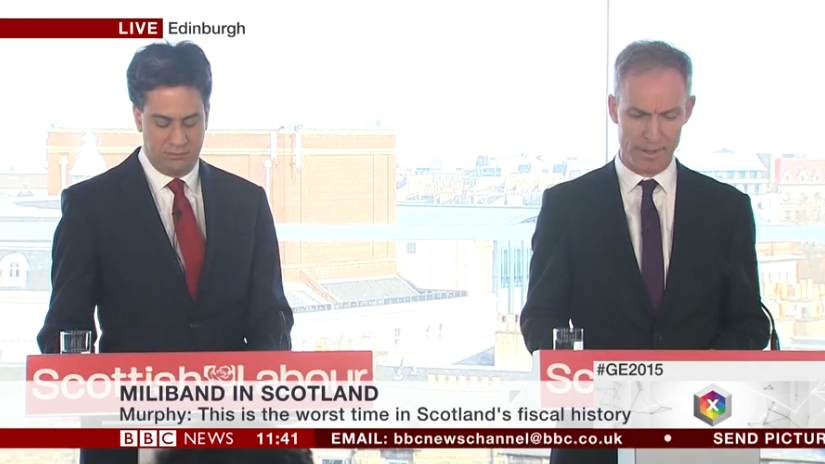 The abject answer is "Project Fear 2 – This Time It's Full Fiscal Autonomy".
Ed Miliband and Ed Balls came to Scotland this morning to unleash a three-pronged assault on Scottish self-confidence. With Miliband on "too wee", Balls on "too poor" and Murphy on "too stupid", they stood up and tried for 40 minutes to terrify voters with something that's never going to happen, whoever wins the election.
The new bogeyman is the £7.6bn "black hole" that would allegedly be brought about by Scotland being given full control of its own economy, laying waste to every public service along the way in a blood-curdling bonfire of benefits and the Barnett Formula.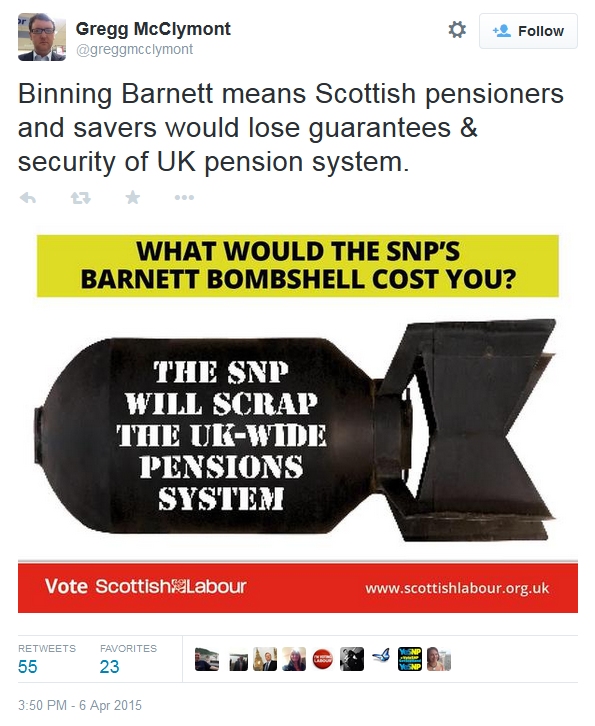 It's hard to know where to begin listing the huge, gaping holes in the argument, so we'll just focus on the two biggest ones.
The first is that Labour are comparing this nightmarish future with the status quo, which is disingenuous because the Barnett Formula is on the way out anyway. Under the Smith Commission proposals, the UK government has already explicitly stated that Barnett will be slashed to account for Scotland collecting its own income tax.
But the Smith recommendations also insist that there must be "no detriment" to either Scotland or the rUK as a result of those changes, so the idea that getting rid of the rest of Barnett would leave Scotland £7.6bn worse off is plainly a lie. (Labour's figure also assumes the oil price never recovers from its current low, though it's widely predicted to rise very substantially in the near future.)
Nevertheless, FFA is currently a weakness in the SNP's policy position. Before the referendum we identified it as a trap, and they've rather carelessly blundered into it. But it's a cage with an open door. The strange thing is that the party arguing for FFA can neither offer nor deliver it, whereas the parties who warn it would be a catastrophe are the only ones who CAN implement it, and have already categorically stated that they won't do it, thereby instantly disarming their own dire warnings.
The Smith Commission report, agreed by all five parties who signed it, absolutely ruled FFA out. It asserted that most tax and almost all of welfare – that is, the vast bulk of government revenue and spending – had to remain reserved to Westminster. That position was arrived at on the insistence of the three Unionist parties, and none of them have shifted an inch on Smith since (except backwards).
The maximum possible number of seats the SNP can win next month is 59, out of the 650 in the House Of Commons. Labour and the Tories are likely to take somewhere in the region of 550 between them. Just two days ago, Jim Murphy explicitly stated during the BBC debate that Labour would vote against any FFA proposals.
Keen students of arithmetic will have noted that you can't win a vote with 59 out of 650 MPs. Even if the Nats could somehow persuade everyone in Parliament other than Labour and the Tories to back FFA, they'd still be well over 200 votes short of passing it. It simply isn't going to happen.
And we also know that there's no chance of it being agreed as a concession in a deal. Labour have expressly rejected the idea, saying that they'll give the SNP nothing and dare them to vote Labour out, while the SNP have committed themselves implacably and unequivocally to never dealing with the Conservatives.
FFA, then, is a totally phantom threat. Scottish Labour, unable to land a single blow on the real Nats, has been reduced to jousting with ghosts. The SNP's defence – "We want this bad thing, but luckily you're never going to give us it so it doesn't really matter" – is a bit rubbish, but has the significant advantage of being completely true.
Its other main plus point is of course that the line Scottish Labour are pushing – "We and the Tories guarantee to absolutely prevent this thing from ever happening, but oh boy, if it ever DID you'd regret it" – is even weaker. If FFA is all Jim Murphy and his ailing troops have got in the next four weeks, they've really got SFA.