On the face of it, this stuff is like shooting fish in a barrel.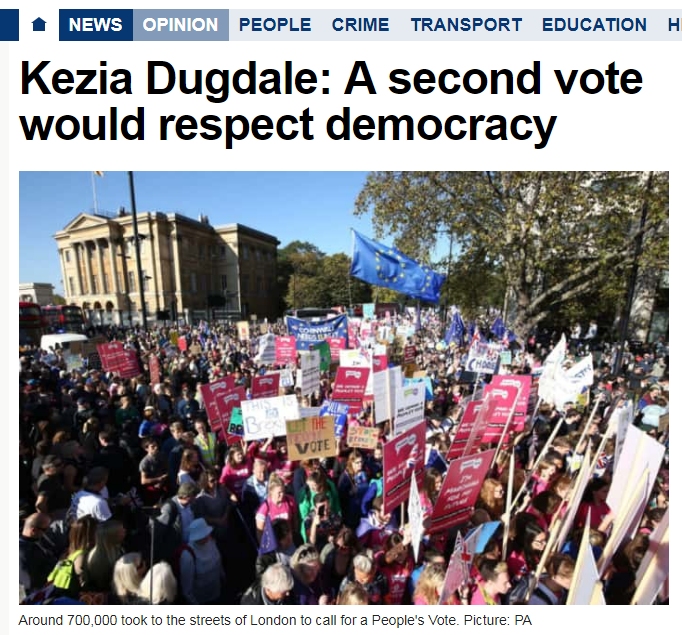 But let's treat it with more dignity than it deserves and hear her out.
Indeed. We completely agree that democracy doesn't end after any single vote, and that people have the right to change their minds if circumstances alter.
We're just a bit confused about who or where the Kezia Dugdale who said this is:
Because we're reasonably sure that a second EU referendum would be "divisive". That's sort of the purpose of all referendums, after all. We're fairly certain that – especially if it had a different outcome to the first one – the reaction would be… well, let's put it mildly and say "heated".
But Dugdale doesn't even seem to know what sort of a vote it is she wants. In the Evening News article she says:
"You should get to endorse or reject the deal the government has negotiated on your behalf. That's if the government can secure a deal at all. In the event of no deal, a People's Vote is even more compelling because the UK Government will have failed us all."
But that's empty gibberish describing a number of wildly different possible situations. What does it actually mean? What goes on the ballot paper? What happens if the government comes up with a deal and voters reject it? The fallback option there is that the UK crashes out of the EU disastrously with no deal, which we imagine isn't what Dugdale wants at all.
What she really wants, of course, is a straight re-run of the in-out vote. That's why at the weekend she said voters should be given "the opportunity to remain in the EU".
But what are the grounds for that? That Brexit isn't currently looking like we were told it would look? How is that different to the "deal" Scots were promised in 2014?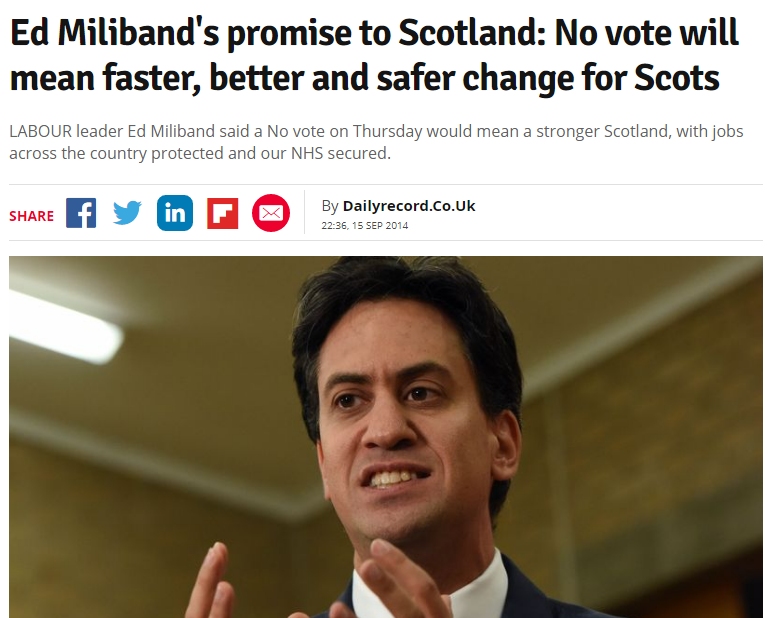 After Scotland voted No, negotiations in the form of the Smith Commission took place and a "deal" – although it was more of an imposed settlement, with the UK government rejecting over 100 amendments from SNP and Labour MPs – was laid down in the form of the Scotland Act 2016, which was given royal assent on 23 March of that year despite the SNP expressing deep dissatisfaction with its final form.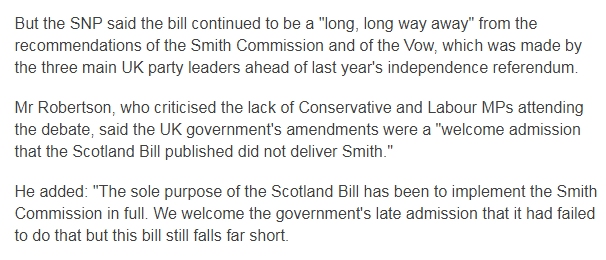 The promises plainly haven't been kept. Nobody could possibly claim with a straight face that "other regions of the UK [have been] handed equal status to Westminster", four years and two governments after the vote. And equally plainly, circumstances have changed dramatically. Scotland was promised that a No vote would keep it in the EU, and the opposite is happening.
The infamous "Vow" of 2014 was so woolly and nebulous that nobody could fairly say whether it had been upheld or not, but the Scottish public's response to the Scotland Bill was lukewarm at best, with only a quarter of voters (including well under half of No voters) believing that the pre-referendum promises had been honoured:

Just six weeks after the Bill's assent, a Scottish Parliament election was held in which the SNP secured more seats than the three Unionist parties put together (and a bigger share of the vote than any UK government has achieved since 1970), on a manifesto explicitly claiming the right to hold a second independence referendum in the event of Scotland voting to stay in the EU but being dragged out by the rest of the UK – the very thing that occurred just another seven weeks later.
So to recap:
1. There was a vote on independence.
2. There was a deal, which voters were unimpressed with.
3. One party said the deal was terrible.
4. That party overwhelmingly won an election a few weeks later.
5. That party's manifesto called for a new vote if certain circumstances arose, which they did just a few more weeks later.
6. The Scottish people, by a consistent two-to-one margin, support the right of the Scottish Parliament rather than the UK one to decide whether that new vote should take place, and that Parliament has already passed a vote on the subject calling for a new referendum.
And yet despite all these clear justifications, Kezia Dugdale implacably opposes giving the Scottish people a say on the deal. On the EU referendum, conversely:
1. There was a vote on EU membership.
2. There's been no deal yet.
3. Nobody knows if any eventual deal will be a bad one.
4. The only election since the vote resulted in a hung parliament.
5. In any event, NO party's manifesto in that election had called for a repeat of the vote, and even now neither of the parties which could win any future UK election has a new referendum as its policy.
And yet Kezia Dugdale bewilderingly thinks that in that case there IS a mandate to give the people a(nother) say, even though – unlike in Scotland – there is absolutely no identifiable sense in which they could be adjudged to have asked for one.
We honestly wish we could report the news differently, folks. It causes us actual pain to have to write this stuff down, because to anyone with an IQ over 20 the arguments made by the likes of Kezia Dugdale are such obviously, stupendously, absurdly hypocritical, intelligence-insulting dribbling cretinous nonsense that anyone willing to put their name to them should probably be in some sort of secure care facility for their own protection and the safety of those around them.
But that's where we are. God help us all.