We've done another poll in conjunction with our dear chums at Panelbase, readers, which we think will be the last full-size Scottish one before the polls open. You may already have seen their headline voting-intention stats, but if not they're below.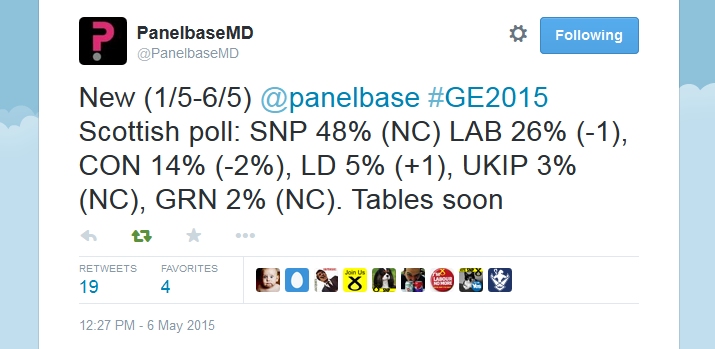 Those numbers suggest, depending which electoral forecaster you feed them into, over 50 seats for the SNP. The poll delivered some extremely interesting results, but we're going to tease you and hold most of them over until tomorrow, because it'll actually be a really slow news day.
(September 18 last year was one of the most miserable days of our lives, and we're not talking about the result. It just seemed to drag on forever and ever, with nothing happening until past midnight. This way there'll at least be something to read.)
But as a little taster, here's a fascinating info-nugget.
We reminded 1,013 respondents that the Smith Commission had delivered a series of recommendations for new powers to be given to the Scottish Parliament, including greater control of taxation and some minor welfare powers (and of course road signs). Then we asked them this:
Had the Smith Commission proposals been an option on the ballot paper in the independence referendum, how do you think you would have voted?
For no change to the way things were: 27%
For the Smith proposals: 21%
For independence: 36%
Don't know: 13%
Wouldn't have voted: 3%
Those figures perhaps demonstrate why the Unionist parties were so desperate to avoid having a devo-max option on the ballot paper – contrary to received wisdom, independence would actually have won, albeit with barely over a third of the vote. (Or around 43% if you discount Don't Knows and non-voters, very close to the proportion who actually voted Yes.)
But the most intriguing thing is that the "more powers" option is LESS popular than the status quo. Changing nothing at all was the preferred option of people planning to vote Conservative tomorrow (by 62% to 21%) and also those saying they'll vote Labour (45-30), with only the Lib Dems (33-48) and SNP (6-12) narrowly in favour of Smith.
Taken as a whole, and given the benefit of hindsight, No voters would choose the status quo over Smith by a clear 47-31, while Yes voters found Smith slightly more acceptable than nothing (4-9) but still overwhelmingly backed independence.
Now, there are all sorts of possible ways to spin those findings, many of which somewhat contradict each other. But two things do seem to be clear.
One is that nobody's going to be putting up any statues to the Smith Commission any time soon. And second is that when the time comes to negotiate the new devolution settlement, the people of Scotland don't much fancy what they've been offered in the name of The Vow so far, and they want a large block of MPs at Westminster who they definitely trust to put Scotland's interests first.