With David Mundell and Ian Murray both having appeared on today's "Good Morning Scotland" singing the praises of the wonderful Scotland Bill and how it would deliver all a nation could ever dream of, it seems a good time to publish the results of our recent Panelbase poll on the subject.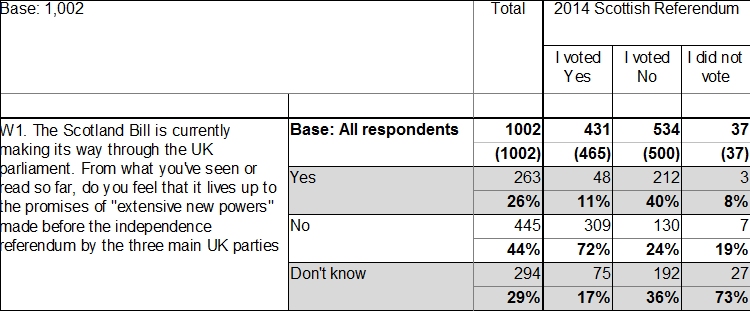 The nation, it seems, has rather more ambitious dreams.
Just 26% of Scots currently believe the Scotland Bill makes good on the infamous "Vow" the three Unionist party leaders made to voters on the eve of the referendum.
But perhaps more tellingly, well under half of those who voted No feel it lives up to the change that David Cameron, Ed Whatsisname and That Other One pledged would be "faster, safer and better" than anything independence could offer, with almost a quarter prepared to state that it's falling short.
(As for the 11% of Yes voters who think it does, we can only assume that their view is on the basis of "We knew it promised sod-all, and it's lived up to that.")
We can't say, of course, whether those 24% of No voters care strongly about the matter. For all we know their reasoning might be the same as that we suggested in the paragraph above, or they might be people who'd never have voted Yes anyway, or even some of the 10% or so who tell pollsters they want Holyrood abolished.
But 24% of No voters is a little more than 13% of the indyref electorate. If half of them switched sides in a future vote, it'd be enough to turn the result around.
It's all very well for Unionists to say "Well, point to anything in The Vow that wasn't delivered", but that's an academic argument. The Vow was indeed a vague and hollow document that promised nothing concrete, but the point is how people feel, and if they feel you've cheated them you're playing a risky game.
The people of Scotland know what they consider to be "Home Rule", and currently the Scotland Bill looks like falling a very great distance short of that. If it came to it, we wouldn't like to be the ones trying to sell "Vote No and we'll give you hunners more powers, honest" again.