In a blur of media excitement this week about such stellar household names as Haydn Gwynne, Maggi Hambling, John Illsley, William Dalrymple, James Timpson, Amanda Foreman, Andy Puddicombe, David Rowntree, Bill Morris, David Goodhart, William Boyd, Tracy Brabin, Paul Cartledge, Glen Baxter and Andy Barrow* all telling Scots to vote No because they love us, an even more thrilling endorsement for the Union was largely overlooked – that of Dana Rohrabacher.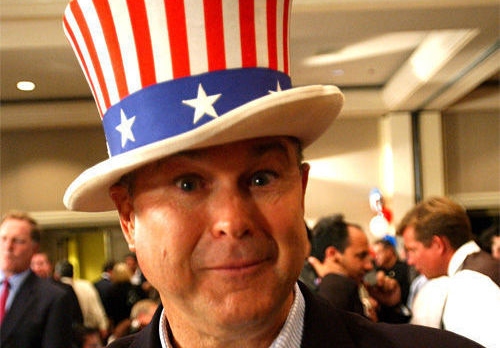 What do you mean, who?
The Telegraph, however, was firmly on top of the job, with a piece yesterday titled "US Congress tables resolution opposing Scottish Independence". A couple of fairly dramatic introductory paragraphs noted that:
"The US Congress has weighed into the debate over Scottish independence, introducing a resolution arguing that a 'united, secure, and prosperous United Kingdom' is essential for US national security priorities in Europe.
It was more than halfway down the piece before the paper revealed the slightly-less impressive truth: just 27 members of Congress had actually put their names to the document, from a total of 435 – slightly over 6%. We hadn't heard of any of them, although there was a bit of a surprise twist at the end when "Dana Rohrabacher" turned out to be a man. (That actually is him in the hat above.)
For perspective, 6% is roughly the percentage of the vote that the Liberal Democrats got in the 2011 Scottish Parliament election. So announcing that the "US Congress" was opposed to Scottish independence on the strength of the resolution is a bit like saying that Tavish Scott is the international voice of Scotland.
We're not sure why the Telegraph (the only other publications to pick the story up as far as we saw were the Huffington Post – which at least has the excuse of being based in the US – and of course the dear old BBC) felt the need to go to such straw-clutching lengths to find an anti-independence story. After all, when you've already got Andy Puddicombe on your team, how much more stardust do you need?
.
*If you have the faintest idea who any of these people are, please let us know.