Watching the Six Nations rugby tournament every year is usually quite a dispiriting experience – not just because of Scotland's invariably underwhelming performances (broken up by the occasional false dawn), but because talking about it on social media always results in an extremely tedious flood of comments about how rugby is a sport played and watched exclusively by middle-class Tory No voters.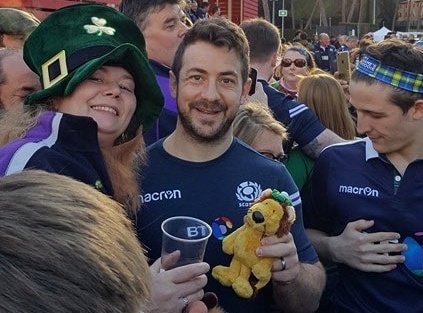 (That's Scotland skipper Greig Laidlaw there, with Wings mascot Hamish.)
Speaking as someone whose interest in the tournament (in the pre-inflation days when it was the Five Nations) was first sparked when my extremely working-class Bathgate comprehensive school started taking pupils to Murrayfield in the 1980s – 50p for the bus and 50p for the match ticket, which got you a seat on wooden benches actually on the grass – this attitude has always instinctively felt like complete nonsense.
So when we did our latest Panelbase poll during this year's competition, we figured we may as well actually find out.