As we write this, Boris Johnson's new Brexit deal appears to hang in the balance. According to Sky News this morning the arithmetic is poised on a knife-edge.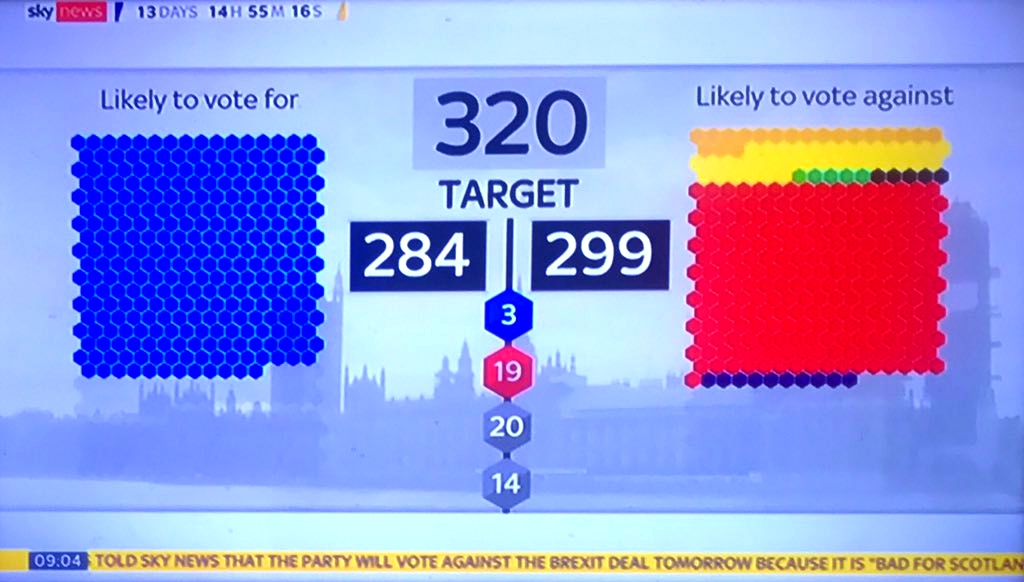 The four "in play" groups down the middle of the graphic are, from the top: three Tory "Spartans" (hardcore Brexiters who might yet back the deal), 19 Labour MPs who've suggested they might do so for various reasons, 20 former-Tory "rebels" who had the whip removed by Johnson for voting to block no-deal, and 14 independents, mainly from the "Change UK" wing or whatever they're called this week.
The government needs 36 of the 56 to vote with it to get the deal through, and can probably count on most of the 20 former Tories. Labour sources are suggesting, quite plausibly, that double-figure numbers of their 19 will also back the deal. So it's close.
If it passes, England and Wales will get what they voted for (Brexit), Northern Ireland will – after a fashion – get what it voted for (effectively staying in the EU), and Scotland will get shafted. It'll be placed at a significant economic disadvantage to NI, at a likely severe cost in jobs and investment. The nation which voted the most decisively on Brexit (for either option) will be the only one not to get its democratic wishes respected.
And slightly surprisingly, the whole UK thinks that's unfair.
We polled in England, Scotland and Wales last week, and got this result:
There was of course no great surprise that Scottish voters felt that a change as big as Brexit should be backed by a four-way lock, with every nation of the UK having to vote for it – not just the UK as a whole, as Unionists endlessly shriek.
But we were quite startled that Leave-voting Wales and, even more so, England, both agreed by clear margins (22 points and 8 points respectively) that it wasn't right for any of the UK's supposed equal partners to be taken out against their will.
And while Leave voters were predictably opposed to the idea, almost 40% of them still also thought that each UK nation should have a veto.
As did nearly a third of Scottish Tories.
(Interestingly, the number for Tories UK-wide was noticeably higher at 39%. Scottish Tories are LESS keen on Scotland being treated with respect than English ones are.)
Scotland is NOT a member of a union. It is in all practical senses England's prisoner, forced by the chains of numbers to do whatever England wants. Not even the voters of England think that's right. But sadly 55% of Scots, when shown an open door, voted in 2014 to stay in their cells for fear of the outside world.
With the SNP apparently content to sit tight, roll the dice and hope that some sort of favourable outcome miraculously lands in their laps, we may be only a few days from learning the full consequences of our subservience.