16 votes, up to a maximum of 31, you say?
If only there was a party with enough MPs to turn that round, eh?
The Prime Minister's new Brexit deal is a catastrophe for Scotland. It would massively disadvantage the country compared to Northern Ireland. Companies would entirely sensibly flock across the Irish Sea to enjoy the chance to effectively remain in the EU without the upheaval of leaving the UK, taking thousands of jobs with them, and inward investment to Scotland would tank.
Every nation of the UK would basically be getting what it voted for in 2016, except Scotland. Imagine if there was something we could do.
And readers, please spare us the awful arguments against the idea of offering Johnson the SNP's votes (or, now, even just abstentions) in return for the power to determine our own destiny. We've heard them, and they're all rubbish.
"But you can't trust him! He'd do the deal then renege on the promise!"
Then why are we currently pursuing a policy that's entirely dependent on him giving and keeping his word? Presumably that must be a waste of time too.
(And also: if only we had someone in our team who was red-hot at legal stuff and could make sure the deal was watertight.)
"But it would be immoral to abandon England and Wales!"
England and Wales both voted for Brexit, and more importantly poll after poll shows that they still want it to happen despite knowing it's going to be dreadful.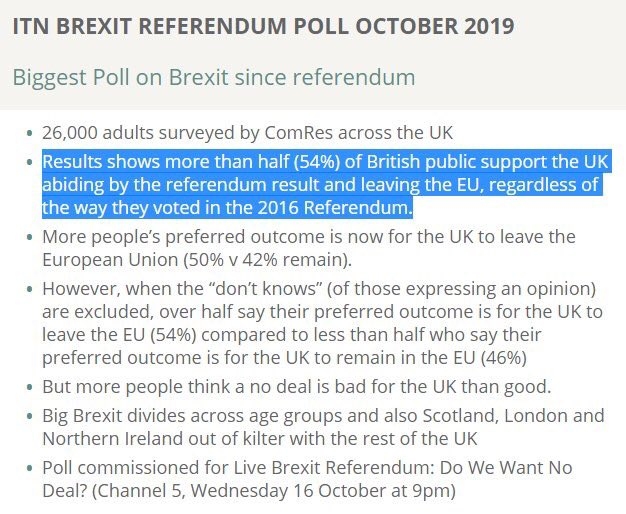 It's not Scotland's job, or our right, to override their will. And we'd still be protecting them from something much worse.
"But we'd lose an indyref that was held after we'd enabled Brexit!"
Why? Who'd vote against it? Of the 50% of Scottish voters who are currently in favour of independence (or more, depending on the specific question you ask), many of them because of Brexit, which ones would suddenly change their mind and oppose it when it was an absolutely stark and explicit choice between independence and Brexit?
For the people who want independence AND to avoid Brexit, the referendum offers them the precise thing they desire. And the people who are strongly against Brexit but only reluctantly in favour of independence: do we REALLY think they're going to vote against independence, and thereby condemn themselves to Brexit, just out of some kind of abstract cutting-off-your-own-nose spite?
That's like voting to stay in a burning skyscraper because you're in a huff that the lifts aren't working and you won't walk up a couple of flights of stairs to get to the roof for the escape helicopter.
"Boris Johnson would never agree such a deal in the first place!"
Why wouldn't he? We know his own voters are (a) absolutely feverishly desperate to get Brexit done, and (b) not bothered about losing Scotland and/or Northern Ireland to do it. What does he have to lose? And what do we have to lose by at least finding out?
The ball is rolling across an open goal. Successful politics is about having the courage to make difficult decisions that might attract criticism, in order to uphold your principles and achieve your goals. Nigel Farage doesn't give a toss what the media says about him as long as he gets the thing he wants.
But the independence movement is currently led by people who won't just miss the chance of a lifetime, but are too scared to even stab a boot at it in case they get some bad press or damage their own careers.
At least Chris Iwelumo tried his best.