Which we were yesterday, we couldn't help noticing this:
And that reminded us that we still had some more poll results to reveal.
In our Panelbase survey conducted last month, we asked what we're pretty sure is the longest question we've ever had in a poll:
"Approximately 900 parades or marches by Loyalist organisations such as the Grand Orange Lodge and the Apprentice Boys of Derry take place in Scotland each year.

Some people regard these as provocative sectarian events likely to result in disorder or violence, while others regard them as a matter of fundamental freedom of expression and a celebration of cultural heritage.

Other marches are conducted by various political groups or organisations, including those on the far right, and some also consider political marches to be provocative and/or dangerous. Which of the following is closest to your view?"
That was quite a lot for respondents to chew over, and the results are quite complex, so let's start with the simplest bit.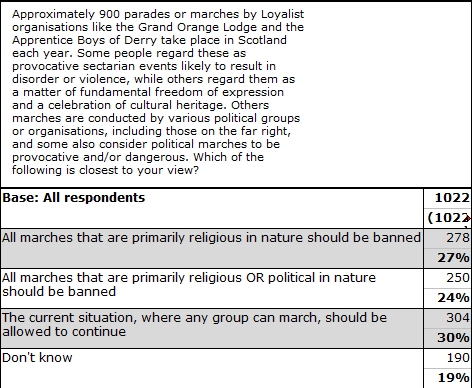 Excluding the don't-knows, a resounding 63% of Scots – more than the Remain vote in the EU referendum – want Orange marches banned. Even including those who have no feelings either way, an absolute majority of 51% want Loyalists off Scotland's streets, compared to just 30% who think they should be allowed to continue.
But nearly a quarter of the population, also want to outlaw any form of political march, which is pretty drastic. That would, after all, encompass not just the couple of dozen tattooed knuckleheads who populate your average BNP gathering, but also events like the Yes marches on Calton Hill in 2013 and in Glasgow city centre in 2016.
Nevertheless, 24% is a pretty small minority, perhaps reflecting the fact that Scotland doesn't actually tend to have very many political marches – the number of sizeable ones in the last decade is comfortably in single figures.
But with hundreds and hundreds of Loyalist demonstrations every year, it seems like voters are getting pretty sick of open displays of sectarian hate like this from last year.
The poll breakdowns are interesting. There were only minor differences by sex, age or social class, but native Scots were MUCH keener – more than 2:1 – on banning Orange parades than people born in England (who perhaps don't really grasp what they're about), and that ratio was almost identical when it came to Yes and No voters (who definitely do).
There were few differences between party voters on banning political marches, but a range of opinions on banning Loyalist ones, from just 21% among Tory voters rising steadily to 40% among SNP supporters. And equally unsurprisingly, Celtic fans were a lot keener on banning Orange walks (43%) than "Rangers" fans (20%), with other supporters in the middle.
Perhaps less predictably, fans of the Ibrox club were also much less inclined to ban political marches. In total, just 34% of them wanted to ban either type, compared to a whopping 77% of Celtic fans, 57% of those from other clubs, and 50% of those who don't follow the sport.
There are various spins that could be put on those figures, but the unarguable one would appear to be that despite protests to the contrary, sectarianism in Scotland is still very much tied to football.
And as opposition parties continue to work towards abolishing the OBFA – egged on by pressure groups almost entirely dominated by a loud minority of Celtic fans who want to keep singing their provocative songs while banning everything else – we suspect we're not the only people apprehensive about the consequences.