We thought it might be worth going through this in a bit more detail.
The phrase "out of control" is in quote marks in the Herald's front-page headline, leading readers to believe someone has said it, but who? Let's investigate.
Certainly not from Oxfam, whose report it does not appear anywhere in.
Let's see what else isn't there.
"The gulf between the haves and have nots in Scotland is deepening"
Is it? We're offered no evidence to support this proposition, other than a supposed report from Oxfam that we know doesn't mention Scotland at all.
"amid claims that the nation's wealth inequality crisis is now out of control."
The phrase "inequality crisis" appears 11 times in the report but none of them make reference to any particular nation, let alone Scotland. (There's one reference to the "GLOBAL inequality crisis".)
"A new report from Oxfam reveals that in Scotland, the richest one per cent has more wealth than the bottom 50 per cent combined."
No it doesn't. It doesn't mention Scotland at all. That's a lie.
"It is now urging governments around the world, including Holyrood, to rethink economic and tax policies to help tighten the gap."
No it isn't. Oxfam's report doesn't mention – or indirectly refer to – Scotland, the Scottish Government or Holyrood anywhere in the document. That's a lie.
"In Scotland, the 10 richest families or individuals were last year estimated to have a combined wealth of £14.7bn."
Were they? Estimated by who? Not Oxfam, certainly, and nobody else is identified as the source. It may or may not be a lie, there's simply no way of knowing.
"Oxfam has just published a report that seeks to expose the extent of the gap and its effects in Scotland."
No it hasn't. We already know that Scotland isn't mentioned at all. That's a lie.
"The gap between the rich and the poor is not a faraway crisis, says the charity; it is right here in Scotland and it is getting worse."
No it doesn't. It doesn't say any such thing. That's a lie.
"Oxfam's report says the top one per cent in Scotland own more wealth than the bottom 50 per cent put together"
No it doesn't. That's a lie.
"it is a crisis of inequality, says the charity"
No it doesn't. That's a lie.
"and it is out of control"
No, it doesn't say that, even though you've said it three times now. That line, on which the Herald appears to have hung its entire big splash, is eventually attributed to a Dr Katherine Trebeck, an Australian academic who does do research for Oxfam but whose name also appears nowhere in the document and who is not listed as either one of its three authors or the 30 assistants and experts who helped in some way.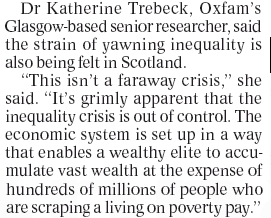 The report's methodology notes say that it conducted research into "PERCEPTIONS of inequality" (our caps) in 10 countries, which included Nigeria, Morocco, Mexico, South Africa and the UK but not Scotland.
(Stunningly the survey found that people were against inequality.)
Now, don't get us wrong. While this story appears to be a shameful fabrication based on no identifiable facts about Scotland and with no relation whatsoever to today's Oxfam report, we're quite certain that there is indeed a vast amount of inequality in the world. We also have no quibbles whatsoever with Dr Trebeck's assessment of the global economic structure, and we're sure that inequality does also affect Scotland.
What's more, we've also had a pretty hot tip about the Pope's religious affiliations and where might be a good place to look for some bear dung for the roses in our garden.
We look forward to seeing both of those as exclusives in tomorrow's Herald.