It's pretty stark when you see it laid out like this.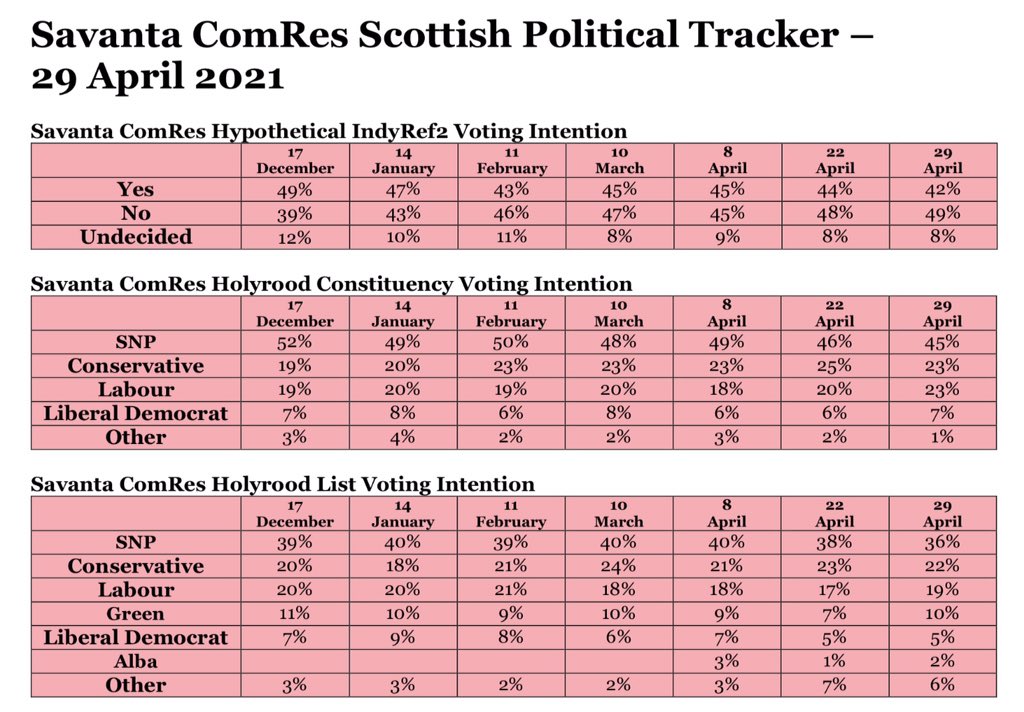 In just four months, the SNP – because if you aggressively assert sole ownership of a political campaign, there's nobody else you can blame when it goes south – have turned a 10-point lead for independence into a seven-point lead for the Union with the same polling company.
And while that's pretty brutal in itself, it's not even the real fly in the ointment.
Because once you have a referendum (or indeed a plebiscitary election) you can always turn things round in the campaign. Being slightly behind at the start is no big deal. But to GET that referendum in the first place, the SNP has bet all its chips on the moral force of a majority of Scots backing one.
That, as Wings has been pointing out for many months, is a terrible plan anyway when its target is Boris Johnson, a man of zero detectable morals. But even if you were the sort of massive clattering gullible idiot who ever thought it might work, it falls completely to pieces when you don't HAVE a majority of Scots behind you.
In December, as well as a 10-point lead for independence ComRes found 52% of people planning to vote for pro-indy parties on the constituency vote and 50% on the regional list. The two votes tend to get near-enough identical numbers for pretty obvious reasons, so you can reasonably average them, giving you a total of 51% of votes cast for parties backing a new referendum.
That's a thin margin, but it IS a majority and so you can use it to legitimately say "most Scots have voted for indyref 2 so democracy demands you allow it to happen". If 51% of the vote is enough for something as big as taking the UK out of the EU, you can't credibly argue that it's insufficient for anything else. But where are we now?
The most recent numbers give Yes parties just 45% on the constituency vote and 48% on the list (entirely down to a drop in the SNP vote – Alba and the Greens have held firm). That's an average of 46.5%, which ISN'T a majority. If those were the actual vote numbers then a clear majority of Scots would have voted for parties OPPOSED to a second indyref, and even in the fantasy land where Boris Johnson is susceptible to a "morality" argument, he wins it and the game's a bogey.
Of course, as we predicted yesterday, the SNP are blaming everyone else.
But the awkward truth for Pension Pete is that the chart above clearly shows that the SNP had dropped the ball before Alba ever showed up. The Yes lead and the vote majority were both gone in early February, with No leading by three points and the combined pro-referendum vote down to 49%.
The first poll that included Alba, three weeks ago, in fact brought the independence numbers back UP to 50-50 after two months of No majorities, (perhaps because Alba actually talked about independence), and lifted the vote figures up from 49% to 50.5%, a tiny but crucial step across the winning line.
But weeks of relentless Alba-bashing from the SNP have blown that again – they've managed to get the Alba vote down fractionally, but at a significantly greater cost to themselves as they've repelled some of their own supporters with deranged and noxious hatred against a fellow indy party mostly comprised of their own former MPs, MSPs, councillors and officeholders.
(Alba didn't do that – Alba has been telling people to vote SNP in the constituency vote with every breath, even as the SNP relentlessly and bitterly attacks them.)
The result of the SNP's month-long fit of furious pique is that Yes now trails No by seven points, and as we've already noted the election vote is down to 46.5%.
You simply can't claim any sort of democratic mandate for a binary choice on less than 50% of the vote. Claiming it based on a majority of seats that came from less than a majority of votes is the sort of thing we scream blue murder about when the Tories do it at Westminster, and justly so.
There are differences of opinion over whether this is exactly what the SNP have wanted to achieve all along, of course. But whether they intended it or not, it's indisputably what's happened. The supposed captains of the indy ship have blasted a huge hole in the bottom of the hull trying to kill what they see as rats, and unless they stop shooting and start patching in the next six days, all of us will sink with it.