The grim thing is, the Daily Record's headline isn't even a lie.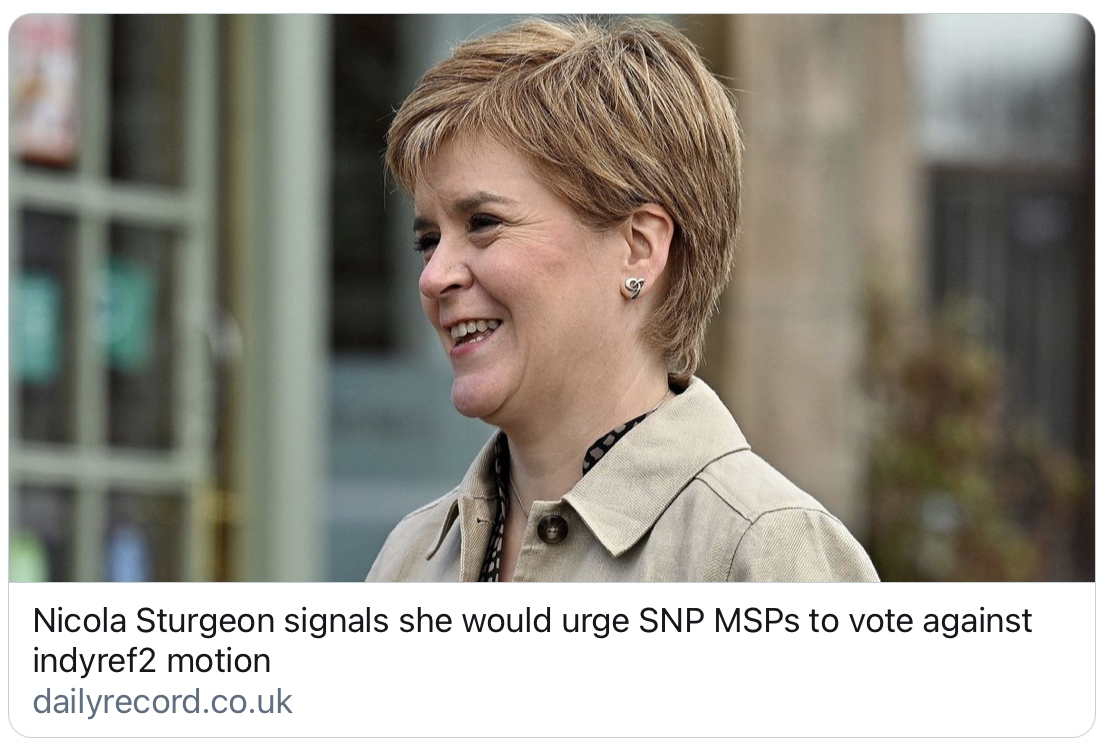 You can check by listening to the interview yourself here, from 2h 10m.
Sturgeon starts off (2:11:20) by emphasising the election is NOT about independence.
"Can I just say one thing for context, which I think might be important as we go into this interview? I'm not proposing a referendum right now, and I'm certainly not proposing a referendum while the country is still dealing with the crisis of COVID. My focus if I'm re-elected next week is to steer us through COVID and into recovery.

Some of my critics in the independence movement might, or DO say that I'm too cautious on that, but actually I think it is a GOOD thing to be cautious when we're talking about a crisis, a health crisis and the future of our country."
The problem is that that's nonsense. Firstly we know that dozens and dozens of other countries in the world, including the USA, have held both elections and referendums at the height of the pandemic. Scotland is in fact holding a general election in less than a week's time, which is mechanically identical to a referendum. Indeed, had she chosen to, Sturgeon could have MADE that election a de facto referendum.
And secondly there's this: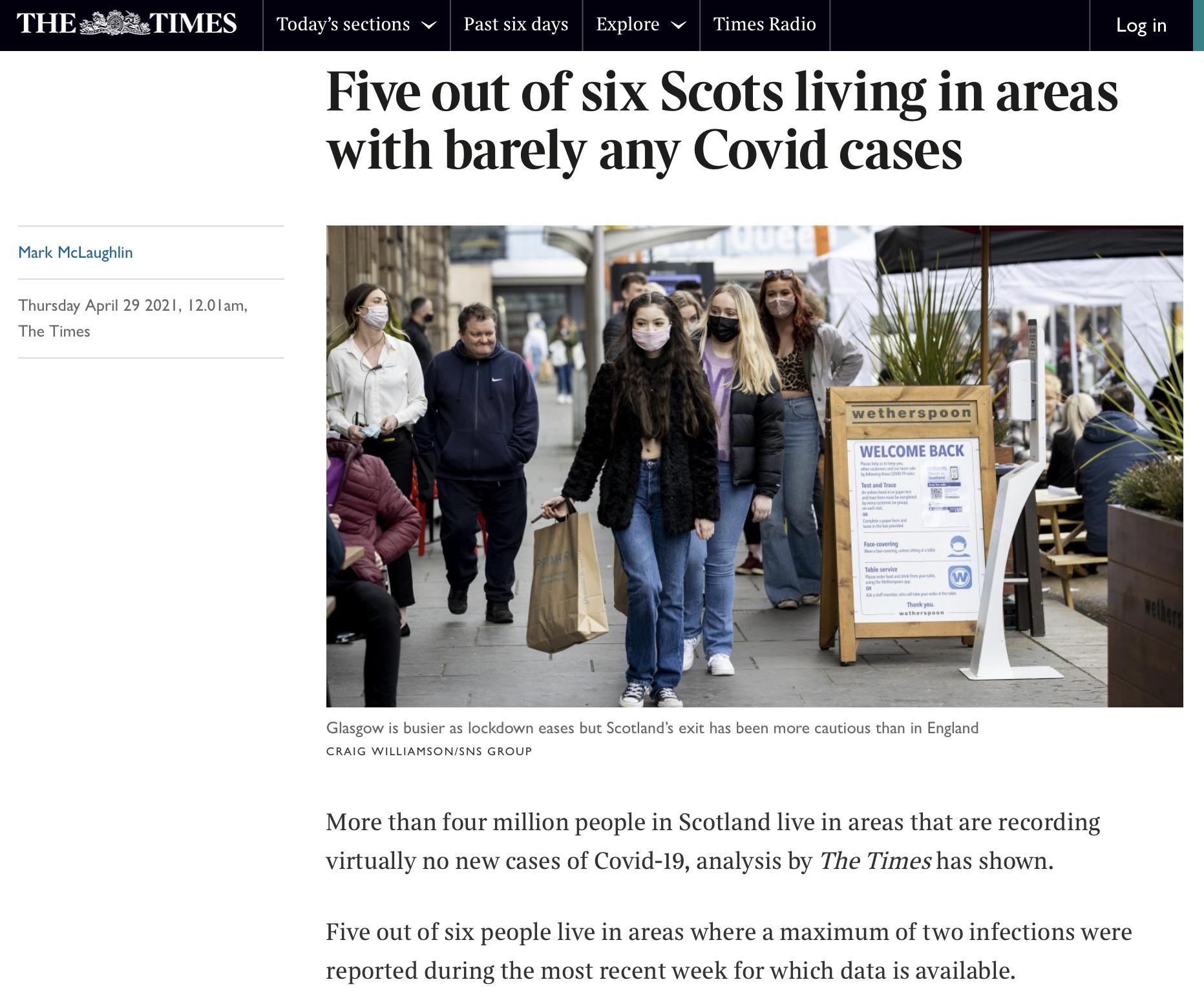 COVID-19 is in most meaningful ways already over. Shops and pubs are open again, conveniently just in time for the election. People are back in offices working. The majority of the population has had at least one dose of the vaccine and in a matter of weeks the whole country will be immunised.
With almost no new infections, the virus has no vectors by which to spread. Yesterday there were just 12 people in the whole of Scotland in intensive care with COVID. It's now about as big a danger as flu, or being run over. It should present no obstacle to the normal operation of democracy.
(There could of course be new variants, but that's ALWAYS true about viruses. There could also be a whole new pandemic of something else entirely tomorrow. Humanity can't just hide in the basement forever.)
Sturgeon continued:
"I don't believe we should propose a referendum right at this moment. I am a lifelong believer in independence, I want Scotland to be independent, but firstly we've got to steer the country through the crisis.

We've got to build the majority for independence through patient persuasion, and people who are serious about achieving independence I think understand that.

I actually think of 'super-majorities' and gaming the system, and trying to bulldoze our way to independence almost regardless of the state of public opinion risks putting those that we are looking to persuade of the case for independence off rather than pulling them towards us."
But the problem with that is that Sturgeon is doing that already. As we noted earlier today, her "patient persuasion" has taken Yes from a 10-point lead to an 8-point deficit in the last four months. She's going backwards at a rate of knots, and in the most favourable circumstances she could ever dream of – Brexit, a pandemic in which she's been (erroneously) seen to have performed well, and a wildly unpopular and almost comically crooked complete buffoon in 10 Downing Street.
She HAD a majority for independence, and she's blown it. It's almost impossible to imagine anything that could possibly provide a bigger boost to the Yes vote than what she's already had and wasted.
She used to promise that she'd deliver a second indyref "before it is too late" to avoid the effects of Brexit. But Brexit happened 15 months ago and now we have to wait for some unspecified point at which the effects of COVID are over before she'll even begin to try. There's always an excuse, and there always will be.
(Sturgeon in fact spent most of the interview ducking tricky questions on currency, Trident and more with her trusty old "We'll answer that when there's a referendum because we haven't actually come up with any answers in the last five years because we've had nobody working on it" schtick.)
Earlier today we noticed an infamously creepy sexual pervert from the Scottish Greens (sorry, we know that doesn't narrow it down very much) tweeting a graph attempting to blame the decline in indy support on Alex Salmond. The annotation is theirs.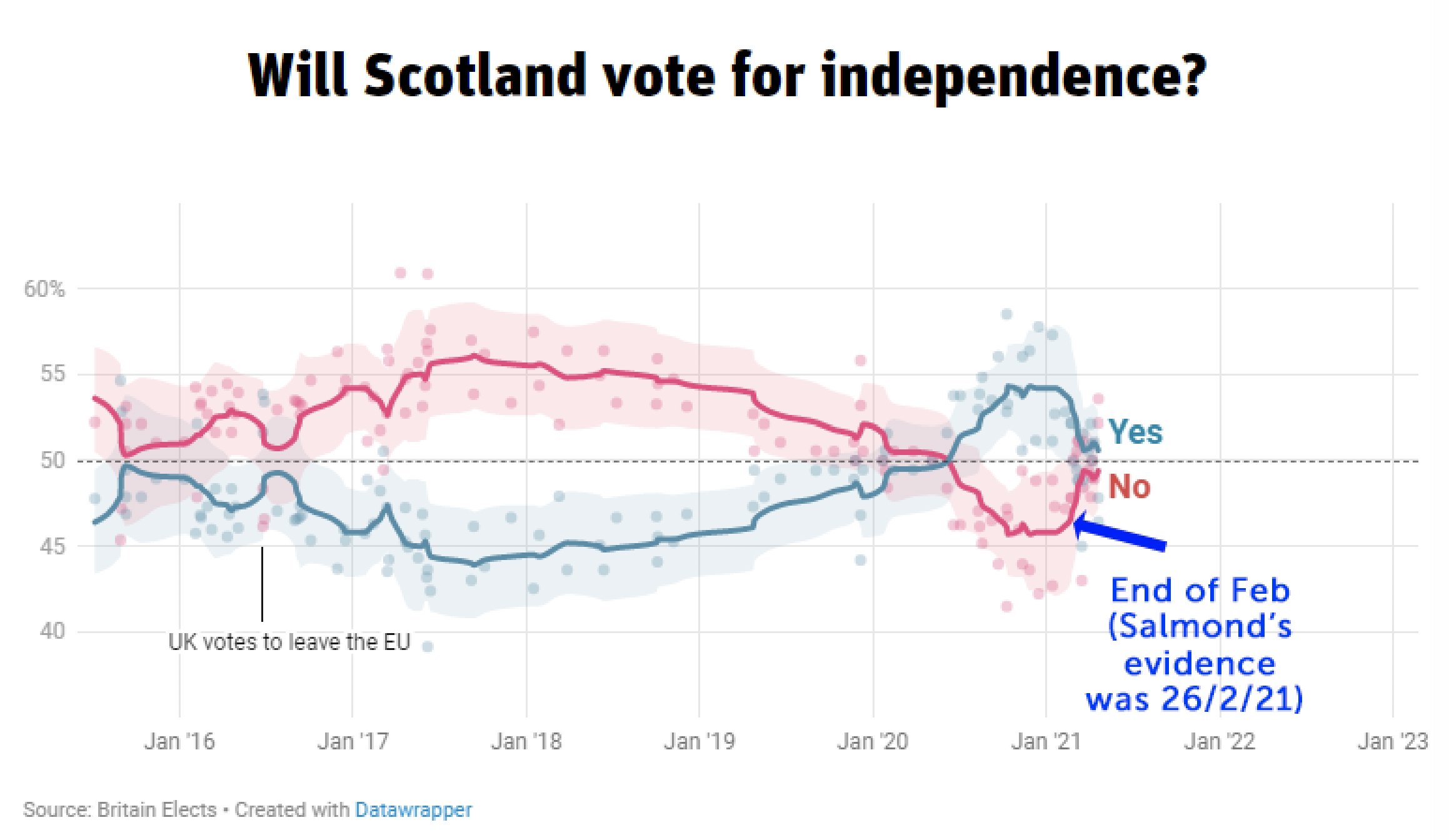 Now, correlation isn't necessarily causation. But if we assumed for the sake of their argument that it was in this case, what would that actually tell us? It tells us that when people had heard about the sort of grotesquely corrupt, undemocratic, totalitarian Scotland that was being created under Nicola Sturgeon, they suddenly got a lot less keen on the idea of it being independent. (And to be quite honest with you, so did we.)
The argument being made by the sleazy Green, although he didn't realise it, was that everything Alex Salmond said to the inquiry was true. Because if it wasn't true, why would it have changed anyone's mind about independence? Alex Salmond isn't in government, and in February nobody had a clue he was even going to start a party to try to become an MSP again, so if they thought he was lying it wouldn't make any difference to anything. Indeed, it could only logically have strengthened backing for Sturgeon and her cause, but instead the exact opposite happened.
Salmond's evidence being the reason for the slide in the Yes vote only makes sense as an argument if what he said was the truth (which it was).
Alternatively, of course, one could equally posit that it was when Nicola Sturgeon gave HER (rather less candid) evidence a couple of days later that the Yes vote started to plunge, but either way the effective meaning is the same – that it was discovering how Sturgeon and her government had behaved that made people turn against independence.
We fervently hope that Alba does secure some MSPs next week, brings forward the motion and forces the SNP to vote against the pursuit of independence. Maybe THAT would finally open the eyes of a few of the demented loyalists who've been determinedly pulling off the "three wise monkeys" routine for the last two years.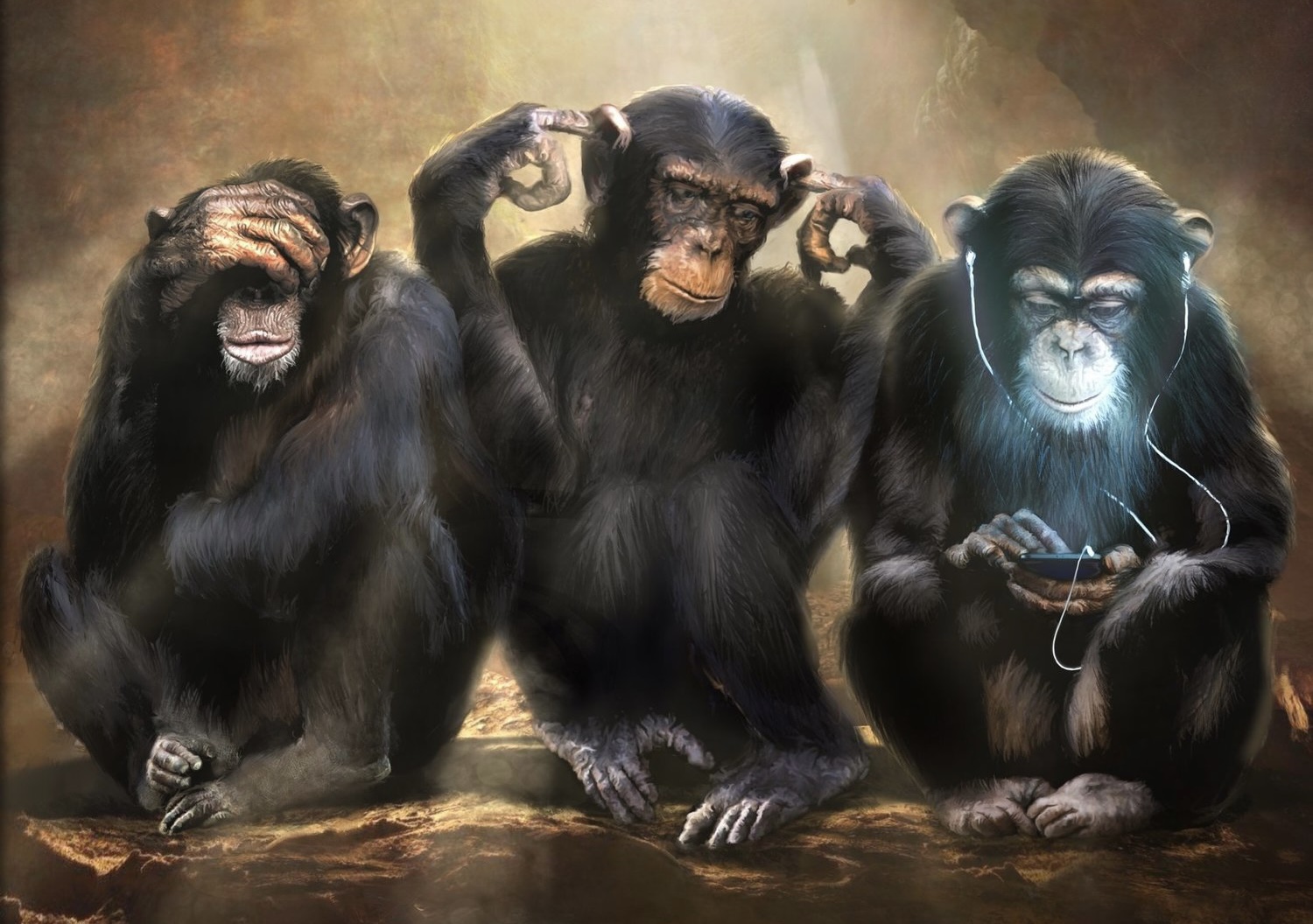 Then again, it probably wouldn't. If they managed to turn a blind eye when the SNP opposed Martin Keatings' court case to try to give the Scottish Parliament the right to hold another indyref (and a key judgement is expected on that today, btw), they'll probably find a way to shrug off the party actually voting against it too.
The truth of the matter is that Nicola Sturgeon has poisoned the Yes movement. Every part of it is now at war with every other part, and so bitterly that it's hard to imagine the peace and unity of 2014 returning even if and when she's finally dragged kicking and screaming out of Bute House.
The SNP and its supporters are spending most of their time attacking not Unionists, but the only man who ever actually got Scotland an independence referendum. The party's sole priority appears to be putting rapists in women's prisons and paedophiles in their changing rooms, and it reacts with jealous vindictive fury against anyone – Salmond, Keatings, bloggers, its own members – who actually tries to advance the cause of independence in any practical way. It now only exists to perpetuate itself in power, for power's sake.
In about a week's time (allowing for COVID-slowed vote counting) we'll know if the poisoning is fatal. Cling to whatever hope you have left, folks.