Remember when we'd had 20-odd Yes-majority polls in a row, and all the courtiers of Queen Nicola Of Trans were telling us that it was solely down to her personal strategic genius and cunning masterplan of gently persuading soft No voters by, um, not actually taking any steps to achieve independence in case it scared them?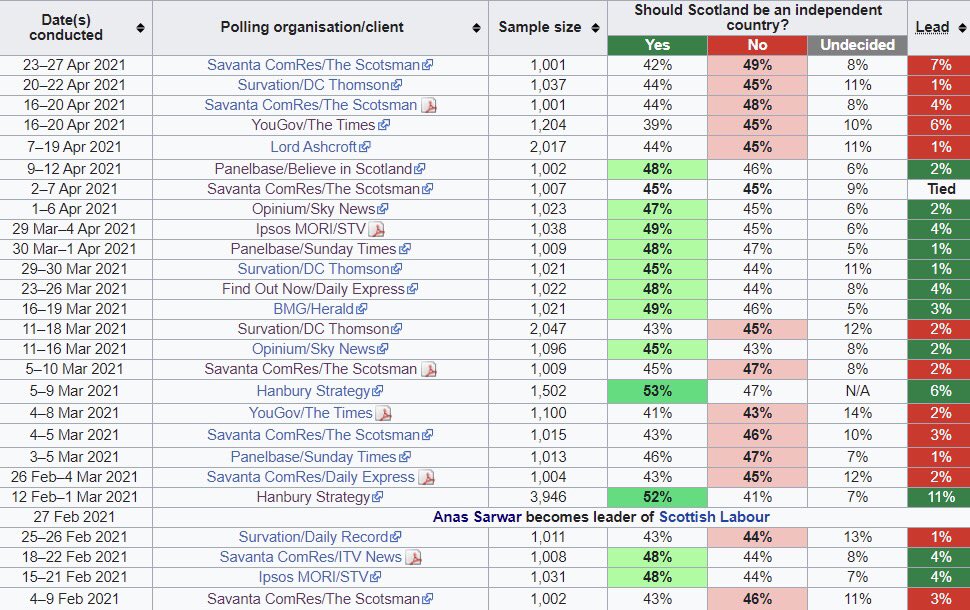 We wonder whose fault this is, then.
That's a rhetorical question, of course. We know that their answer is "Alex Salmond and the Bad Bloggers!" But what are sane people to make of it?
The last 25 polls are now basically back to a dead heat. There are 13 majorities for No, 12 for Yes and one tie. They're spread across the range of polling companies – Savanta ComRes, Survation, YouGov and Panelbase have all recorded No leads in the above period, and three of them have also recorded Yes leads. Ipsos MORI appear to be solid for Yes, while YouGov are solid for No.
(Slightly worryingly the biggest Yes leads by a distance – 11 and 6 points in February and early March – have come from the previously unknown Hanbury Strategy, who aren't British Polling Council members.)
Readers will doubtless all have their own theories as to the reason for what is now an unmistakeable slippage undeniable by even the most doggedly Pollyanna indy bloggers, however they might try to massage or disguise the figures. Is Sturgeon's COVID advantage dissipating as the pandemic recedes? Is the continuing non-appearance of a perceptible Brexit apocalypse soothing last year's waverers? Are domestic concerns more to the fore? We simply can't say for sure.
But what's certainly true is that it coincides with a drop in SNP support, from peaks last year just shy of 60% to something currently in the mid-to-high 40s and falling.
The SNP didn't record a single constituency poll ranking below 50% in the whole of 2020. But in 25 polls conducted in 2021 they've only topped 50% six times, and only two of those have been in the last eight weeks (both nearly a month ago).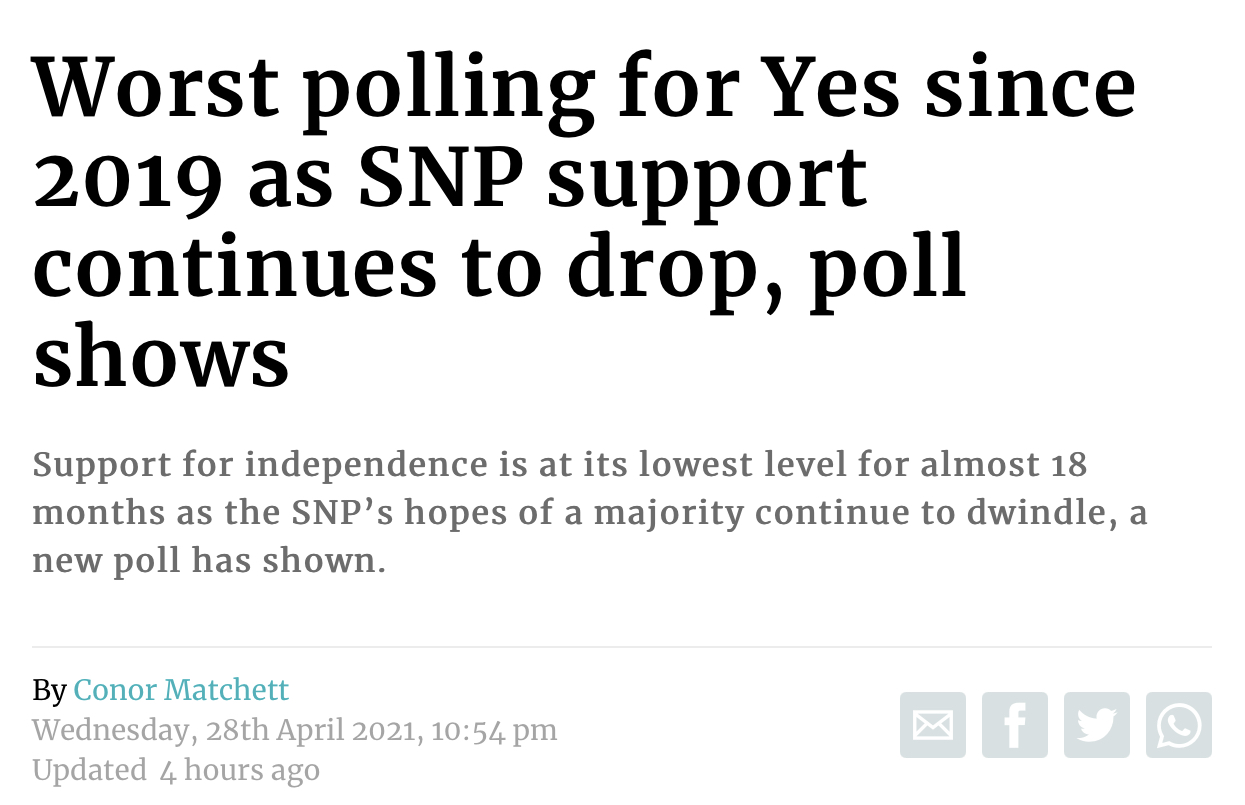 It seems quite the coincidence that independence support falls when support for the SNP does. It's almost as if one party demanding and asserting sole ownership of the principle of independence makes that principle a hostage to political fortune when that party seems for its own internal reasons to be hell-bent on alienating large proportions of the electorate with unpopular policies and what seems more and more to be out-of-control hubris, corruption and failure.
The Yes movement has allowed itself to sleepwalk into a situation where it's been subsumed into the private interests of a political party. It may already be too late to fix that for the next five years. But by creating some level of healthy competition in pro-independence politics there may still be a chance to save the cause in the longer term.
Only one leader has ever won a majority in the Scottish Parliament. Only one leader has ever delivered an independence referendum, and only one leader has ever overseen a major and lasting increase in the pro-independence vote, from the low 30s of pre-2007 to the unbroken high 40s of the last decade. That leader was presented with a single opportunity in 2011 (that he in fact created himself from the tiniest sliver in 2007), and seized it with both hands.
But the SNP is currently engaged in a determined attempt to destroy that leader to protect the personal fiefdom of a successor who's achieved none of those things and has squandered countless chances to take decisive action, whether it's because she's scared to lose or because she doesn't really want to win.
We're absolutely partisan, but we're pretty sure that an unbiased observer would feel that that perhaps might not be the smartest strategy for a movement that cared about reaching a specific goal, not just keeping a particular party in power. It might be wiser to have someone with such a record of proven achievement, if not centre stage then at least somewhere in the wings. It's never good strategy to have a single point of failure.
So if you actually want independence rather than just to have the SNP comfortably in charge of a devolved government subservient to Westminster forever, readers, it might be an idea to actually vote for it next week.