This week Scottish Labour have been attacking the SNP's rather timid plans for the reform of Council Tax, which is an entirely fair and legitimate opposition pursuit.
But as is their wont, Kezia Dugdale's branch office just can't help overplaying their hand and doing it in a highly dishonest way.
All of the damning quotes Labour have assembled come from the 2003 and 2007 election campaigns. In 2003 the SNP lost the election – the resulting Labour-led government at Holyrood doing absolutely nothing about the tax – and in 2007 they won only a minority administration, which attempted to completely abolish Council Tax in favour of a local income tax but was defeated by the combined opposition of Labour and the Conservatives and eventually officially gave up on the plan in 2009.
(Though oddly, as recently as two years ago Scottish Labour's then local-government spokeswoman Sarah Boyack was still talking about "The SNP's plans to introduce their hated local income tax" as a current issue.)
In 2011 the SNP did NOT campaign on a policy of scrapping the tax in the coming parliament. Instead, they acknowledged the difficulty of coming up with a workable alternative and said that:
"We will consult with others to produce a fairer system based on ability to pay to replace the Council Tax and put this to the people at the next election."
(Our emphasis.) The Nats, therefore, have NOT actually broken any promises. All manifestos implicitly assume a working majority, or all bets are off. After 2003 they weren't in power, after 2007 they did their best but simply didn't have enough MSPs to defeat combined Unionist opposition, and after 2011 – when they finally DID have a majority – they kept their commitment to consult on a fairer system.
The reason a brand-new one isn't going to be offered this year is that Council Tax is a difficult and thorny problem to solve, and even the cross-party Commission On Local Tax Reform that was duly instigated by the Scottish Government wasn't able to come up with a solution, throwing its hands in the air and saying that the Council Tax was bad but that they could "not advocate any single alternative to the present system".
They passed the buck straight back to the political parties instead, saying:
"Our work is intended to inform new policies on local taxation which will be put to the electorate in the Scottish Parliamentary election in May 2016, recognising that political parties will attach different weights to the considerations for different options."
So far the parties have bodyswerved the responsibility.
The SNP have fiddled round the edges, producing some slightly-progressive tweaks that nobody (except the Scottish Daily Mail) actually objects to in themselves but which by common consensus – including that of this site – are rather feeble and will produce a financial drop in a bucket.
Scottish Labour, which has been flapping around promising an alternative for nearly a decade, still has nothing to show for an endless parade of policy forums and debates on the subject. In October 2010 the party claimed to be "finalising" its proposals:

But just a few short months later it had given up on the idea completely:
Almost five years further on from that throwing-in of the towel, Scottish voters still wait in vain to hear of Labour's plans for local government finance, although the last known position is that it still favours a property-based tax.
(The Scottish Conservatives and Liberal Democrats, to the best of our knowledge, also currently have no proposals for a Council Tax replacement, with both stalling frantically for time until they have to publish their manifestos in a few weeks. The Greens advocate a Land Value Tax, an attractive idea with some major unaddressed flaws, but have of course no chance of forming a government.)
But with Scottish Labour going back as far as 2003 for incriminating quotes on the subject, we unavoidably found ourselves delving through some of their own history, especially that of leader Kezia Dugdale. And some of it was rather interesting.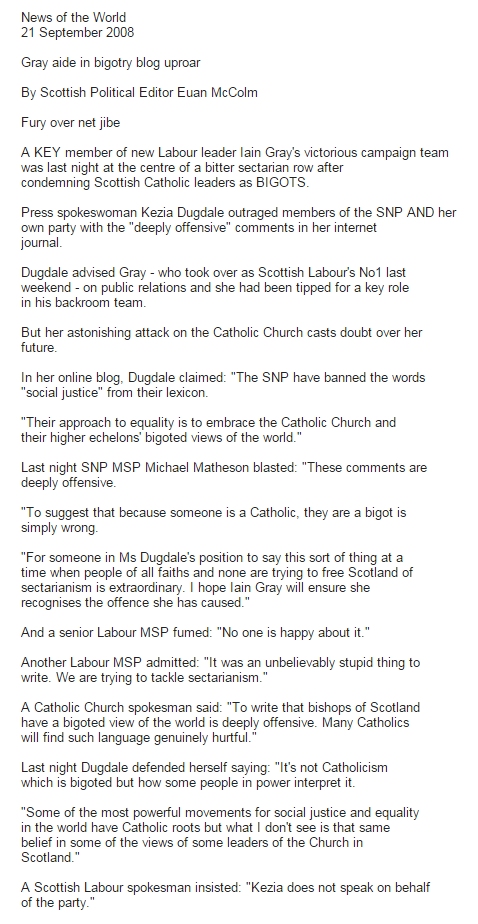 The News Of The World story above has been all but obliterated from history. You can Google all day long for any sort of reference to it, but the only place it seems to exist is in the archives of the National Library of Scotland. We'd be amazed if no other newspaper had picked it up at the time, but if they did they've all been wiped.
We can think of no justification for the censorship. No court case was involved and Dugdale defended her remarks rather than claiming to have been misquoted or taken out of context. The act of wiping them from the record is much more noteworthy than the comments themselves, which are offensive and stupid but not illegal.
But perhaps more fascinating is that while Dugdale deleted the post in question, all of the other articles from her old "Soapbox" blog (now vanished from public view) appear to have been imported across into her current website and can still be read there today, so we can only therefore logically assume that they still represent the opinions of the Scottish Labour leader.
That being the case, we thought we should have a look at some of them.
—————————————————————————————————————
ON RELIGIOUS BELIEVERS:
"I'm beginning to think, if I'm honest, maybe I look a bit funny at churchgoers and people of faith?"
That's quite a lot of people to be looking "a bit funny" at.
.
ON THE DEVOLUTION OF ABORTION: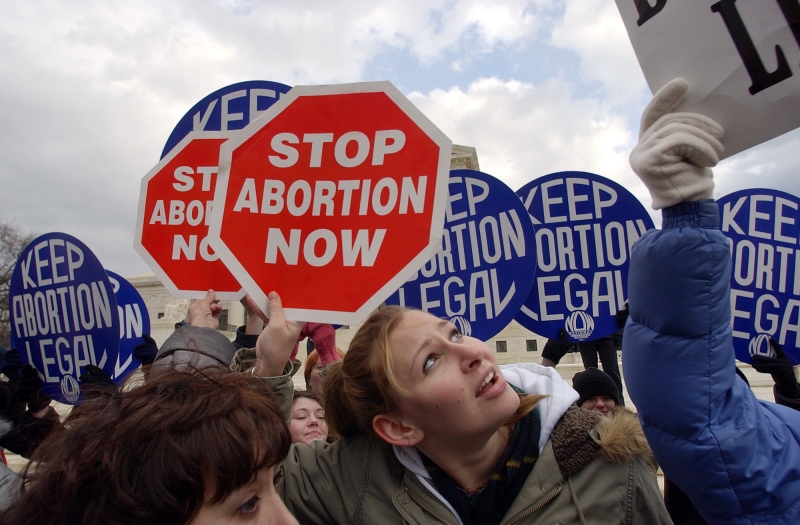 "I believe women should have equal access to safe, legal, free abortion and that these rights should be defended and extended. All of that is in jeopardy if abortion is devolved."
Another airing for a line Labour are fond of, namely "only civilised England can save us primitive, ignorant Scots from frothing anti-abortionists" – despite the fact that the Scottish Government is committed to no change in the law whereas some current UK government ministers favour cutting the time limit in half.
.
ON SCOTTISH PEOPLE BEING RACIST BIGOTS: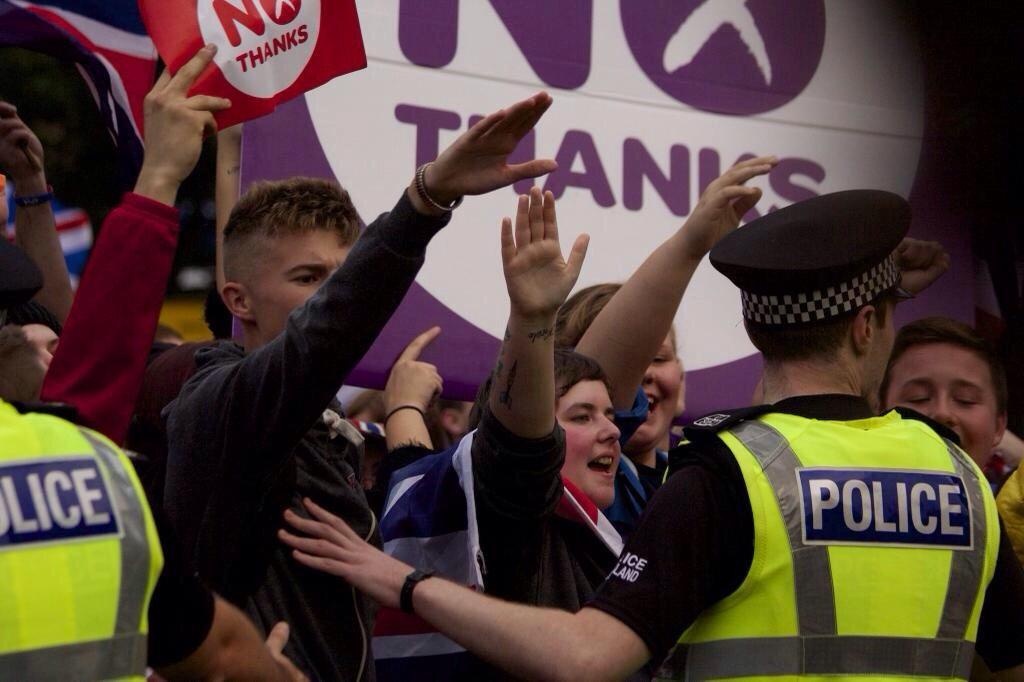 "Despite the circumstances in which John McTernan's comments came into the public domain – clearly a breach of the Freedom of Information Act – I think what he said was absolutely right."
(McTernan had described Scotland as "narrow, Presbyterian and racist".)
"As a nation we do carry characteristics of deeply ingrained intolerance and prejudice and until we accept that, we have no chance of fighting it."
Dugdale then complained that:
"I got a fair bit of stick from colleagues, fellow bloggers and some journalists in the Parliament for supporting the idea that Scottish people as a nation can be narrow minded and racist."
…before citing as evidence a handful of user comments on the National Conversation website, none of which were in any way racist (although they were hostile to the Union Jack, Westminster and the Daily Record).
The only reasonable conclusion that can be drawn from the article is that Dugdale believes that Scotland is an inherently racist and bigoted country. In the light of that, the fact that she let Ian Smart back into her party suddenly makes a lot more sense.
.
ON DUAL CANDIDACY FOR HOLYROOD: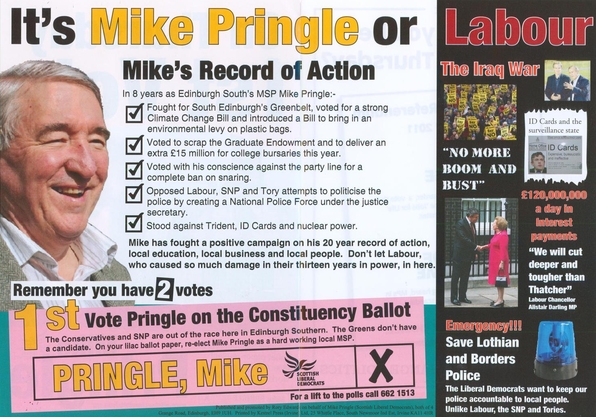 Kezia Dugdale is standing for a constituency seat in May's election, which she's very unlikely to win. However, she's also taking the top spot on the Labour list for Lothians, meaning she's guaranteed a seat even if massively rejected by voters.
We must assume that for some unspecified reason she no longer considers the fact that Lothians voters have no way of getting rid of her or preventing her having a job for life to be "unfair" or an insult to democratic justice and accountability.
.
ON THE SCOTTISH FLAG:
"The issue of flag waving has bothered me for sometime now. I'm worried that I became more conscious of all the saltires flying on the Royal Mile simply because the SNP won the election. Were they there before the election or did they all just sneak out and hang them up as part of a victory celebration?

I love the Saltire, and I'm deeply proud of my Scottish heritage but I'm also as British as the[y] come and I'm increasingly paranoid that the SNP are politicising my national flag as a symbol of their plight [sic] for independence."
(Is it just us or is saying "I'm deeply proud of my Scottish heritage" rather than just saying "I'm Scottish" a bit weird there? And if you're "as British as they come", is the Saltire your "national flag" anyway?)
.
ON THE PHRASING OF THE REFERENDUM QUESTION:
"My personal preference for a referendum question would be something like:

'Should Scotland remain part of the United Kingdom with all the incredible benefits, security and economic prosperity that brings.'

Now that's not a fair question because it's so loaded. But what's to stop the pro union parties all agreeing this frame of words and voting it through?"
Why do we suddenly find ourselves thinking of Alan Cochrane?
.
ON LABOUR'S SCRAPPING OF THE 10p TAX RATE:
"Am I about to defend the indefensible and say Gordon's done the right thing by abolishing the 10p tax rate? Yes."
The unfailing popular touch.
.
ON THE LARGEST PARTY FORMING THE GOVERNMENT: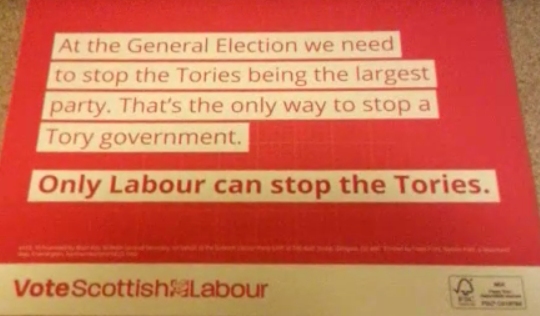 "If Labour turns out to be the largest party but the combined seats of the SNP and the Liberal Democrats are enough to form a coalition…. would Labour have the moral authority to form a government?

For what it's worth, my answer is no. If two parties form a coalition with more MSPs than the party with the single largest number of MSPs, then the views of a larger number of people will be represented in Government and I think that's absolutely right."
That's quite an interesting contrast with the position Dugdale (as deputy leader) and all of her Scottish Labour colleages were stridently insisting on last year, of course.
.
ON TAX CUTS:
"Capturing the votes of centre left, disgruntled and disappointed Labour voters gave the SNP a one seat mandate to produce this list of 'achievements':

1) Tax Cut
2) Tax Cut
3) Tax Cut
4) Populist move against medical opinion
5) Tax Cut
6) Tax Cut
7) Cuts, Cuts, Cuts."
Readers might well be forgiven for forming the view that Dugdale was firmly against tax cuts, then. Except that on the blog she also stoutly praised Labour's cutting of income tax from 23% to 20% and the reduction of VAT by 2.5%.
Then again, she savaged SNP plans to cut Corporation Tax from 28%, but while doing so neglected to point out that Gordon Brown had by that point already cut it THREE times – from 33% to 31%, then to 30% and finally from 30% to 28% – and wanted to cut it again as soon as possible.
By 2014, Dugdale was still furiously opposed to cuts to Corporation Tax, so long as they were made by the SNP rather than by Labour. So in summary, the current Scottish Labour leader's position on tax is:
GOOD TAX CUTS:
Reducing income tax (until about a month ago)
Reducing VAT
BAD TAX CUTS:
Ending prescription charges
Ending bridge tolls
Ending graduate endowment fees
Freezing council tax for a decade
Reducing corporation tax (unless Labour do it)
Reducing small business rates
We hope that's all clear.
.
ON THE BIASED SCOTTISH PRESS: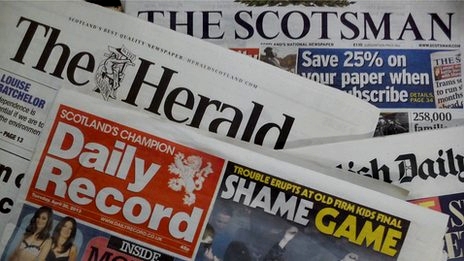 "The Scotsman is fast becoming the Daily Prophet, reporting stories from the Ministry of Magic headlines. It's just as well that of all the Dark Arts masters, Alex Salmond is most like Guilderoy Lockhart – all talk and no potions. I just hope the spell wears off the Scottish Press soon."
And:
"A very senior SNP Cabinet Minister was kicked out of a Glasgow East shopping centre yesterday afternoon for causing a nuisance. Can you guess which one? What's the more, BBC Scotland were there, filmed it – but wont use the footage! Who says there isn't a bias?"
Those damn paranoid nats, eh?
.
ON EDINBURGH'S £1bn TRAM LINE:
"Yes, it's expensive, and yes it has its critics, but it is absolutely critical to the future of Edinburgh in terms of linking up communities, getting people out of their cars and building the tens of thousands of homes that Edinburgh needs to keep its young and vibrant population in the city."
We're sure it'll be lovely when it's finished.
.
ON BEING MEAN TO TAVISH SCOTT: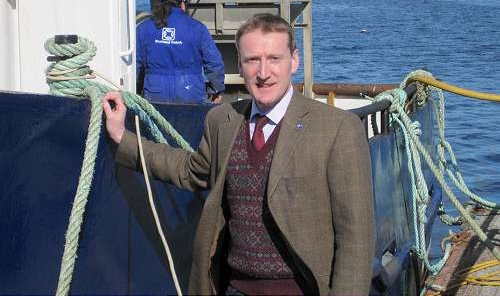 27 August 2008:
"It's the man's first day in the job – demonstrate a little courtesy and respect for goodness sake."
17 September 2008:
"Watching Lib Dem conference hasn't exactly been high on my priority list this week, but I did manage to catch Tavish the Tory unveil his plans for a 2p reduction in income tax.

I just wonder if the Lib Dem's 33rd most influential figure has been buttoned holed by the 1st and told that with the Lib Dem votecrumbling, he's just going to have to suck up a little right wing populist policy here and there?"
A whole three weeks from "demonstrate a little courtesy and respect" to "Tavish the Tory" and sneering about his poll ratings. (And oh look – cutting income tax, which was good when Gordon Brown did it, is back to being a "Tory" policy again.)
A year earlier, Dugdale had said "We might not like it, but 'Negative campaigning' enhances a healthy debate." So that's fair enough. But readers might reasonably feel that subsequently whining about the SNP being "Scotland's Nasty Party" because they were mildly snarky to Tavish Scott was somewhat hypocritical.
.
ON TRIDENT: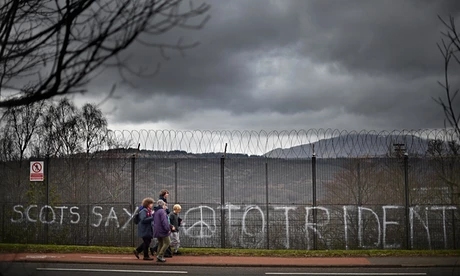 "I don't pretend to know enough about the issue to form a definitive opinion on the topic but in a straw poll tomorrow I'd vote against a replacement. That doesn't for a second mean that I agree with the SNP."
Um, it kinda does mean exactly that, Kez.
"When it comes to Trident, all those who are against replacing it should be uniting together to educate the rest of parliament and the people it serves, so that we can get a UK parliament committed to the demise of nuclear weapons not just in our own homeland, but in Europe and across the rest of the World."
To the best of our knowledge Kezia Dugdale now backs Trident renewal, which is official Labour policy, in so far as anyone on the face of the Earth has any idea what official Labour policy on Trident is.
.
ON AIR PASSENGER DUTY: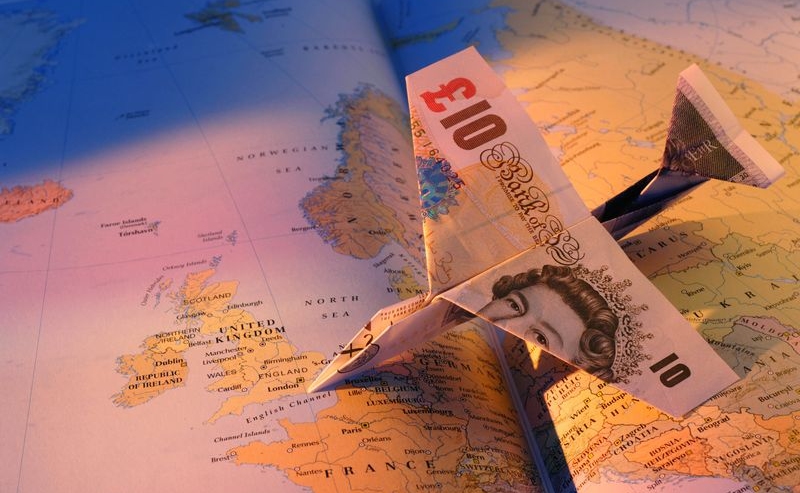 "The best way to tax aviation is through the powers available to our friends in the European Parliament. A Scottish tax on aviation now might, just might, set an example to the rest of Europe but it's huge risk to both business and social mobility with little promise of return."
Scottish Labour now opposes the abolition of APD (in the apparent belief that retaining it will magically generate extra money which can be spent four or five times over).
.
ON THE COUNCIL TAX:
"Yes – the council tax system could be fairer. We need more bands at both the top and bottom ends of the scale, and we need to review council tax benefits to ensure that those that need the support receive it.

But let's not forget that the Council Tax system offers potential levers of social and cultural change like Council Tax discounts for energy efficiency. Rewards for paying up and on time. A method of communicating and promoting council services. Enhanced local democracy and accountability for local authority spending."
—————————————————————————————————————
And hey presto, we're right back where we came in. Nine years ago Kezia Dugdale was telling the SNP to "go back to the drawing board" over local government funding, yet in all that time her party has failed to come up with a single alternative proposal.
More kind-hearted readers might feel it's a bit cruel dragging up these old comments from the Scottish branch manager, but nothing in this article is anywhere near as old as the 2003 and 2004 comments Dugdale is currently using to bash the SNP.
(The Nats at least acknowledge when events like the 2008 crash change the financial and political picture and require a shift in policy, but Labour keep banging away on the same old out-of-date drum long after it ceases to make any meaningful sound.)
Trawling through Dugdale's blog – and remember, she's chosen to have all these old posts transferred to her current website – uncovers not only a plethora of abrupt policy U-turns but quite a lot of rather unsightly material (as well as some comically wonky predictions, which we might cover in a separate post).
None of it, obviously, can be dismissed as having been misquoted or taken out of context by the press – it's all in her own unedited (and un-spellchecked) words. But readers shouldn't expect to see her taken to task for it in the way that Nationalists are for ancient injudicious remarks, because that's not how journalism in Scotland works.
The almost Stalinist total disappearance from public record of the Catholic Church story is the real eye-opener, though. In 2008 Labour was able to say "Kezia does not speak on behalf of the party". That escape clause no longer exists.
Dugdale is of course perfectly entitled to hold that opinion of the church leadership. So we wonder if we can expect anyone to ask her between now and the election whether her views on the matter have changed, as they apparently have on so many other subjects. We're sure quite a lot of voters would be interested to know.
As ever, we don't advise holding your breath for the answer.