The Scottish media has been operating at what former BBC journalist Paul Mason once called "full propaganda strength" for the last few weeks, trying to inflate some pretty standard seasonal fluctuations into a "WINTER NHS CRISIS".
One of the more egregious examples came yesterday when the state broadcaster's Scotland editor Sarah Smith announced to the nation that 100,000 patients had waited more than four hours at A&E departments last week – a pretty impressive feat since in reality only a quarter of that number actually visited A&Es in Scotland last week, and four-fifths of those were seen in under four hours.
The 100,000 figure in fact refers to an entire year, not a week. Depending on how you look at it, Smith misrepresented the reality by either 2,000% or 5,200%. Yet at the time of writing we're not aware of the BBC having issued any correction or apology for this, well, let's be generous and say "error".
The stats record the time taken for patients presenting at A&E to be dealt with (that doesn't just mean "seen", but seen, assessed, and then either treated, admitted or sent home). For the whole of 2017 the figures for Scotland were:
Patients dealt with in four hours or less: 93.1%
In eight hours or less: 99.2%
In 12 hours or less: 99.9%
Which doesn't sound like too much of a crisis.
Alert observers will of course be aware that this is all entry-level basic operating mode for the media. Even if they weren't trying to whip up politically-motivated "SNP BAD" material – and most of them are – it's a deep journalistic instinct to exaggerate and hyperbolise everything into the worst news possible in order to drive traffic and clicks.
But does it work?
In our latest Panelbase poll we asked our representative sample of Scottish voters how they felt the four main devolved areas of government were doing compared to the rest of the UK. And in essence, the quintessentially Scottish answer was "No' too bad".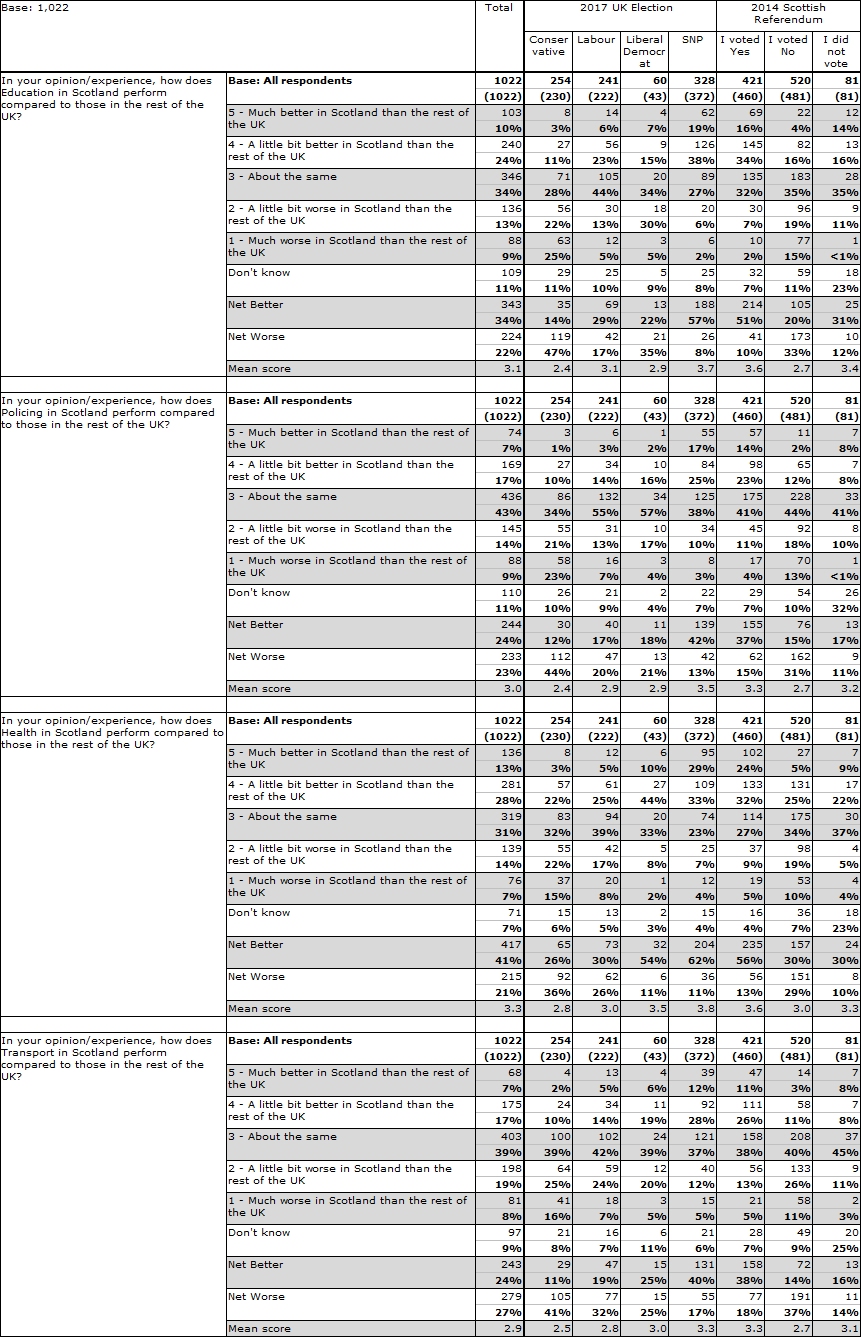 Respondents broadly felt that services were pretty much the same on both sides of the border. But in news which will ASTONISH complete idiots, people's opinions were significantly coloured by their political affiliations.
On a scale where 1 means "much worse in Scotland than the rest of the UK", 5 means "much better in Scotland" and 3 means "about the same", the average scores were:
Education: 3.1 (ie fractionally better than the rest of the UK)
Policing: 3.0 (exactly the same)
Health: 3.3 (slightly better)
Transport: 2.9 (fractionally worse)
But when you drill down into the politics things shift somewhat.
CONSERVATIVE VOTERS
Tories think everything in Scotland is a little bit worse.
Education: 2.4
Policing: 2.4
Health: 2.8
Transport: 2.5
LABOUR VOTERS
Labour voters think everything's pretty much the same.
Education: 3.1
Policing: 2.9
Health: 3.0
Transport: 2.8
LIB DEM VOTERS
Lib Dems reckon it's all about the same, except health is noticeably better.
Education: 2.9
Policing: 2.9
Health: 3.5
Transport: 3.0
SNP VOTERS
While SNP voters think everything in Scotland is a fair bit better.
Education: 3.7
Policing: 3.5
Health: 3.8
Transport: 3.3
By independence affiliation, the results are arguably a touch counter-intuitive.
YES VOTERS
Supporters of independence already think Scotland does everything a little better, but presumably think it could improve even more if it wasn't having to constantly battle Tory austerity and Westminster cuts.
Education: 3.6
Policing: 3.3
Health: 3.6
Transport: 3.3
NO VOTERS
Whereas No voters feel that under the current arrangements almost everything is slightly worse in Scotland than in the rest of the UK, yet for some reason want to retain that status quo.
Education: 2.7
Policing: 2.7
Health: 3.0
Transport: 2.7
So those are the bare stats. But we started this article talking about the NHS, and the most striking thing about the figures is that despite a decade-long media campaign of absolutely relentless negativity, scaremongering and even outright lying, the Scottish public still overwhelmingly thinks its health service is the best in the UK.
With the sole exception of Tory voters, every group in the poll thought NHS Scotland was performing better than the rest of the country. (And even Tories ranked Health as significantly better than the other three areas of devolved responsibility.)
Of course, we can't say that public opinion of NHS Scotland wouldn't be even higher without the constant onslaught from the press and opposition parties, much of which (as we've discovered over the years) is highly misleading in nature. But that onslaught hasn't turned voters against their doctors and nurses and surgeons and midwives, or the Scottish Government's management of them.
By and large, Scots feel that they do at least as good a job, or a better job, of things they handle for themselves as things which are run by Westminster. Contrary to what they're constantly told by Unionist parties and newspapers, they don't think they're too wee, too poor or too stupid to run the services that are the lifeblood of a nation.
It's interesting to speculate as to when the other shoe will drop.