We had to rub our eyes when we got up this morning, because we thought we must have opened the wrong issue of the Times tablet app by mistake – the lead Scotland story seemed to be a reprint of a piece from the previous day's Sunday Times.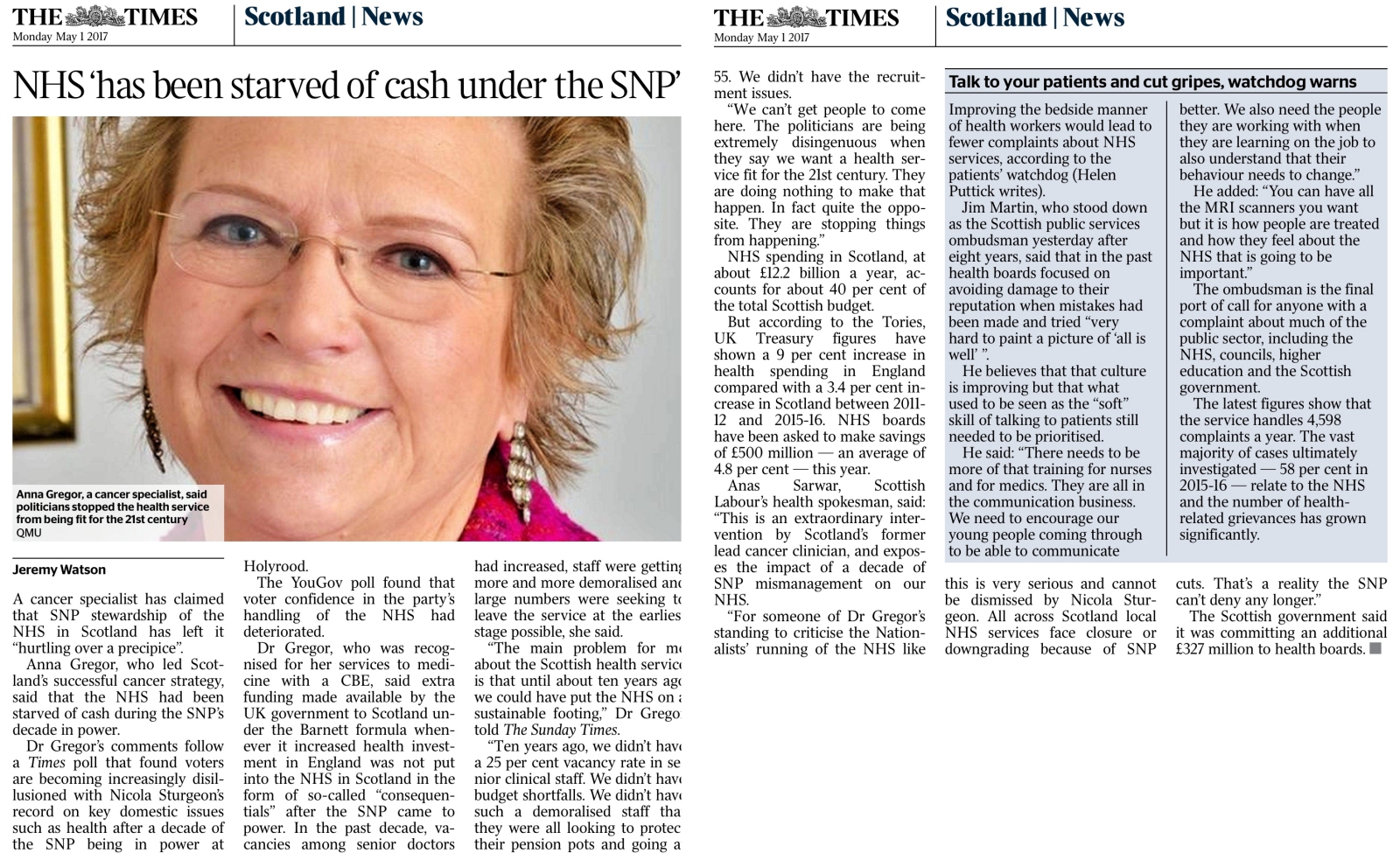 But we were wrong.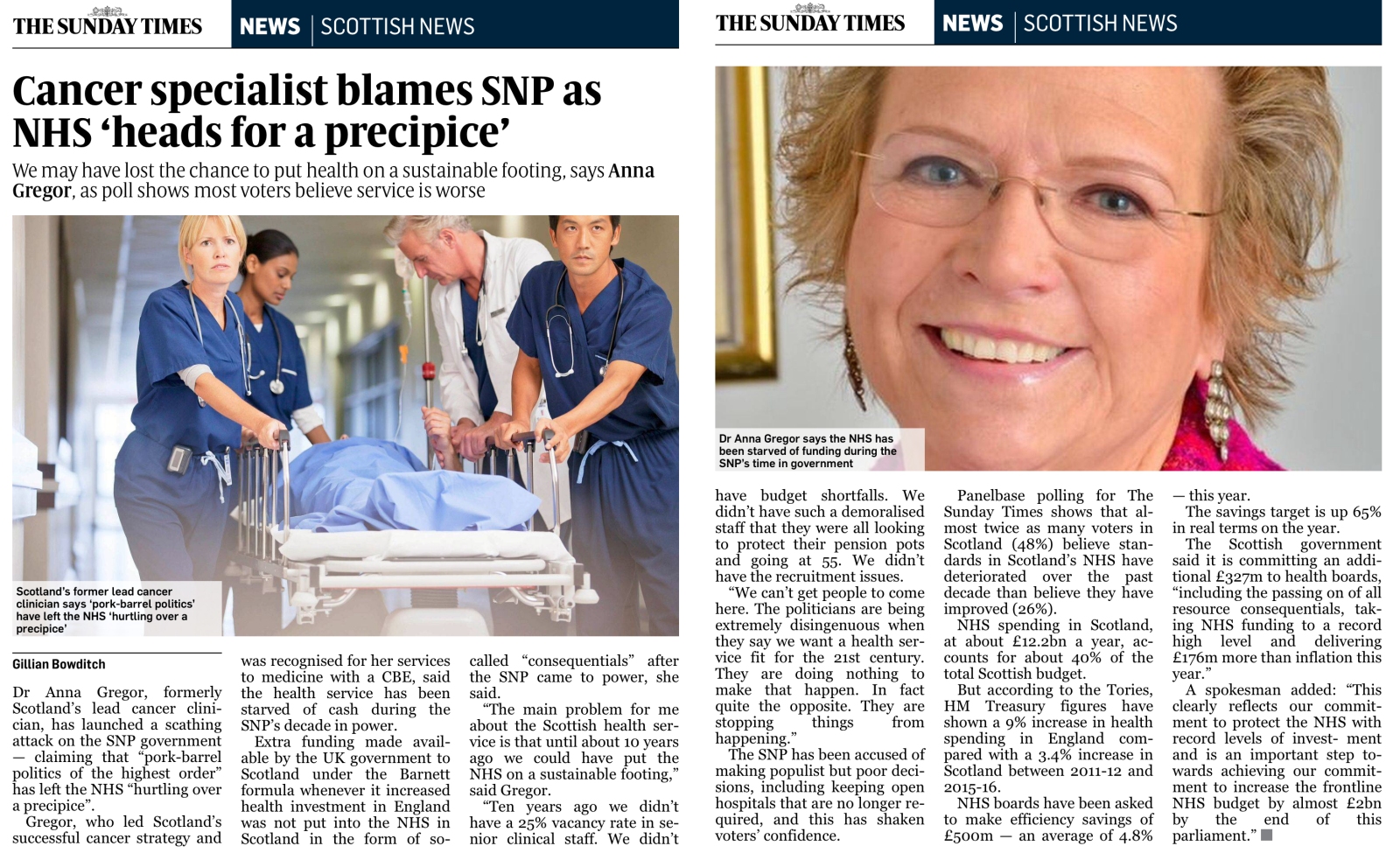 There'd been no mistake. The paper had indeed just more or less copied the Sunday edition's article about retired cancer specialist Dr Anna McGregor straight over and presented it as news for a second day. There were no new quotes or information, just wholesale cut-and-pastes from the Sunday piece for the Monday.
Which was weird, because they'd already run it twice on the Sunday.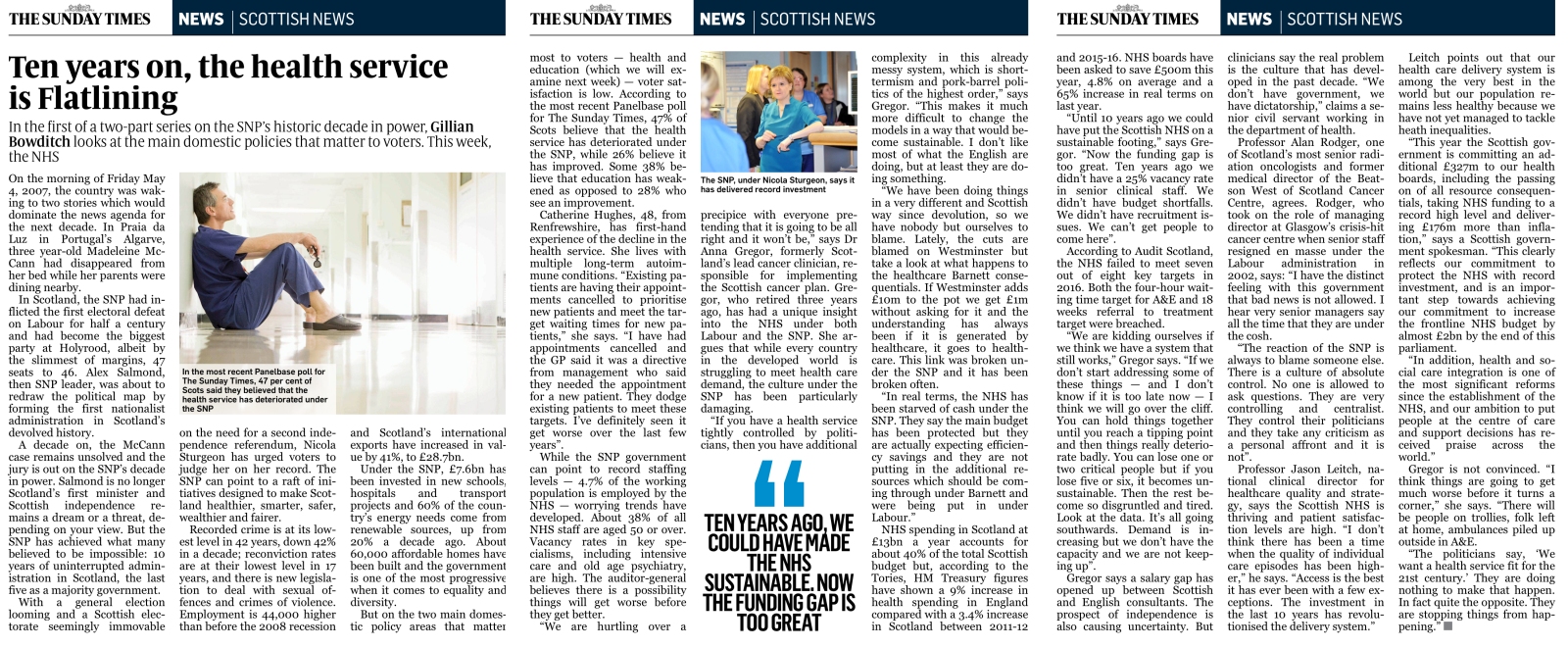 The second time was as the bulk of a three-page "investigation" into the state of Scotland's NHS by Gillian Bowditch, which was just an excuse to print Dr Gregor's attack once again. The investigation was surprisingly short on any sort of statistical evidence, with the only thing resembling actual facts and figures in it being an opinion poll commissioned by the paper which found that more Scottish voters thought the NHS had declined in the last 10 years than felt it had improved.
The most likely reason for the absence of any medical figures from the piece is that in reality it's quite difficult to find any sort of stats connected with the NHS in Scotland that have worsened since the SNP took power.
Despite the pressures of increased demand from a growing and ageing population and years of UK government austerity, waiting times in A&E are hugely improved on 2007 (as well as being the best in the UK), waiting times for treatment in general are falling, bed-blocking is down and still dropping, staffing levels are at a record high and patient satisfaction is at 90%, having risen by more than 50% since Labour were in charge.
In Dr Gregor's specialist field of cancer, the percentage of patients starting treatment within 62 days has risen from 78.5% under Labour in 2006 to 90.2% under the SNP. (This considerable level of progress was, it probably goes without saying, reported by the media as "Scottish hospitals miss cancer waiting time targets".)
Nevertheless, Dr Gregor certainly does seem to be terribly angry at the SNP. Although it seems that she's been angry at the SNP for quite some time.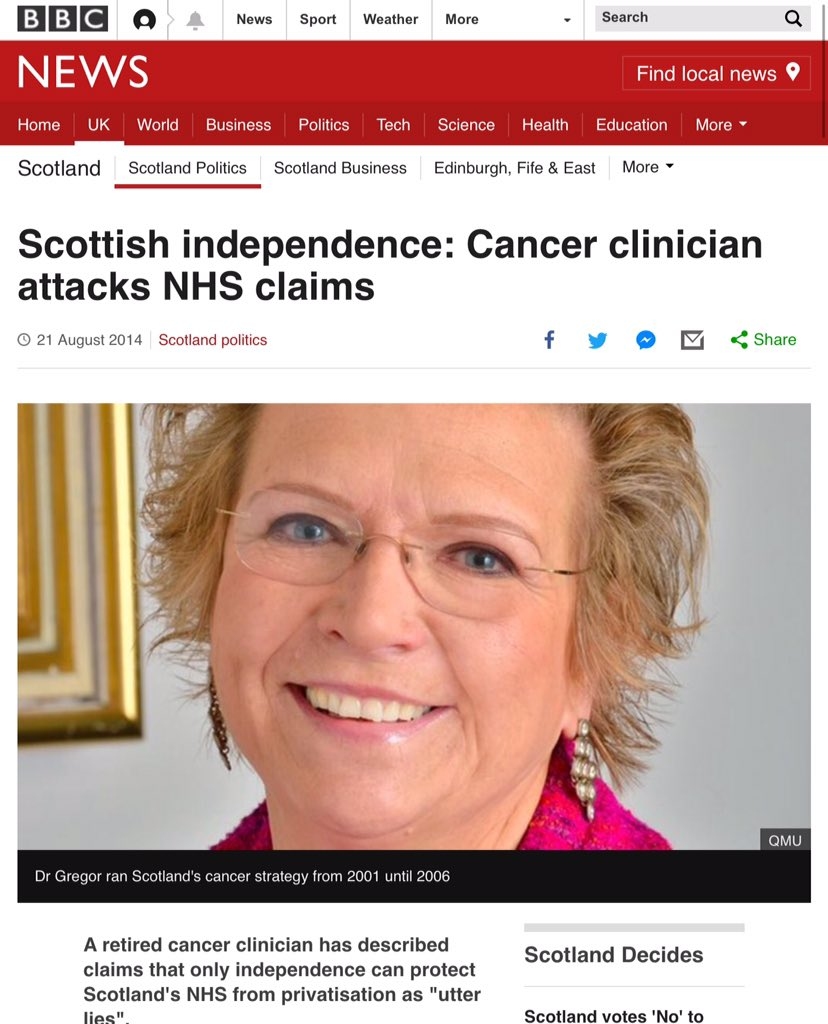 Back in 2014 she was a leading member of "NHS Together", a Better Together spin-off group which wrote letters to newspapers attacking the SNP and independence.
Before that she worked closely with the Labour-led Scottish Executive, and actively campaigned for Scottish hospitals to be closed down, for which Labour rewarded her in 2005 with a CBE.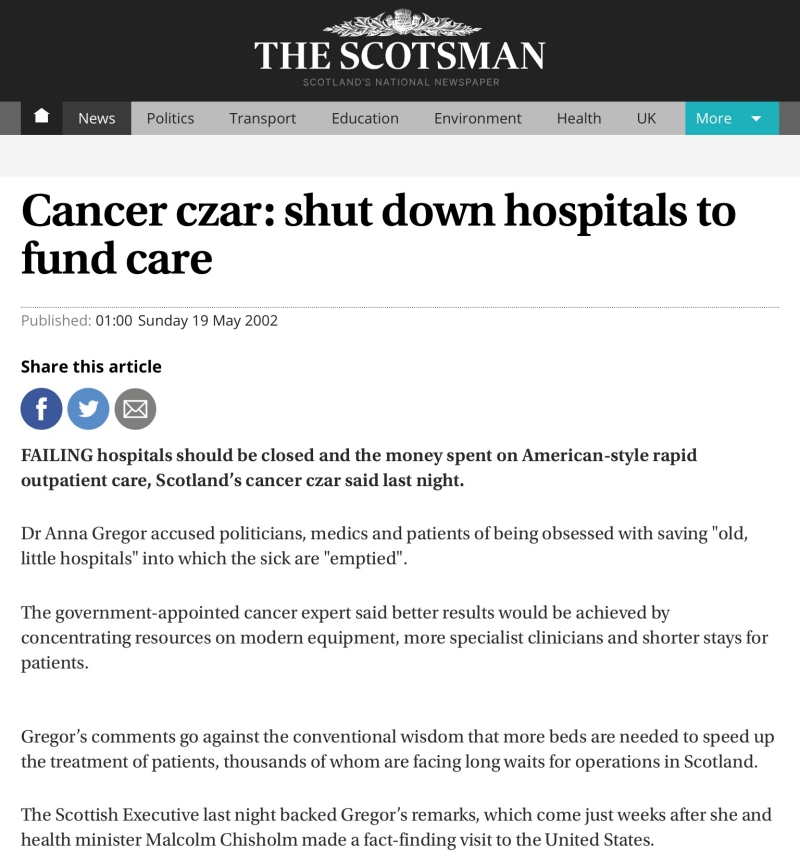 She stepped down as "cancer czar" just a year later, and as far as we can tell retired from medical practice altogether no later than 2010, so she's been nowhere near the Scottish NHS for at least seven years and possibly as many as 11.
It seemingly hasn't reduced her ability to critique it (with lots of vague complaints and very little detail about what should have been done other than close more hospitals), though, and so pretty much every Scottish newspaper today (Daily Mail, Daily Record, Express, Courier) has dutifully recited the Sunday Times piece more or less verbatim without a single mention in any of them of her rather strident political affiliations.
If we were being generous, we'd note that it was a Bank Holiday and maybe everyone was short staffed and needing to fill pages easily. Readers might, on the other hand, feel that a media which has spent years constantly fabricating "NHS CRISIS!" stories is now merely reporting the news that their relentless barrage of negativity is finally being reflected in public opinion, despite there being no detectable factual basis for it.
You can, as ever, make up your own minds.