Ruth Davidson appeared on Good Morning Scotland today as part of their series of interviews with what they call "the leaders of the larger parties in Scotland", which for some reason is also including the Lib Dems and Greens.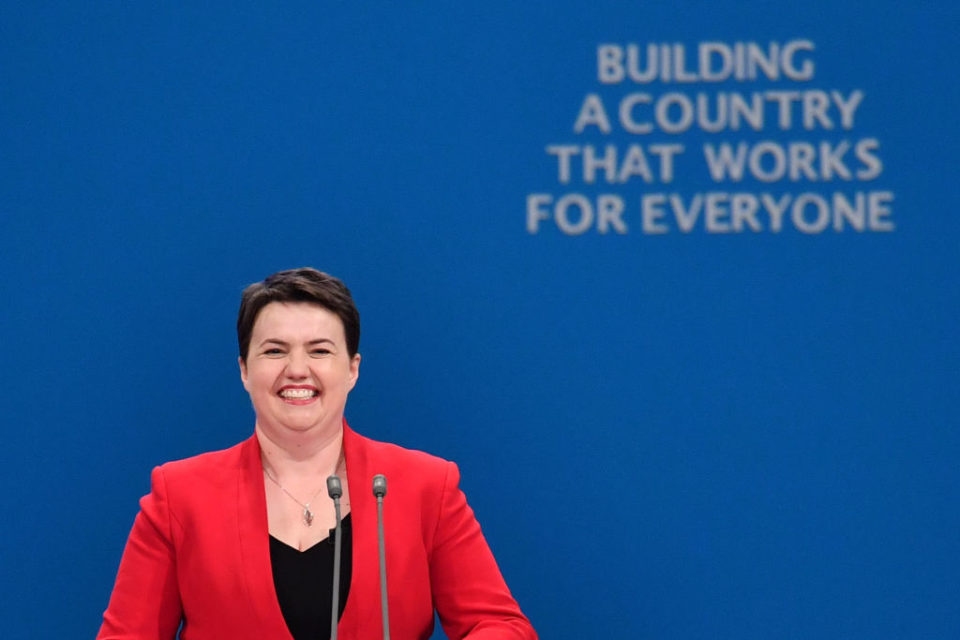 You can listen to the piece – which showcased the usual evasive, time-killing waffle technique Davidson employs as standard, noticeably uncomfortable only when Gary Robertson pressed her on welfare-cuts suicides – for yourself if you want, but in our Panelbase poll last month we discovered a difference between Davidson and Nicola Sturgeon we thought was quite interesting, so we're going to talk about that instead.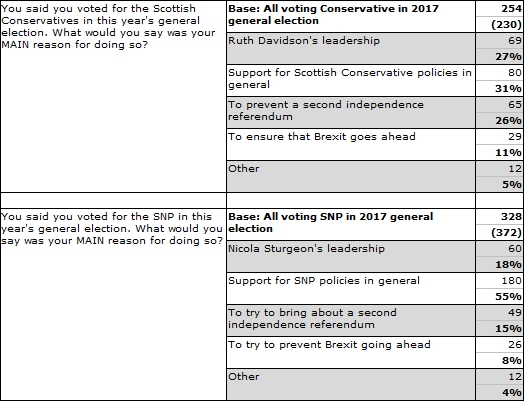 At last year's general election, Tory voters divided in a pretty even three-way split over their main reason for doing so, between Davidson personally, Tory policies, and trying to stop a second indyref.
But far fewer SNP voters cast a personal vote for Nicola Sturgeon, or in an attempt to either secure a fresh referendum OR block Brexit. By a huge margin – over half, and 37 points ahead of the nearest alternative option, SNP voters were simply voting for SNP policies, not personality or referendums.
That's particularly strange in a Westminster election, where there's little chance of ANY Scottish MPs, regardless of party, having a noticeable impact on government policy. But it does rather shatter the media myth about "Ulsterisation" of Scottish politics, where everything is supposedly seen through the prism of the constitution.
Even if you bundle independence and Brexit into one category under the constitutional umbrella, just over a third of Tory voters and less than a quarter of SNP voters voted primarily on either of those grounds, despite the campaign being fought almost entirely on independence (by the Tories) and largely on Brexit (by the SNP).
Those numbers suggest that despite a general decline in SNP support over the last couple of years, the Unionist parties are going to have ahard time shifting them from power. The Tories have a popular leader but that's a fragile position as Davidson's shine wears off, and of course Labour have neither a charismatic frontman in Scotland nor any discernible policies on most subjects other than raising everyone's taxes.
A vote founded on domestic policy is a much stronger base than kneejerk opposition on any single issue (particularly when Scots want Holyrood, not Westminster, to make the big constitutional decisions), and Scottish voters still appear to be a little more sophisticated and sensible than the commentariat gives them credit for.