A recurring source of amusement for the independence camp is the weekly reader poll in Scotland On Sunday. Time and again the surveys fall victim to deeply-implausible sudden surges in backing for the Unionist option, often in the middle of the night and usually after Yes supporters have drawn attention to less favourable standings.
(The paper's deputy editor Kenny Farquharson once memorably tried to explain away 25,000 overnight votes – in a poll which had attracted about a tenth that many* in the entire preceding week – as having come from American and Canadian readers, all having inexplicably decided to vote at once on the same day.)
A fairly typical example of the phenomenon, from back in April, can be seen here, but the No campaign's IT black-ops department appears to have suffered from a bit of an itchy trigger finger this morning and pushed the bounds of credibility a little too far.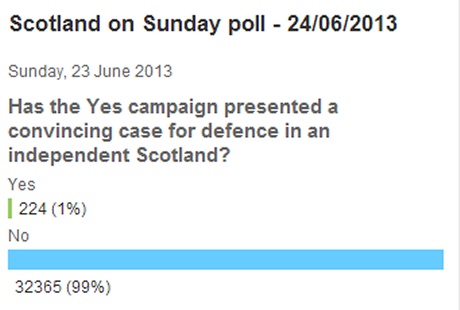 32,365 votes for one option? Between midnight and 11 o'clock on a Sunday morning? That's a real nice job, BT "grassroots" boys and girls. Very convincing. Take the rest of the day off and get yourselves a doughnut.
We actually took that first screenshot at 10.49am, but delayed posting this article in order to give the preceding one a bit of time on the front page. When we looked back at 11.25am, another 2,041 people had cast No votes, compared to just 12 for Yes.
We hit Refresh again at 11.47am and further 1,235 had flooded in for No, against just 14 more for Yes, but when we went to grab another screenshot a few minutes later the poll had mysteriously vanished from the story it had previously been attached to.
It still exists on the SoS servers at the time of writing, and can be accessed directly here, but the only normal page we can now find it on is this one. The voting rate has dramatically slowed, presumably as a direct result – the 58 minutes from 10.49am to 11.47am generated 3,302 votes, the subsequent 40 minutes just 192.
(That supports a hypothesis of some sort of automated spam-voting, which would be foiled at least in the short term by a change of URL for the poll. Which in turn suggests that SoS might suspect some chicanery, yet have chosen not to reset the numbers.)
We can only assume these crudely transparent attempts at social-media manipulation (a pattern study of the "Like" statistics on the 'Better Together' Facebook page is also a fascinating exercise, currently being undertaken on an ongoing basis by diligent monitors) is a key tactic of Project Fear. It's going well.
.
* It's not easy to Google previous SoS polls for reference, because they're embedded rather than having specific pages of their own, and many of them seem to have been wiped and reset. But we've located a few – the one from two weeks ago has attracted a total of 3,594 votes to date, the preceding one 3,176. One from May on Gordon Brown managed 4,430, and another the same month secured 3,104.