Remember how the No campaign was definitely going to be much more positive from now on, pushing a feelgood "sunshine strategy" to persuade Scots that the UK was the best of both worlds?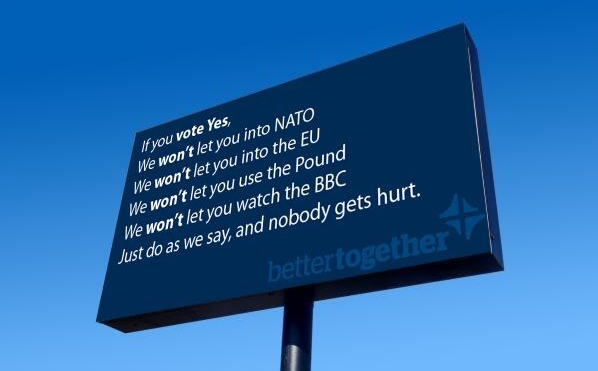 Let's see how that's going, shall we?
– Split 'may cost Scots £400m for welfare IT'
An independent Scotland would have to spend up to £400 million creating a new IT system to run its separate welfare policies, Westminster analysts have predicted in new report which spells out the impact of separation."
 [£400 MILLION? FOR SOFTWARE FOR A COUNTRY OF 5 MILLION? THEY'RE NEVER GOING TO SWALLOW THAT. STICK AN 'UP TO' IN FRONT OF IT, THAT MAKES IT BULLETPROOF. – ALISTAIR]
– Yes vote pension cost warning
"Pension costs in an independent Scotland would rise fivefold within 20 years because of an ageing population and the SNP Government's spending commitments, according to a new analysis paper."
[SHOULD WE TONE THIS DOWN? 'FIVEFOLD' IS A BIT SCAREMONGERY.]
– Vulnerable people could lose benefits in an independent Scotland
"Iain Duncan Smith warns that vulnerable people could lose their benefits if Scotland breaks away from the United Kingdom."
[YOU'RE KIDDING, RIGHT? WE'RE HAVING IDS PUNT THAT ONE? HIM OF ALL PEOPLE? SERIOUSLY? WAS ATTILA THE HUN NOT AVAILABLE?]
– Bank bailout doubt if Scots vote to quit UK
– Independent Scotland Could Suffer Iceland-Style Financial Collapse
"If Scotland decided to end its 307-year union with England, the country's banking system would immediately come under strain from the hefty assets on its balance sheet, and possibly forfeit the support of the rest of Britain."
[GUYS, HAVE WE DECIDED YET WHETHER THE BANKS ARE ALL LEAVING, OR IF SCOTLAND WILL HAVE TO BAIL THEM OUT? IT CAN'T BE BOTH, AND PEOPLE ARE STARTING TO LAUGH AT US.]
"The prospect of another North Sea oil boom in the decades ahead has been rejected by the head of the UK's economic watchdog."
[JUST TO BE SAFE, COULD WE GET SOMEONE TO GO ON THE RADIO THIS MORNING AND TELL THE JOCKS IT WOULDN'T BE THEIR OIL ANYWAY, AND IF THEY TRIED TO TAKE IT IT WOULD CAUSE GLOBAL WARS?]
– Consumers would snub separate Scotland's brands
"Scottish brands could fall out of favour with English and Welsh consumers as 36% of Britons may no longer use firms north of the Border in the event of a Yes vote. The potential backlash rises to 46% for households earning over £55,000 a year, according to the ICM survey for trade magazine Marketing Week."
[HAVE SOMEONE FROM THE MAGAZINE HAMMER THIS ONE HOME.]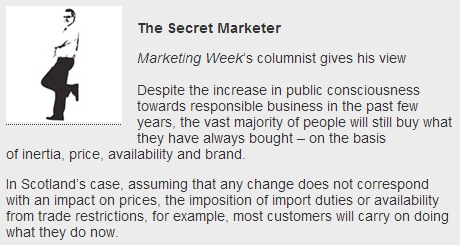 All of those are just today. This month so far we've also had:
– Scottish independence 'would harm world's poorest'
– Go-alone Scotland faces 'threats from space'
– Scottish Independence 'Will Lead to Soaring Energy Bills'
– Scotland faces £143bn debt after independence
– Fears for fishing in breakaway Scotland
– Thousands of defence jobs will be at risk if Scotland votes Yes
and of course, still way out in front:
– Scottish independence 'would be cataclysmic for the world'
We hope you've all got plenty of Factor 50 ready for the next five months, readers. We're not sure Scottish people are equipped to handle this much direct exposure.