We've been wiping tears of laughter from our eyes most of this morning, after reading one of the most magnificently bare-faced and audacious pieces of black-is-white lying we think we might ever have seen printed with a straight face in a British newspaper.
It appears in the Telegraph, which seems to have positioned itself latterly as the Daily Sport for people with a reading age above seven, and makes the mindboggling claim that "Contrary to its media image, the campaign to save the United Kingdom says it has more boots on the ground than its nationalist opponents".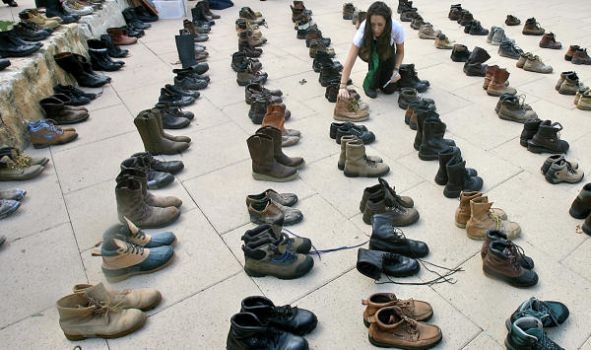 In fairness, it doesn't actually say whether these boots have any feet in them.
"Rob Murray, Better Together's grassroots organiser, boasts he has 30,000 activists on the ground across Scotland – more than the opposing Yes Scotland campaign.

They are organised into 250 groups overseen by eight local campaign organisers and are charged with winning over the 34 per cent of the population – most of whom are in Glasgow and Fife – who are yet to definitively make up their minds. "
Well, this shouldn't be too hard to check up on. 30,000 activists divided into 250 groups is 120 people per group. So we should be able to find some sort of evidence of those numbers in pictures of major "Better Together" campaigning events, right? Especially in the Greater Glasgow area, where simple arithmetic dictates that there must be at least 6,000 "activists on the ground".
Our famously alert readers may recall BT's last big co-ordinated campaign push. It took place just three short months ago, at the end of January, and targeted railway stations across the length and breadth of Scotland.
Above, for example, is a shot of the 120-strong "Better Together Glasgow Anniesland" group. Obviously, most of them are concealed by the poor lighting conditions.
In an unfortunate accident, the 120 No campaigners at Glasgow Duke Street the same morning tried to take a photograph, but clumsily used the rear-facing camera on their iPhone instead of the front-facing one. We've all done it.
Tragically, our photographer arrived at Glasgow Queen Street at the exact moment when 119 of the No grassroots team had popped into Burger King to use the toilets.
In an unfortunate diary clash, everyone in Barrhead was off getting their photographs taken for "Vote No Borders" on the day of the big event, and couldn't make it out.
In Bishopbriggs, all 120 activists were sheltering in the trees from a strong wind.
When we monitored the events of the big day, we found that around 40% of them hadn't managed to muster even a single campaigner to stand on a railway platform for an hour and give out a few leaflets. Our spotters didn't actually see 120 "Better Together" activists in the whole of Scotland that day, let alone in any one group.
Now, you can't properly judge an entire campaign from a single day in chilly January. Luckily, alert and shadowy agents have been keeping a keen eye on BT "events" ever since, and recording documentary footage. You can watch some of it below.
AIRDRIE:
GLASGOW DENNISTOUN:
WISHAW (starring new big grassroots signing Frank Roy MP):
AIRDRIE (different location/day):
Well, you get the idea.
Of course, we're being unfair. When you're campaigning in an area, you don't send all your activists out at once mob-handed. That'd be crazy overkill. You only really need one person to hand out some pamphlets.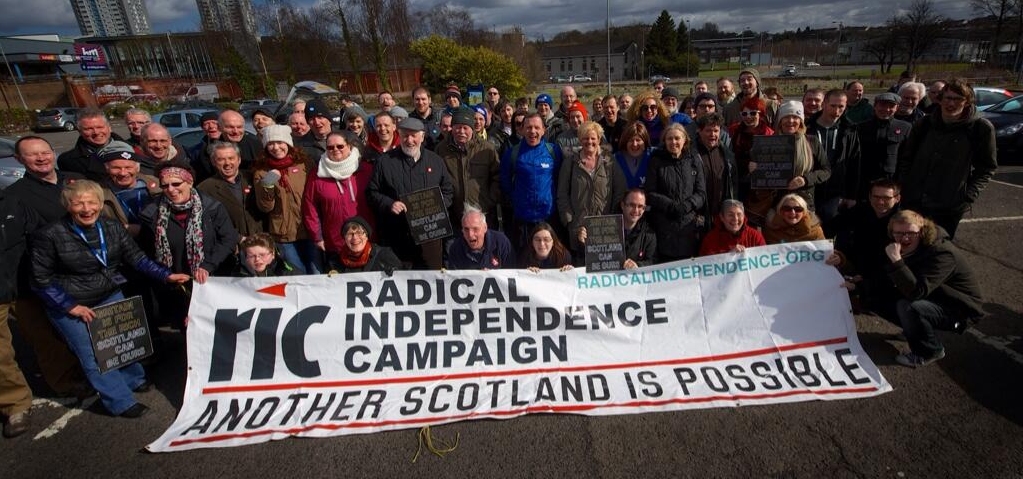 Oh.
We can only speculate as to which particular part of his Walter Mitty imagination Rob Murray has plucked the "30,000 activists" figure from. We suspect that he might be including every member of every constituency Labour Party in the country, past and present, and their families, along with all 12 of Scotland's young Conservatives and a couple of surviving Lib Dems (Orkney and Shetland only) and probably the entire membership of the Union Bears as well.
Or maybe there's a simpler explanation.
In "1984" the newspaper of (falsified) record is the Times rather than the Telegraph. But in every other respect, we're finding it hard to tell the difference.