As alert readers will know, we've heard little from the Unionist parties in Scotland over the last couple of years but "SCOTLAND SAID NO!", "SCOTLAND DOESN'T WANT ANOTHER REFERENDUM!" and "WHAT PART OF NO DON'T YOU UNDERSTAND?"
That clutch of blunt, angry slogans was (and remains) pretty much the entire Scottish Conservatives manifesto, for example, and it rests on the claim – based on some extremely misleading selective reading of opinion polls – that the nation is implacably opposed to a second vote. The reality, as we know, is somewhat more balanced. But it's never been quite THIS balanced before.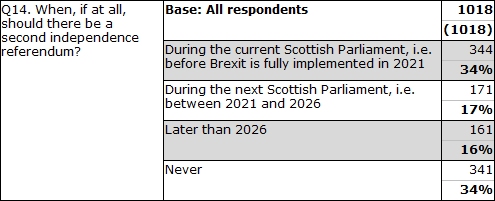 In our new Panelbase poll we stuck to our principle of asking questions related to realistic propositions (rather than, say, the always-bizarre "If there was a referendum tomorrow…"), and based our options on Parliamentary mandates. And what we found was that the Scottish electorate is split so precisely down the middle on a second indyref that rounding off the numbers gives you a total of 101% of voters.
To be exact, 50.64% of Scots want another vote on independence held either in this Parliament or the next one (which polls suggest will be on a knife-edge of a Yes majority), while 49.36% don't. Within those two groups are near-identical splits at the extremes, with 34% wanting the soonest option and the same number demanding that there NEVER be another indyref.
83% of 2014 Yes voters picked the top two options, and 76% of No voters the bottom two. And slightly curiously it was the people with most time to wait who were the most impatient – 66% of 18-34s chose the top two options (three quarters of them wanting the vote pre-Brexit), compared to just 48% of 35-54s and 41% of the over-55s. But the party numbers were the most interesting.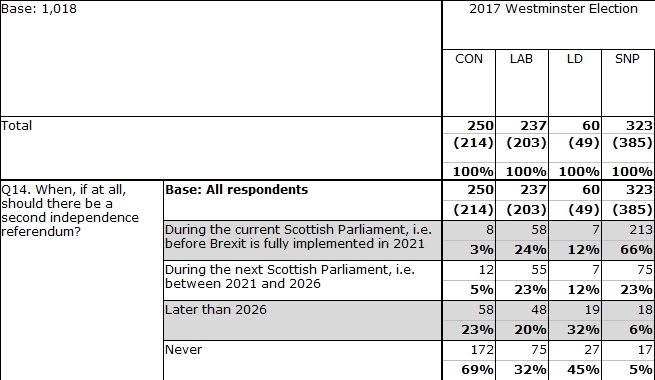 While Tory voters believe that democracy ended forever in 2014 so far as the constitution is concerned, Labour voters are a lot less sure – despite their party's strenuous opposition, almost half of them (47%) want another referendum before the end of the next Parliament, and nearly a quarter of Lib Dems agree.
The most revealing thing about the results is that what one might call the "once in a generation" option – the third one – wasn't even nearly the preferred choice of ANY group. The fiction that Unionist parties will stop objecting once 20 or so years have passed is weasel-worded can-kicking. There are no moderates in this debate. The true split is between "soon" and "never".
And given that that's the case, and that the issue isn't going to go away until it's settled (and a second vote WILL settle it one way or the other, because voters won't tolerate a third one and if Yes can't win it under the current circumstances it's a hopeless case anyway), plainly the most sensible thing – for everyone – is to go with "soon".
(The idea that voters don't want a second referendum is further undermined by the fact that fully 95% of respondents say they WOULD vote in another one if it came along.)
There are all kinds of arguments for just getting it over with, but the main one is that otherwise, Scottish politics is going to be locked in a closed loop until we're all dead.