Political pundits on both sides on the border often marvel at how the SNP appear able to defy the normal rules of electoral gravity, still holding a comfortable double-digit lead in the polls after more than 11 years in power. But there's no great mystery to it, and the answer is simple, in several senses of that word.
Ladies and gentlemen, allow us to present to you Scottish Labour's offering for who'd be in charge of all the Scottish Government's money if the SNP weren't in power – finance spokesman James Kelly MSP.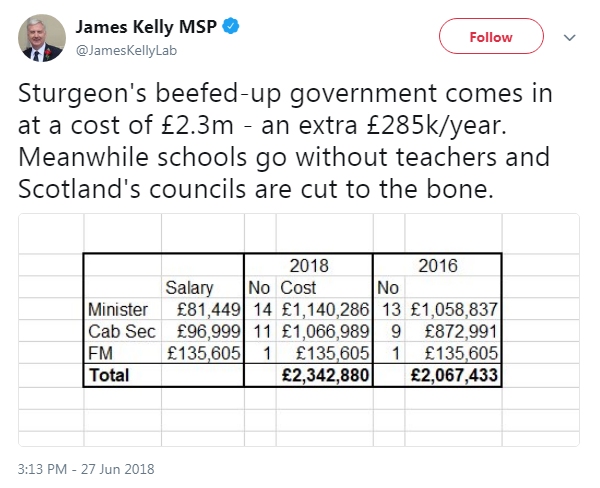 Let's check those numbers, shall we?
1. IS THE NEW CABINET £285K MORE EXPENSIVE THAN THE LAST ONE?
No.
£2,067,433 subtracted from £2,342,880 is around £275K, not £285K. (If you want to be absolutely precise it's £275,447. Mr Kelly's sums are almost £10,000 out.)
2. ARE THOSE AT LEAST THE RIGHT SALARIES, THOUGH?
No.
Again, Kelly's figures here are wide of the mark by around £10,000. In 2018 a Cabinet Secretary's official pay is a total of £108,854 including their MSP wage, not £96,999. And standard ministers get £91,407 rather than £81,449.
We have no idea where he's plucked his numbers from*. We can guess, but we don't think you'd like to see a picture of it.
3. DID HE MAYBE USE THE 2016 SALARIES FOR COMPARISON PURPOSES?
No.
The 2016 salary levels are nowhere close to the figures Kelly uses either. He's still thousands and thousands of pounds out in every case.
4. BUT THOSE NUMBERS ARE EVEN HIGHER. ISN'T THAT WORSE?
No.
Because of course that's not the EXTRA cost of having more ministers. If those people weren't ministers they'd still be MSPs and getting paid the basic MSP wage (the one also paid to opposition members like Kelly who have no government responsibilities whatsoever, and who've been explicitly rejected by the electorate but foisted on the parliament – and taxpayers – anyway).
So the true extra costs of the new enlarged Cabinet are the figures on the left of the table above, not the figures on the right.
5. SO HOW MUCH EXTRA IS THE NEW CABINET?
There's one more minister and two additional Cabinet Secretaries compared to 2016. The premiums over a normal MSP salary for those offices are £29,258 and £46,705 (x2) respectively. That adds up to £122,668 – well under half the figure claimed by James Kelly.
That'd pay for just under four and a half first-year teachers, out of a current Scottish total of almost 51,000. We'd ask James Kelly to work out what percentage increase that was but we suspect the answer would come back as "some bananas" so we did it ourselves – it's 0.0088%.
That kind of number is hard to get a grasp on in the real world, so for perspective, the average household bucket holds 10 litres of water – that's genuinely a 10-litre one in the pic below. A 0.0088% increase would be the equivalent of adding one-fifth of a standard 6ml teaspoon of water to that bucket and expecting it to make a noticeable amount of difference to anything.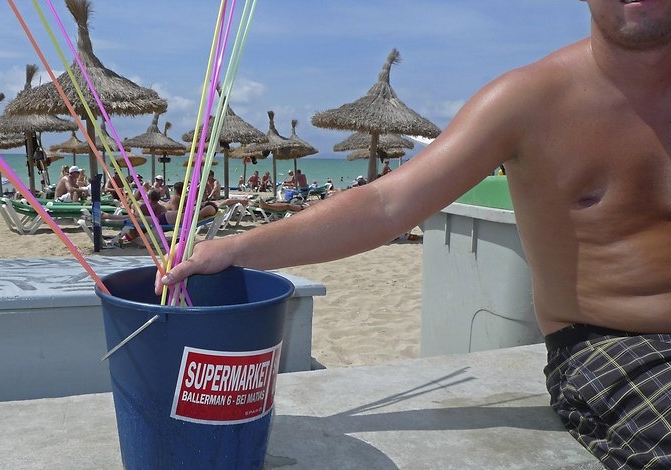 In terms of councils it's even more ludicrous – the total councils budget is around £10.4bn, so the money spent on a slightly larger Cabinet would be enough to increase it by 0.0012%, or just under three of those 10-litre buckets of water in a 164-foot-long, 82-foot-wide, seven-foot-deep Olympic-sized swimming pool.
On a typical football pitch of around 7000 sq metres, it'd be 800 square centimetres, which is slightly more than a single sheet of standard A4 notepaper, or the footprint of a couple of adult football boots.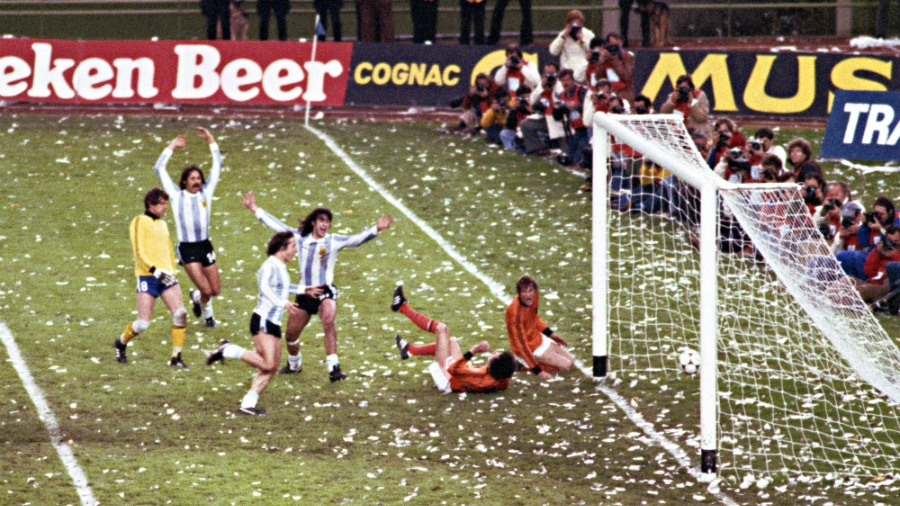 And it's roughly the same as adding a quarter-pound bag of Midget Gems (113 grams) to the 12.65-tonne weight of a new London Routemaster bus.
So let's have a recap. Kelly – the man who Labour wants to put in charge of the entire Scottish Government budget, remember – started off with wildly wrong figures taken from goodness knows where, calculated them under a fundamentally wrong premise, and then couldn't even do a simple subtraction sum on his own numbers, resulting in a final figure that was wrong by an astounding 132%. [Edit: 220%. See below]
(And would have been basically meaningless even if he'd been right.)
And that, readers, is why the SNP are still 14 points ahead in the polls after more than a decade in charge against a backdrop of impossible Westminster-imposed budget cuts and near-uniform media hostility.
Because even if Scots don't yet want independence, they sure as heck don't want completely clueless, hapless buffoons like James Kelly running their country either.
.
*[EDIT 11.30am: It appears Kelly is using these figures. While the official salaries for Scottish Government ministers are higher, since the SNP came to power they haven't been claiming their full entitlements and have kept ministerial pay at 2008-09 levels.
What this means, of course, is that the extra cost of the enlarged Cabinet is much LOWER even than we've suggested in this post. At a basic MSP salary of £62,149 the additional expense of one new minister and two new Cabinet Secretaries is £19,300 plus 2x £34,850, which comes to exactly £89,000, not £122,668. That gets you three teachers, not four and a half, and only two and a quarter buckets of water.]