If you're a writer for a living and you want to check if something you've written might be embarrassingly stupid, there's an easy and quick technique you can use.
By way of example, here's Kenny Farquharson in the Times today, on the subject of the supposed similarities in the relationships between the Tories and the Brexit Party, and the SNP and the potential new Wings party: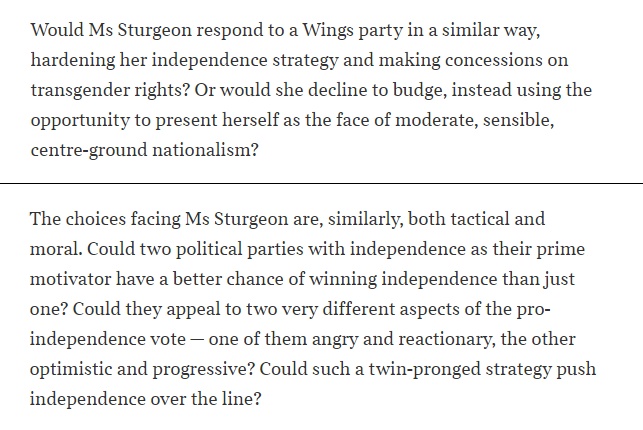 So here's the trick: switch the protagonists around.
Imagine for a moment that it was Wings Over Scotland that was demanding men be given access to all women-only spaces simply by announcing that they – with their beards and their penises and their Y chromosomes – were women too.
Imagine that WE were insisting male rapists should be housed in women's prisons. Imagine WE were the ones trying to force women to accept the presence of men everywhere, even in rape refuges, no matter what the proven consequences for vastly increased numbers of sexual assaults or worse. Imagine WE were aggressively calling for crimes committed by males to be attributed to women.
Now imagine that Nicola Sturgeon was the one defending women's rights from these demands. Imagine that with her impeccable feminist credentials, she was refusing to concede on any of them, saying that women's rights to single-sex services had been hard-won and were much-needed, and that she would not be the First Minister who threw them away at the behest of some threatening middle-aged man, because to do such a thing would be to betray the clear wishes of women, and indeed everyone else, and to place women in real and serious danger of harm.
Do we feel, readers, that in such a scenario people like Kenny Farquharson would be attacking the FM as "angry and reactionary" for such a stance, while lauding us as the voice of "moderate, sensible, optimistic and progressive centre-ground nationalism" for trying to chuck women's rights in the bin?
It's a bit silly when you think about it, isn't it?