The last words spoken in Kirsty Wark's documentary "The Trial Of Alex Salmond", which just aired on BBC Scotland, are spoken by an unnamed actress letting rip with the full BAFTA range of quivering emotions as she reads out the words of a completely anonymous woman (we don't even get to know her trial pseudonym letter) who last year falsely accused Alex Salmond of sexually assaulting her.
"What you're saying is a man can try to kiss a woman, or he can say completely inappropriate things to her, when he's 30 years older than her and he's the First Minister of Scotland.

I'm worried about what this says more widely to other women, or just to us as a society. I mean, where does this leave us?"
Now, since the court found that neither of those things actually happened, the logical answer in that person's case ought surely to be "facing prosecution for perjury". But readers will be astonished to learn that that isn't where the show went.
Because it's important to remember that the jury of eight women and five men found that all of Alex Salmond's accusers were lying. All of the accusers said, clearly and specifically, that Salmond had sexually assaulted them, but the jury concluded that he didn't sexually assault a single one of them.
In other words, the jury decided that every single one of the accusers wasn't telling the truth. Some specifics can be debated but there's no wiggle room on that. They decided that the things the accusers claimed didn't happen.
Had they happened they would indisputably have been crimes (otherwise they couldn't have been charges), but the jury's view on hearing all the evidence the Crown could assemble – in a vast nationwide trawl encompassing hundreds of police interviews of people who'd made no complaints whatsoever – was that they hadn't happened.
They didn't hand down verdicts of "Probably guilty, but we can't be 100% certain so we're letting him off". Nor did they hand down verdicts of "Not technically guilty of a crime as such, but definitely a creepy pervert who should be shunned by society". Because they were at no point asked to, and at no point did, make any judgement or comment on Salmond's character.
What they were asked to do was determine his guilt or innocence, and on that they were unequivocal. He walked from court an innocent man, unambiguously acquitted on every single charge, and has maintained a dignified silence since. The prosecutor accepted the verdict and has instigated no appeal. The matter is concluded.
The only things that should "say to us as a society" are that (1) anyone accused of a crime should have a fair trial and be regarded as innocent if found to be so by the court rather than being subjected to endless smears and innuendo that they're actually guilty forever afterwards, and that (2) victims of actual sexual assault shouldn't be dissuaded from seeking justice just because some rare false claims were found to be false – the lies of Salmond's accusers should not be held against genuine victims.
But you'd never know that if you'd just woken up from a coma and watched Wark's show. Had you somehow missed the whole story until tonight, you'd come away with the impression that Salmond was definitely guilty and that a grotesque miscarriage of justice had taken place and that Salmond – a man found completely innocent of any crime – had nevertheless somehow had his reputation ruined beyond all repair.
(Adding insult to the injury of being all but bankrupted by his defence costs.)
This impression was spoon-fed to viewers in an astonishing sequence two-thirds of the way into the show in which Wark, BBC News Scotland editor Sarah Smith and – imagine our surprise seeing you here! – freelance Rapefinder General Dani Garavelli casually chat about the case in a cafe opposite the court.
(Much of the documentary, including this segment, was filmed during the trial rather than afterwards, and in our view it smacks very much of a programme originally made to accompany a guilty verdict that's been hastily chopped up and repurposed.)
GARAVELLI: I'm staggered by the defence and how it's changed and the tone's changed. It was all going to be about the orchestration of a campaign, and about consent, and now it just seems to be 'Oh well he was inappropriate but was it criminal?' and that's a huge shift, isn't it, from start to finish?
The main reason for that, of course, is that the trial judge Lady Dorrian refused to allow any of the evidence of an orchestrated campaign to be presented in court, but nobody in the show bothers to mention the fact.
Garavelli, we should remember, hates Salmond so much and is so certain of his guilt that not only did she publish a massive hatchet job after the trial, she insisted that he shouldn't even be allowed to raise money to defend himself in the initial inquiry, on the grounds that him having a defence was "intimidatory" to his accusers.
(She oddly contrasted it with the perceived inability of the accusers to raise money, ignoring the fact that they didn't need any money – the Scottish Government, and in the criminal case the Crown, was picking up all the prosecution costs.)
Garavelli's own documentary on the case airs tomorrow on Radio 4. We're sure it'll be impeccably fair and balanced, and that this time it might even speak to some of the female defence witnesses as well as the prosecution ones.
Wait, no we're not.
Even Garavelli, however, was more restrained than Sarah Smith.
SMITH:The BEST-case scenario, all the things he even agrees to, is that he was drinking, often heavily, late at night in Bute House, with women who are half his age, alone in the room with them, and either consensually or not, having some kind of sexual contact. 
Alarmingly, as already noted above this is simply an absolute tissue of falsehood. Of the 14 original charges there was precisely ONE agreed instance where both parties had been drinking and a fully-clothed "cuddle" occurred, which was apologised for and the apology accepted by the woman concerned, who continued to work for Salmond despite being given the opportunity to move to another job at the same level, and said in her evidence that nothing problematic had ever happened again.
Every other allegation was strenously denied and was found by the jury to be false. NO other "sexual contact", whether consensual or otherwise, was found to have occurred with anyone in respect of any of the charges, even though Smith all but states flat-out that it happened in every case.
SMITH: Look at Alex Salmond now, in the dock, a really diminished figure, and if you think back, though, he was such a TOWERING presence, and he's VERY persuasive.
Diminished in whose eyes? It's very hard to infer any meaning from Smith's comments other than that Salmond was so persuasive/intimidating that he bullied women into sexual contact. (It presumably can't mean he's persuaded the jury, because he's now "really diminished" and would lack such presence and power.)
Almost as appalling is a sequence which somehow made it into the final edit of the programme in which BBC "The Nine" chief news correspondent James Cook repeats unsubstantiated tittle-tattle that someone claims to have heard in the court toilets. (And which a source very close to Salmond tells us is entirely fictional.)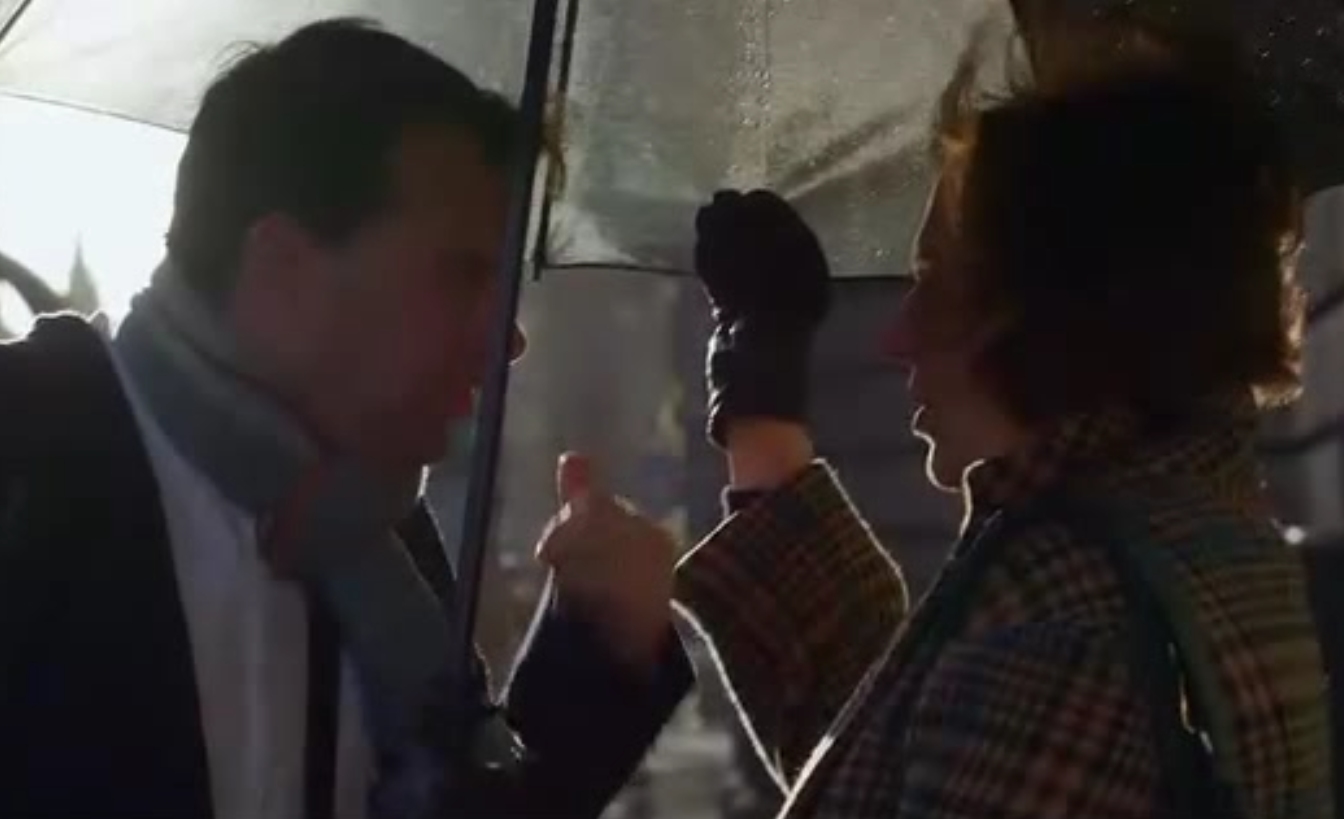 WARK: What's going on?

COOK: He's in there shouting at his lawyers, according to the court reporter inside.

WARK: Any idea what's been said?

COOK: Dunno, I didn't hear him, but someone went to the loo and said they could hear him just shouting at his lawyers. 

WARK: Well, you know what, I think he looks a lot more disgruntled today than yesterday. He's not a happy man.
The entire show is very liberally sprinkled with similar and equally baseless innuendo. Labour adviser, pundit and occasional comedian Ayesha Hazarika announces that she was "incensed" when she appeared on a 2017 show about (UK) Parliamentary sexual harassment alongside Salmond and deemed him to have constituted an "alpha" male making excuses for the "abuse of power" by men, even though what he actually said was that harassment in politics was symptomatic of a wider sexism in society as a whole (something that one might reasonably expect Hazarika to agree wholeheartedly with) "but that doesn't make it right, incidentally, it's wrong".
Hazarika was among a whole parade of professional feminists like National columnist Kirsty Strickland and Sandy Brindley of Rape Crisis Scotland, who said:
"It seems to be that where consent is an issue, that that is where juries are most reluctant to convict. It's very difficult to convince juries beyond reasonable doubt."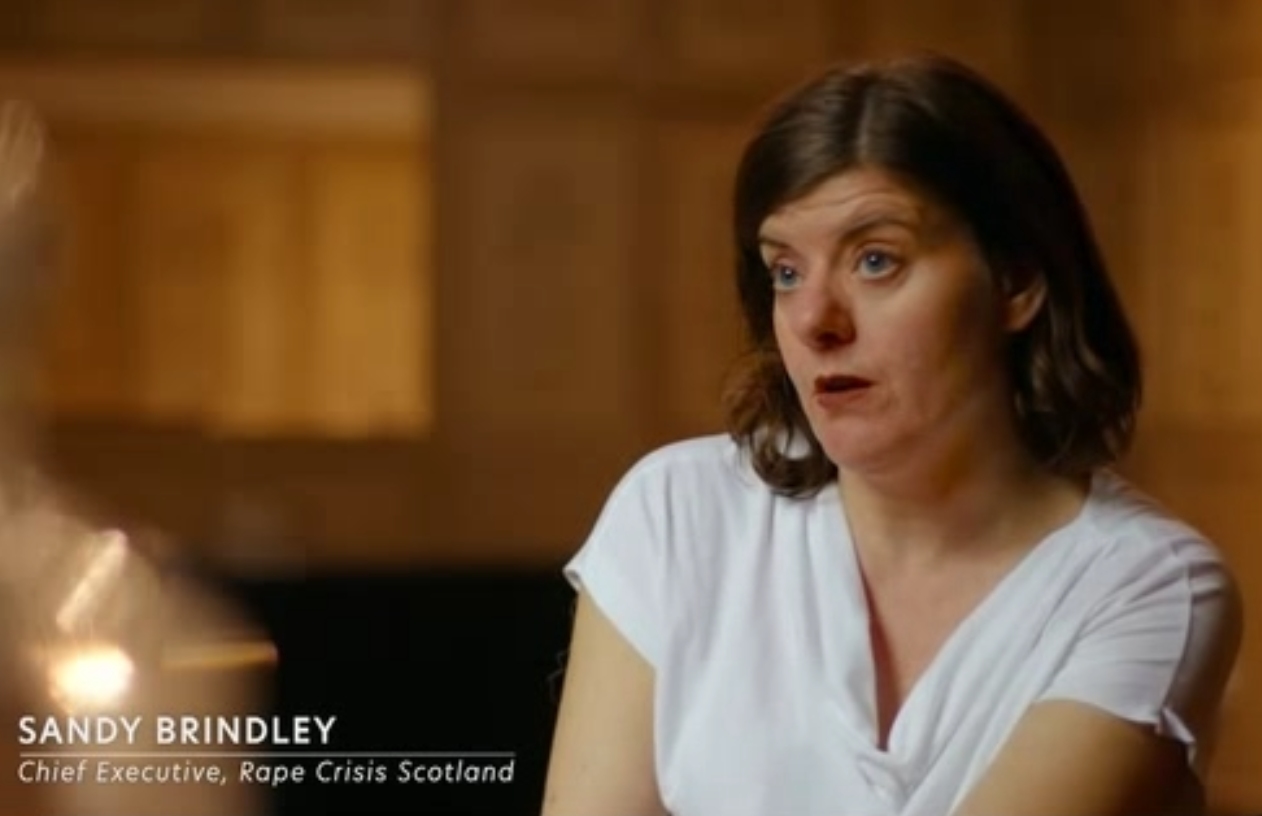 But the relevance of that is unclear, since we already know that consent was only an issue in one of the 14 cases. The other 13 were all straight-up alleged assaults where the defence wasn't that they were consensual but that they didn't happen at all.
Brindley also claims that only 10% of rape cases ever get to court, and that "for it to get to court there must be at least some supporting evidence under the laws of corroboration in Scotland".
The implication of this is that the accusers – all of whom were corroborating each other's claims under the disturbing "Moorov doctrine", because there was literally NO material evidence presented by the prosecution – can't have been lying. Again, what it all adds up to is "He did do it, they just couldn't prove it".
Another interviewee in the programme, Kirstein Rummery, had already taken a similar position, according to a blog by insomnia-curing commentator Gerry Hassan (though we should note that we can't find an original source for this quote).
(What she means there, incidentally, is 98% of allegations. And her other statistics also appear to be questionable – as far as we can ascertain there are no figures produced for rape alone, only "rape and attempted rape", for which the conviction rate is 47%, not 39%, while the rate for sexual assaults is 56%.)
And while the documentary is forced to provide a sliver of factual balance, it does so in weasel-worded terms that cast doubt at every turn. For example, 14 minutes in, a series of major inconsistencies in the evidence of Woman H – the centre of the most serious charge – are dismissed by Wark as attempts to "discredit" the witness (rather than, say, establish the truth).
A clip from Woman H's evidence is inserted into the middle of the segment in which she makes excuses for having given four significantly different versions of the story to police because she was traumatised, and Wark innocently posits the notion that such understandable confusion could be the reason for an overly fussy jury disbelieving her story, rather than it simply not being true.
Similarly, later on we get Katrine Bussey, the political editor of PA Scotland, discussing the outcome of the original Scottish Government inquiry, which was found by a court to have been unlawful, flawed, and tainted by bias against Salmond and was thrown out with Salmond awarded £500,000 in costs.
Bussey, for some reason, says this finding vindicated Salmond only "in his eyes", a qualifier that's inexplicable and entirely inappropriate. The court ruled unequivocally in his favour and the Scottish Government withdrew and paid up rather than contest it. Bussey imposes a fog of doubt on that finding that has no merit and no basis in reality.
Strickland, meanwhile, audaciously tries to present Nicola Sturgeon – who at the time of broadcast still officially had absolutely nothing to do with any of it – as the person most wronged and hurt by the whole affair.
"It would be a cruel irony if the only casualty of this whole sorry tale was the First Minister, was a woman. But would anybody be surprised by that?"
Ah, it was the patriarchy all along! The patriarchy that fabricated a string of false accusations against an innocent man, the patriarchy that constructed a whole new set of government rules by which he could be accused, the patriarchy that put a female judge in charge of the trial who forbade the identification of the prosecution witnesses and denied the defence the use of much of its key evidence, the patriarchy that forced seven women to give evidence for the defence and the patriarchy that persuaded a mostly-female jury to acquit on all charges. Damn patriarchy.
Surprising as it may seem for such a crude piece of sledgehammer propaganda, there are a few moments of (relative) subtlety in the show too, like the sly implied linking of Salmond with Bill Clinton and Harvey Weinstein, the careful editing of the (very short) contributions from people supportive of Salmond – which mostly focus on negative comments about him, like Jim Sillars saying unspecified aspects of his conduct were "deplorable" – and the ludicrously comical pantomime-villain voice used for the words of Salmond's chief counsel Gordon Jackson QC.
There's also the way that, eight minutes in, Wark reads out, in her own voice, her own interpretation of events, intertwined with an actress reading out the accuser's evidence from the courtroom.
WARK: He said to her, you know, "I'll be a great lover", he wanted her to stay over, and what she thought she could do was if she agreed that she would stay over she thought she could get out of the room, get into another room – she claims she went into the room – and he came after her.
The two accounts – the actual evidence given in court and Wark's paraphrasing of what was claimed – are blurred together until the viewer isn't sure what's fact and what's fantasy. The jury, as we'll recall, concluded it was all fantasy, but it's clear that Wark's own opinion is rather different.
WARK: And perhaps because the complainer was behind a screen, you don't have as it were the benefit of seeing the face. But actually what that means is you can concentrate on the words. And the words were so devastating.
What the words actually were were lies. The jury, as we know, simply disbelieved her account, and a female witness who was friends with Woman H and knew her well told the court that Woman H wasn't even in Bute House that night – a point Wark skims over dismissively in three seconds and never refers to again.
Those three seconds are all we hear from the seven female defence witnesses who gave evidence in the trial. A number of allegations made by prosecution witnesses (such as the claim that civil service rules were altered to prevent Salmond being alone at night with women) are given prominent coverage, with contradictory evidence from defence witnesses treated contemptuously and given a fraction of the airtime.
By way of example, compare the length of one accusation (which we've highlighted here in red) with the length of the rebuttal (in green):
PHILIP SIM: Hello, this is the Alex Salmond trial, a special podcast from BBC Scotland. Woman G, she said Alex Salmond told her to come back to Bute House, she said he was pouring shots of Limoncello and he put his arm around her and tried to kiss her. She says she felt intimidated and trapped. Gordon Jackson for the defence put it that these incidents were thought of as nothing at the time, and to that Woman G said that it was serious enough at the time that they actually changed the rules so that women weren't allowed to work with Alex Salmond on their own.

WARK: Woman G's astonishing claim that female staff should not be left alone with the former First Minister at night was backed up by a further three civil servants. Alex Salmond and another defence witness denied that such a rule had existed. No matter the verdict in this case, this is going to be a wake-up call for workplace relationships in general.
Is it? Why would it be the case if the claims were false? Again, the jury found Salmond innocent of any assault on Woman G, and several female witnesses testified that they in fact HAD been alone with Salmond on numerous occasions after the supposed incident, so the balance of probability seems to be that they WERE false. So why do they get such disproportionate weight?
(The First Minister herself has denied any knowledge of such a policy.)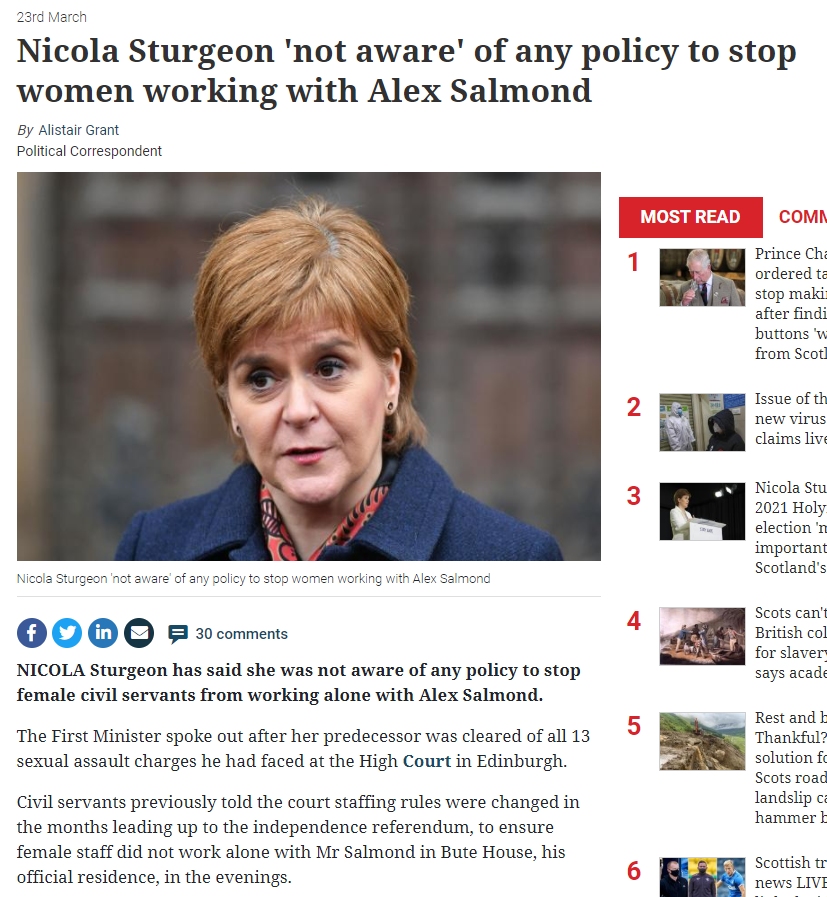 The documentary takes the same approach to balance throughout – heavy on the (disproven) allegations and the accounts of the accusers, light on the defence case and the innocent verdict, heavy on smearing Salmond's character despite that verdict and with only the briefest of passing acknowledgements that a conspiracy is widely suspected, particularly by SNP voters.
(The only time the possibility of illegal collusion is really mentioned, Wark immediately puts the counterpoint – something that she never does with the accusations against Salmond – saying "The other way of looking at that is post- the #MeToo trigger, women getting together to help each other come forward to tell their stories has got nothing wrong with it." We'll see what the inquiry thinks of that.)
But there's one more thing. 46 minutes into the show, we're told that Alex Salmond's former chief of staff Geoff Aberdein "met Nicola Sturgeon and one of the [accusers] on the 29th of March 2018" to discuss the case.
This, as alert readers will be aware, is a piece of information which leads very easily to the identification of the said accuser, but which the Crown Office and Procurator Fiscal Service has refused to take any action against despite prosecuting Craig Murray for measurably lesser offences of alleged identification of witnesses.
The identity of the third person who was at the 29 March meeting between Aberdein and Sturgeon can be established easily and unmistakeably (as there were only three people present) using only the information broadcast in the show.
But ridiculously, despite repeated requests to COPFS to clarify whether we can simply quote any of the media which have published the info, we still can't tell you who it is or even how to Google it, even though it's absurdly easy and obvious, and Craig Murray faces up to two years in prison for doing less. It's about as big a mystery as this:
But Kirsty Wark belongs to the Scottish media establishment, and we already know that the Scottish media establishment has complete immunity from the law that applies to everyone else, a position from which it feels free to piously shriek for the hanging of the lumpen proletariat.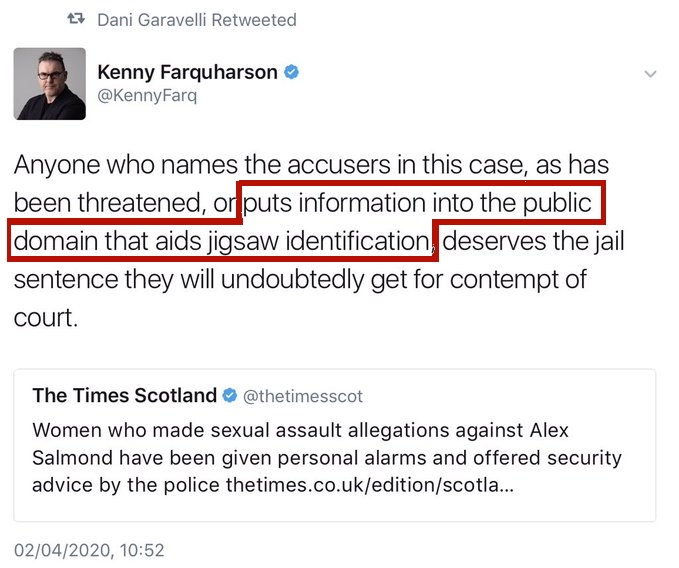 And while tonight's documentary (nicely set up by a quite-coincidentally-timed string of Salmond-bashing stories in the press in recent days, as well as selective reporting of the programme itself) was every bit of the laughably one-sided stitch-up job we were expecting, that's perhaps still the most truly shocking thing about it.