Last night's BBC Scotland documentary on the Alex Salmond trial was so shockingly biased that even the Herald, Daily Mail, Telegraph and Gerry Hassan couldn't quite bring themselves to defend it. Anita Singh's two-star review in the Telegraph said:
"The verdict in the Salmond case, by the way, was not guilty. He was cleared of all charges of sexually assaulting ten women while Scotland's First Minister. However, it was pretty clear that the programme-makers hoped he would be found guilty; the first 45 minutes of the hour-long film were devoted to the prosecution case."
While another female reviewer not known for being terribly fond of Mr Salmond, Alison Rowat for the Herald, observed:
"Taken with Ms Wark's observations as the trial went on, it felt like proceedings were being played out all over again. Except this time Mr Salmond was not there to defend himself. 

Ultimately, you had to ask whether the film gave Mr Salmond a fair shake. For this reason, and many more, The Trial Of Alex Salmond had to appear far and above the fray on which it was reporting. From where this viewer sat, it did not pass that test."
But not everyone kept their grip on reality.
Most of the SNP's obnoxious Twitler Youth division were unusually quiet for the whole evening, but a couple stuck their head above the parapet. This, astonishingly, wasn't sarcasm and generated an absolutely crushing ratio:
And the vice-convener of the toxic "Out For Indy" group, who are currently the subject of attempts to remove them from the SNP NEC, went with a fairly standard innuendo pretending that the accusers were "survivors":
…a line also taken by Brenna Jessie of Rape Crisis Scotland, who would very much prefer that you didn't know who her girlfriend was, and who made a clear implication that Salmond WAS guilty because NOBODY ever makes false allegations.
(The reality is that false claims make up a very small percentage, but even that 2-4% amounts to thousands and thousands of false claims worldwide every year.)
But McFarlane and Jessie were amateurs compared to the true scum.
Rummery, the Professor of Sociology, Social Policy & Criminology at – shock! – Stirling University, who'd been interviewed at length in the documentary, just flat-out defamed Salmond as guilty in an extraordinary late-night rant, despite the seemingly pertinent fact that he'd in fact been acquitted of any sort of wrongdoing.
She hid it behind a tiny figleaf of saying he was technically "not guilty of a crime" but simultaneously and repeatedly insisted that none of the women were lying. But if what they'd said had been found to be true then Salmond would have been guilty and convicted, so there's no possible way to interpret that other than "He did it but he got away with it".
(Just to be sure, she'd also asserted that the women had all endured "being groped", something that the jury found not to have happened.)
(FUN TRIVIA FACT: Rummery contested Stirling for the transactivist Women's Equality Party at the 2017 general election. She gathered 337 votes – more than twice the 148 majority that homophobic Tory MP Stephen Kerr won the seat from the SNP's Steven Paterson by. Had Paterson won he wouldn't have failed vetting in 2019 and would still be the MP now, rather than Alyn Smith parachuting in to take it uncontested.)
She was backed – of course – by freelance lunatic David Leask.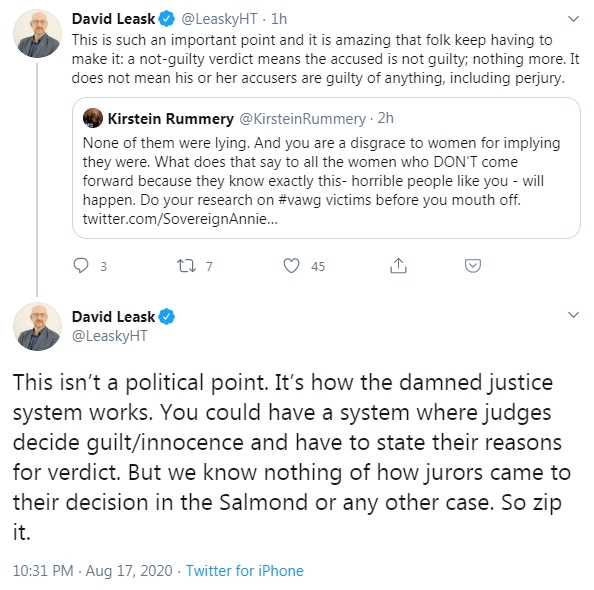 But in the specific context of the Salmond case, the above is arrant and dishonest drivel (or, y'know, "standard Leask"). It's quite correct that a not guilty verdict does not NECESSARILY mean anyone is lying. But it also does not exclude the possibility. The facts of the matter can only be determined on a case-by-case basis.
Let's lighten the mood by imagining a mildly comic scenario involving two men. Man A is standing minding his own business at a bus stop when suddenly Man B, a stranger, slaps him hard in the side of the head for no apparent reason.
Man A, who is identifiably Jewish and has been the subject of anti-Semitic violence previously, quite reasonably imagines this to be another racially-motivated attack. But in fact Man B has just seen an Asian Murder Hornet about to fly into Man A's ear and was attempting to swat it away to save him from a nasty attack (being stung in the ear canal is extremely painful, this site can attest), but the hornet dodged the blow at the last second and flew off before anyone else could see it.
Let's imagine this situation somehow ended in court. Man A and Man B would both agree on the material events – it was not disputed that both were present and that Man B struck Man A. What they would disagree on would be the motivation for the strike.
The jury, with no empirical evidence either way before it, would have to decide whose interpretation was correct, but whoever they believed neither of the men would have been lying – both were truthfully reporting an agreed event as they experienced it.
But this is NOT what happened in the Alex Salmond case. In the most serious charge, Woman H alleged that she'd been sexually assaulted by Salmond in Bute House. Salmond's case – supported by a witness who knew Woman H well – was that not only had he NOT assaulted her, but that she hadn't even been in the building that night.
Those events are completely irreconcilable. Woman H cannot have been both in Bute House and not in it at the same time. There's no possible way that the two people can have simply had different interpretations of the same event.
It absolutely MUST be the case, therefore, that one of them is lying. If Woman H was there, Salmond was lying. If she wasn't, Woman H was lying. There is no way they can both have been telling the truth. And the jury – who unlike most media commentators heard ALL the evidence – decided which one of them it was.
So Leask, Rummery and the others are deliberately and categorically misrepresenting reality. SOMETIMES – not always, but sometimes – a not guilty verdict DEFINITELY means that someone is lying. It cannot be otherwise.
And it WAS the case here, because only one of the 14 charges involved (slightly) disputed interpretations of an agreed event. In all of the others, the defence case was that the alleged event simply didn't happen at all, and in every case the jury agreed. So it cannot be other than that the accusers were lying.
Kirstein Rummery, if she has more intellect than a dog's anus, will be praying today that Alex Salmond has seen enough of the inside of courtrooms for a while, or has been left in such a financially parlous state by proving his innocence that he's not able to afford a defamation case in a Scottish court system that this site knows only too well is somewhat disinclined to punish defamation against independence campaigners even when everyone agrees that that defamation took place.
But even if those things are indeed the case, it doesn't alter the fact that Rummery is a disgusting human being smearing an innocent man, and a disgrace to her position and her employer. (David Leask we already knew that about.)
We can only hope that she, like the rest of the liars in the Salmond case and all of the others who drove the conspiracy, faces the lawful consequences of their actions one day and that justice is finally done.