This is Tory activist Sarah Robb. She's not a very nice person. (We don't feel too bad about saying that, as she's no fan of ours either.)
But, y'know, Tory activist, not a nice person – no news there, right?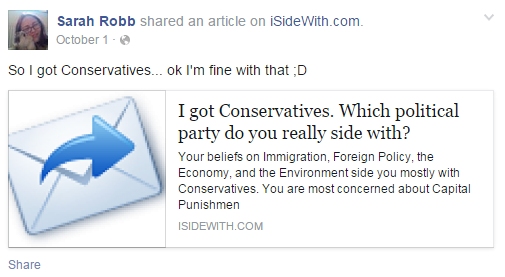 It's where you'll find her working these days that's slightly surprising.
And most striking of all, there's this.
Because so determined is Tory Sarah in her conviction that Jim Murphy is the best person to "lead" Scottish Labour, she's actually gone so far as to join the Labour Party (and she's taken her mum with her).
Alert readers can't have failed to notice that Labour's entire 2015 election campaign, particularly in Scotland, is set to be based on "Vote for us to keep the Tories out". Even now, five months out from the vote, it's rare that a day passes without one of the party's faithful mouthpieces in the media penning another "Look, we know Miliband's completely useless and our policies are feeble, but for God's sake vote Labour anyway" article.
(Today's is by Polly Toynbee in the Guardian.)
Yet to even the most cursory analysis, there are no significant ideological differences between the two parties, and there haven't been for years. All that Ed Miliband plans to do is fiddle around the edges of Tory austerity – a temporary energy price freeze here, a few pennies to the NHS there, rather than offering radical left-wing policies that are actually backed by a majority of the electorate and would give voters a genuine alternative to the Conservatives.
Instead, terrified of losing the votes of Middle England, his party tags along like a poodle as UKIP's ultra-Tory agenda drives the country deeper and deeper into 19th-century madness. Labour's cowardice ensures that the centre ground keeps moving further and further to the right, leaving reluctant citizens who still support social democracy with no electable party to vote for.
Labour has spent the last 30 years pursuing "The Price Is Right" politics, resulting in the despairing loyalty of people like Toynbee who can see the betrayal of all the party's old values but still desperately urge the electorate to stick with it on the feeble grounds that the Conservatives are 1% worse.
In Scotland, meanwhile, the already-faint lines between the political Old Firm were blurred forever by the "Better Together" campaign, and never more enthusiastically than by Jim Murphy, who was regularly seen backed by Tory councillors, MSPs and supporters on his otherwise thinly-attended tour of 100 street corners.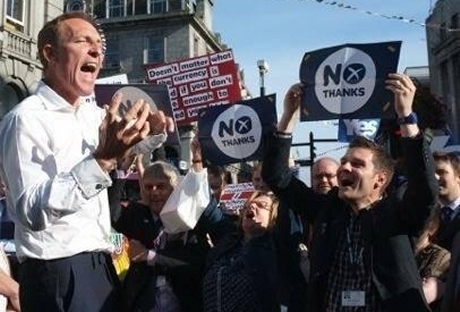 So in one sense we probably shouldn't be surprised that Tories are now taking the obvious next step and just flat-out joining Labour in an attempt to "usher in the era of Jim Murphy and Ruth Davidson".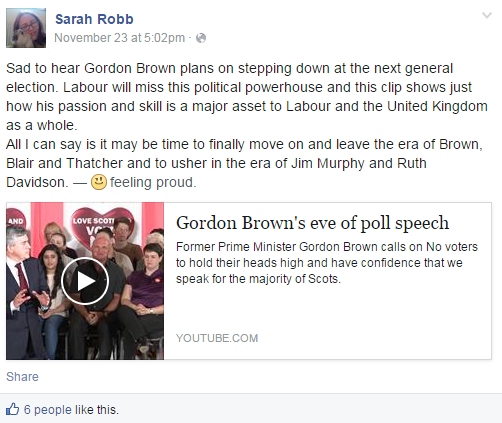 Labour has very clear rules about its members supporting other parties.

But it doesn't bother implementing them since the "Better Together" campaign. There's been no suggestion of action being taken against Michael Kelly, the party's former Lord Provost of Glasgow, who yesterday openly called for Labour supporters to back the Lib Dem candidate in Gordon at next year's general election in the most open contravention of Rule 4B imaginable.

It seems only a matter of time until the logical conclusion is reached, if it hasn't been already. As Kevin McKenna recently put it in the Guardian:
"Ladies and gentlemen, I give you David Cameron, politician of the year and first ever leader of the joint Conservative and Labour party."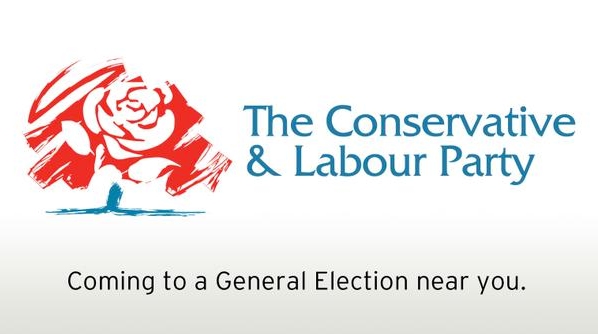 We're sure people like Sarah Robb will fit right in.