Good luck making sense of this one, folks.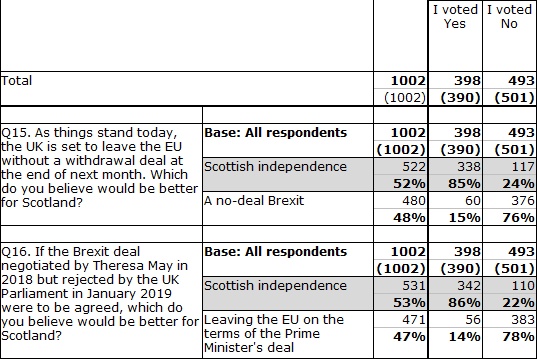 When we asked people in our latest Panelbase poll how they would vote if another EU referendum was held tomorrow, Scots were even more Remain than they were in 2016 – the results were a resounding 66% to 34% in favour of staying in the EU, compared to the 62%-38% of the actual vote.
But three long years of spectacularly incompetent wrangling over the UK's withdrawal agreement appear to have taken a toll on Scottish voters. Now most Scots think that independence would be better than either no deal or Theresa May's deal, but they're slightly keener on the former than the latter.
This is a puzzling switch from when the Sunday Times asked the same question late last year, and independence was more popular against no deal than it was against May's deal. We're at a loss to explain it on any level, frankly. But what hasn't changed since December is that independence still beats both Brexit options, and almost a quarter of No voters would now prefer to leave the UK than the EU.
But as for the 15% of Yes voters who'd now prefer a catastrophic no-deal Brexit to independence (which would still give Scotland the option to leave the EU in future if it chose to), on the other hand, we can only bang our heads repeatedly against a brick wall in the hope that somehow it'll make the madness stop.