Sundays have been the low point of Scottish political journalism for a while now. Traditionally a day when newspapers are heavy on comment and light on news (because politics tends to happen on weekdays), they unleash all the weary old dinosaurs who've been driving away readers for the last 30 years.
So you really have to stand out to be noticed for especially appalling hackery on a Sunday, which is probably why nobody from Scotland On Sunday wanted to have their name on this toe-curling piece of second-hand, lifted-from-another-paper garbage.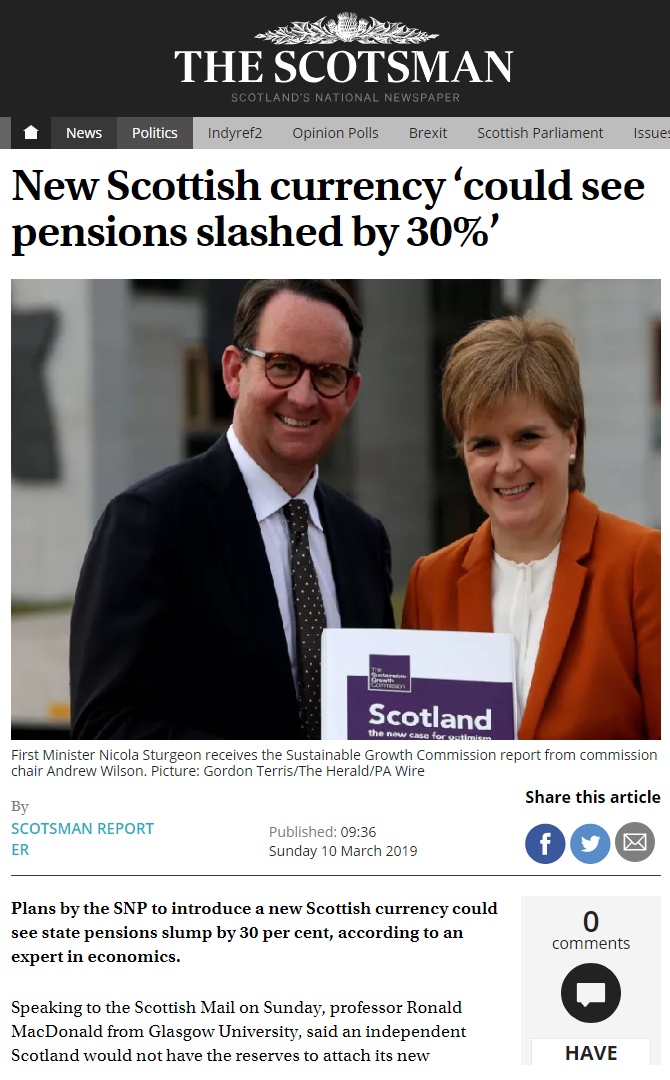 Professor Ronald MacDonald, you say? That name seems to ring a bell.
Oh yeah. This guy.
Perhaps sensing that readers would immediately roll their eyes and stop reading the moment they realised the uber-Unionist academic was revealed as the source of this idiot-bait, the unnamed scribe doesn't even bother with the formality of getting a token Scottish Government response in for a cursory last-paragraph quote, contenting him or herself with seeking the opinion of Murdo Fraser before slinking off to hug their paycheque quietly in a corner and reassure themselves with the comforting line that it's okay because everyone's got to feed their family somehow.
We suppose we should at least be grateful that it's one of Prof. MacDonald's less hysterical scare stories, compared to this £300bn peach from last year: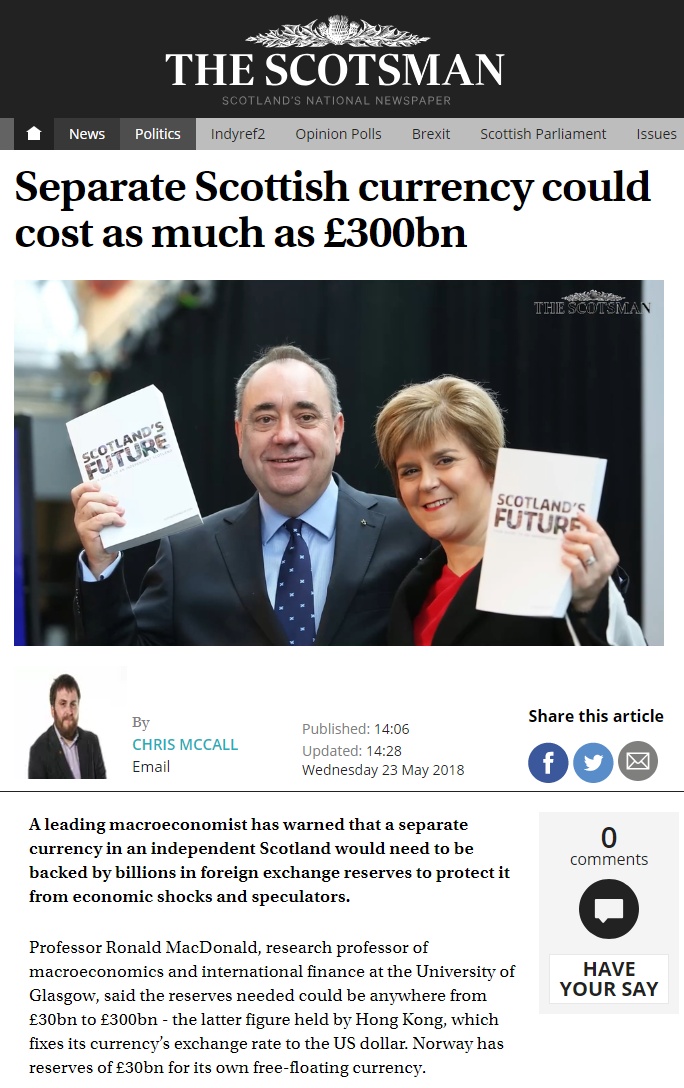 Another revealing thing about the pitiful state of the recently-bankrupt Scotsman's website is that it's now too ashamed to have a Search function by which people could easily discover the drivel it's posted in the past. But anyone capable of operating the internet can easily enough rig one together, by which they can alight on the good Professor's previous, rather different, view on an independent Scottish currency:
Of course, that 2013 opinion was penned at a time when the Scottish Government was proposing to keep the UK pound, which meant that that must be the wrong option. As soon as they suggested doing the thing he demanded six years ago, Prof MacDonald's professional analysis magically reversed and an independent currency became an impossible and reckless fantasy.
It's unseemly enough that the SoS (sales: a humiliating 10,000 copies a week and falling) has the sheer chutzpah to present such an incredibly partisan character as an impartial expert after all this time and expect nobody to remember who he is.
But to run articles with such crassly transparent U-turns and not even a pretence of balance is symptomatic of the utter contempt in which they hold their few remaining readers. It's no wonder the feeling is increasingly mutual.