Tonight sees what's likely to be a highly-charged Scottish Cup quarter-final replay at Ibrox Stadium. Defeat will effectively end the losing side's season, and games between the participants, Aberdeen and Rangers International, have tended to be fierce affairs ever since the latter club was formed in controversial circumstances in 2012, with this season's clashes already having seen numerous red cards.
(Mainly for the home team's temperamental striker Alfredo Morelos.)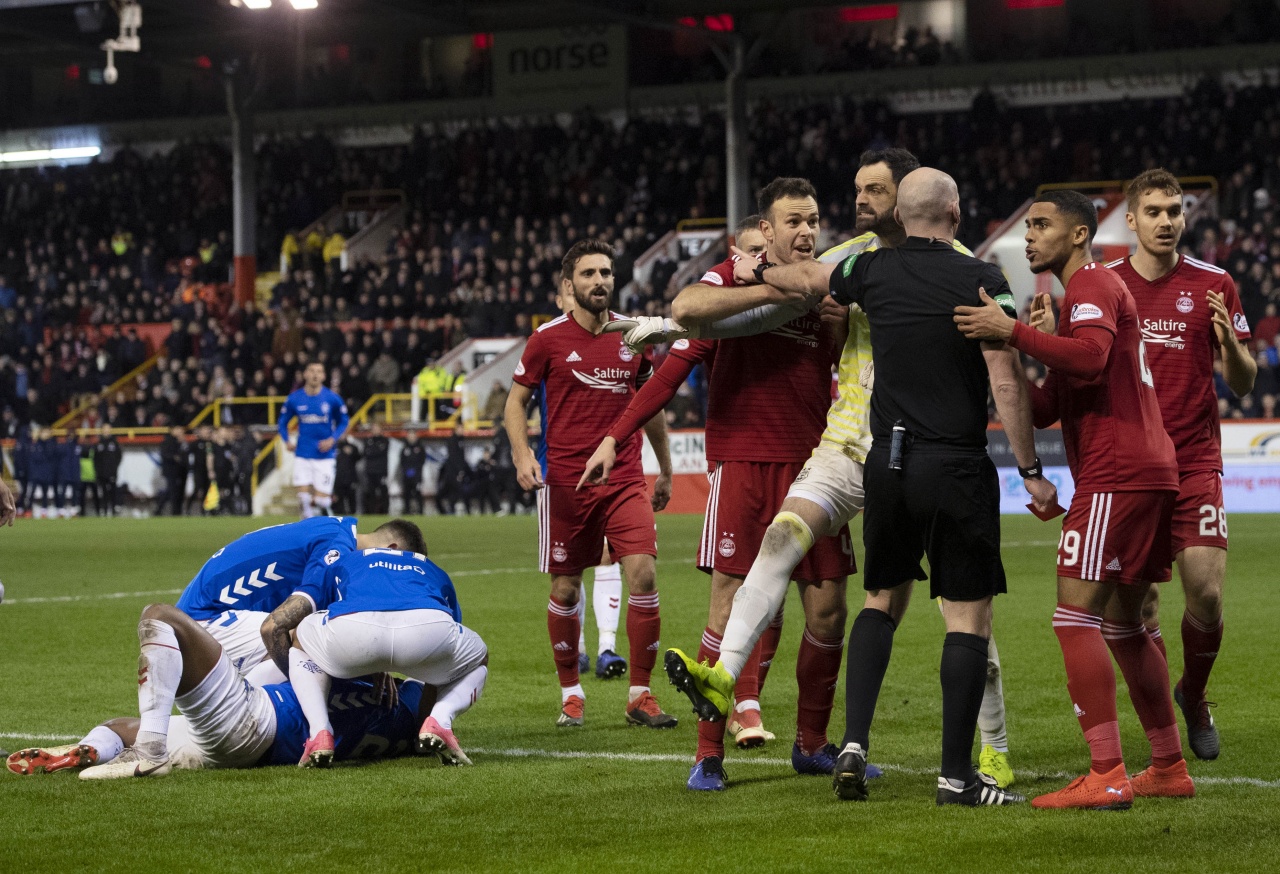 Football authorities will be hoping for a minimum of flashpoints on the field which might lead to repeats of shocking recent scenes of abuse and violence from spectators, which have prompted the nation's media to wring its hands in theatrical angst and demand that something be done.
The public's view on the subject, meanwhile, has remained absolutely consistent.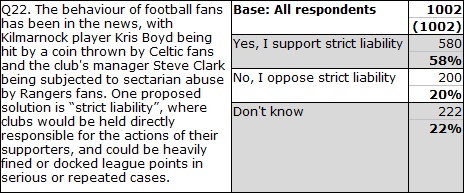 By a margin of three-to-one, voters support the proposals being driven by SNP MSP James Dornan to introduce "strict liability", which would punish clubs for the actions of their supporters with consequences far more substantial than the trivial fines the SFA and SPFL currently impose, including the docking of points.
(A sanction which is in fact already available to Scottish football's governing bodies, but is normally only applied to clubs in the lower leagues.)
People probably won't, however, be expecting their views on strict liability to count for anything, because the clear wishes of the public were repeatedly and comprehensively ignored over the last attempt to solve Scottish football's crowd-behaviour problems, the hugely popular Offensive Behaviour (Football) Act.
 And voters have an opinion on that too.
By more than 3:1, poll respondents thought it had been a mistake for the opposition parties at Holyrood to unite to repeal OBFA last year. And on both questions, as previously, the view was shared right across the spectrum, with fans of every team and non-supporters alike all firmly behind strict liability and against the repeal of OBFA.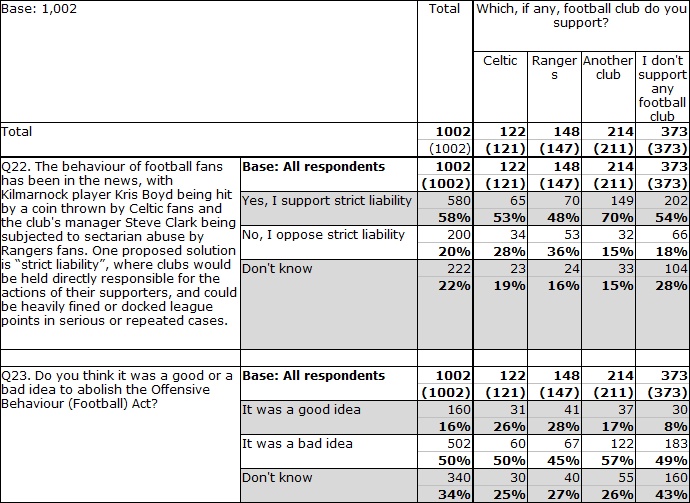 Just a quarter of Celtic fans – in whose name most opposition to OBFA was invoked – think its abolition was a good idea. Only 17% of supporters outside Glasgow wanted it gone, and a tiny 8% of non-football fans.
(The alternative plan "fit for 2018" which Scottish Labour promised to bring forward to tackle sectarianism at football after repealing OBFA has, to everyone's astonishment, entirely failed to materialise 15 months later.)
As we've observed before, there has never been another example in the history of the Scottish Parliament where a law was so overwhelmingly popular with the public yet uniformly castigated and eventually overturned, in direct contravention of what voters of ALL parties and all demographics wanted, without a murmur of protest in the media.
(Because the Scottish press salivates like a frenzied pack of Pavlov's dogs every time supporters misbehave, and would be robbed of far too many lurid, juicy stories were sectarianism and violence ever to be ended.)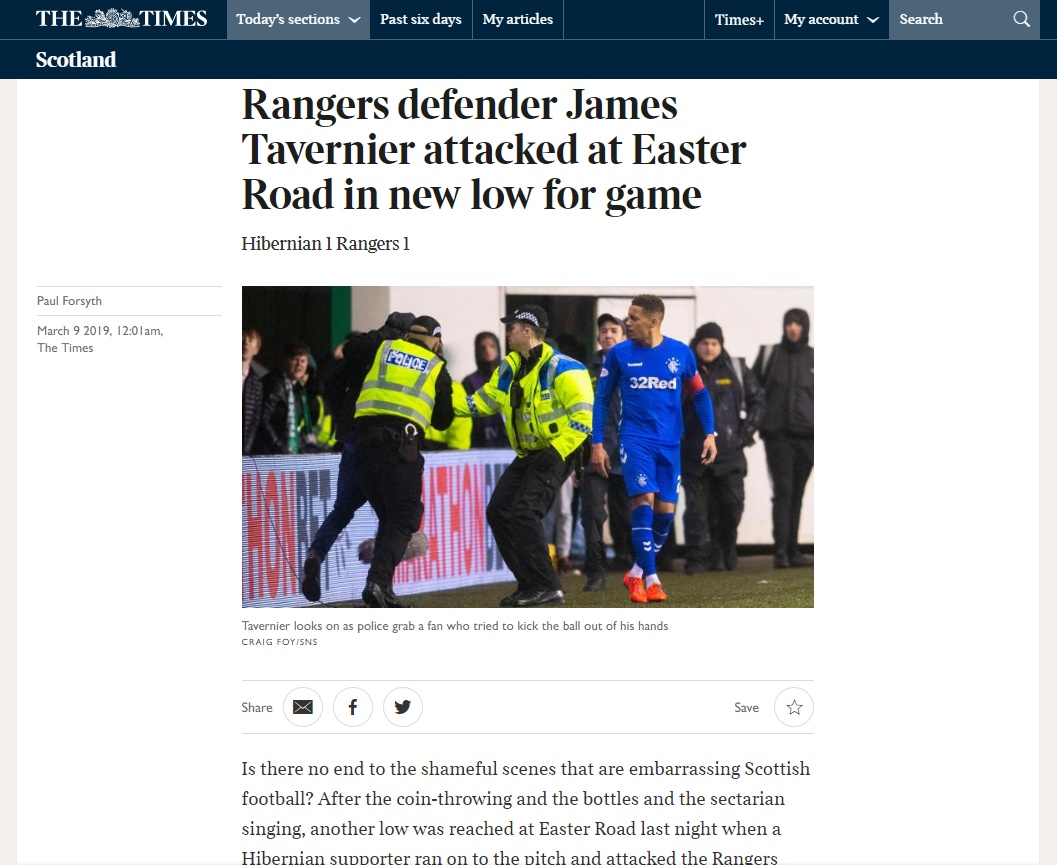 So while the Scottish public cries out for action over the blights of sectarianism and violence that still sour the nation's favourite sport, those who profit from those curses – its two biggest clubs, the media and opposition politicians – will continue to reject it. It looks like Scotland's shame will be with us for the forseeable future.