A very brief post about football, because it was irritating to listen to the avalanche of gloom on social media on Friday night as Scotland lost to Georgia (again), and then have to watch this honking oaf go trolling.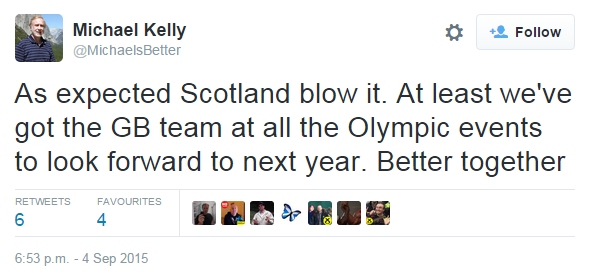 Shut your faces, all of you.
The defeat in Tbilisi, where all Scotland's qualification rivals have gone and won, was undoubtedly a setback, but it wasn't a catastrophe. Group D currently looks like this: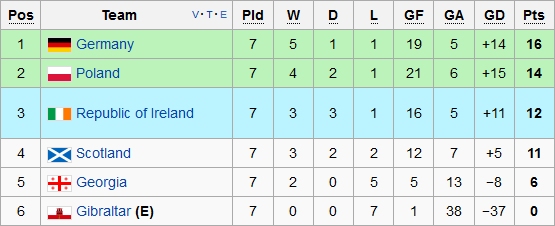 Let's assume the absolute worst and say that Scotland lose to the world champions tomorrow night, while Poland gub Gibraltar and Ireland beat Georgia at home (not a banker – only a 90th-minute Aidan McGeady winner gave them three points in Georgia – but we're being gloomy here). That'd give us:
Germany 19 pts
Poland 17
Ireland 15
Scotland 11
Looks bad. But it's the next round of games that really matter. On October 8 the Irish are at home to Germany and Scotland host Poland. Let's imagine that we can beat the Poles, as is surely possible (the corresponding fixture in Poland was a 2-2 draw), and make the not-unreasonable assumption that Germany – who'll still need the points at that stage no matter what – win in Dublin.
Germany 22
Poland 17
Ireland 15
Scotland 14
The final round of games three days later pits Scotland against Gibraltar, and while history tells us that you can take nothing for granted when Scotland travel away to minnows, Gibraltar haven't come anywhere close to a point so far so let's touch wood and assume the win, putting Scotland on 17 points.
In the other key game, Poland play host to Ireland in Warsaw. Points-wise there are three possible outcomes of that match (Germany should now be uncatchable):
POLAND WIN
Poland 20
Scotland 17
Ireland 15
Scotland finish in 3rd above Ireland and either qualify directly as best 3rd-place team or go into the playoffs, giving us a fighting chance.
IRELAND WIN
Ireland 18
Scotland 17
Poland 17
Scotland finish level on points with Poland for 3rd. UEFA's rules on tiebreakers for the tournament aren't absolutely clear, but as far as we can tell it would come down to the head-to-head record between the two sides, which Scotland would win by virtue of having taken four points from six against the Poles (remember we're assuming a win on the 8th).
DRAW
Poland 18
Scotland 17
Ireland 16
Again, Scotland pip Ireland to 3rd.
So far as we can tell, then, if Scotland beat the Poles next month (and don't slip up against Gibraltar) – and as long as Germany don't go completely mad and lose in Dublin – Scotland will definitely finish at least 3rd and be in the playoffs at worst.
(If Ireland got a draw against the Germans it wouldn't actually do them any good – at best they'd still be level on points with Scotland, and with Scotland having already beaten them and drawn, we'd go through on the head-to-head again.)
Should we take even a point against Germany, 2nd place and automatic qualification could still be up for grabs if Poland drop any points to Ireland.
Football's a funny old game and any number of spanners could of course be thrown into the works. But all other things being reasonably equal, Scotland are now basically in a one-match qualifying tournament and it isn't the one at Hampden tomorrow night.
No matter what happens against the Germans, any miserable-faced doom-merchant telling you the game's a bogey before the 8th of October needs a boot up the kilt and a solid cuff around the Jimmy hat.