The phrase "the Labour Party has gotten itself into a catastrophic mess on [X]" is a sentence you can complete with almost any subject these days, whether it's Brexit or anti-Semitism or anti-Asian racism or factionalism or Venezuela or just about anything else under the sun, so it should be no surprise that its gender policy is no different.
The party's stance regarding all-women shortlists is now that men can be on them, so long as they say they're women, with no questions asked, except when Labour decide arbitrarily that they aren't really women at all because they're obviously really men, except for all the other occasions when they're obviously really men.
Which seemed like a timely moment for some more new poll data.
Back in January we had Panelbase ask the opinion of Scottish voters about new proposals for "self-ID" of gender which are being planned by both the Scottish and UK governments. We found that the electorate in Scotland was overwhelmingly opposed to the idea, by a margin of more than 3:1 (of those expressing a view either way).
And now we can say that English voters feel almost exactly the same.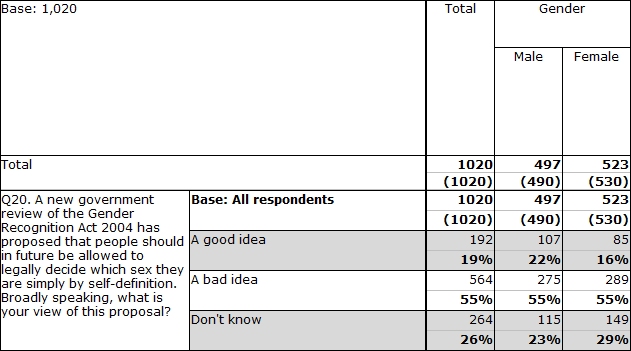 (NB We asked both the Scottish and English samples the exact same question, the above is an abridged version from the data tables.)
For easy reference, the precise figures come out to:
SCOTLAND (excluding DKs)
Good idea: 23.3%
Bad idea: 76.7%
ENGLAND (excluding DKs)
Good idea: 25.4%
Bad idea: 74.6%
Women, unsurprisingly, are more opposed to the proposals than men, although it's not terribly close on either side (men are 5:2 against, women are 7:2 against). Opposition goes right across every demographic group – sex, age, social class, party support, national identity, Brexit views, homeowners and tenants, you name it.
(Young men were the most likely to back the idea, but were still against it overall by almost 60-40. Strongest opposition came from older women – the group most likely to remember how hard-fought women's rights were – at a crushing 88-12.)
Perhaps not coincidentally, our poll also found what looks like a sharp drop in Labour support among women. Our voting-intention question revealed a strikingly large 11% lead for the Tories over Labour among women, versus a 3% Labour lead among men:
Because our poll was England-only we can't draw exact like-for-like comparisons, but if we set those results against some (UK-wide) polls from before the recent focus on, and controversy over, Labour's transgender policy, it's hard to miss the contrast or to write it off as a mere sampling difference.
February 2018, YouGov: Labour lead of 8% among women
December 2017, YouGov: Labour lead of 5% among women
October 2017, YouGov: Labour lead of 7% among women
August 2017, YouGov: Labour lead of 10% among women
July 2017, YouGov: Labour lead of 13% among women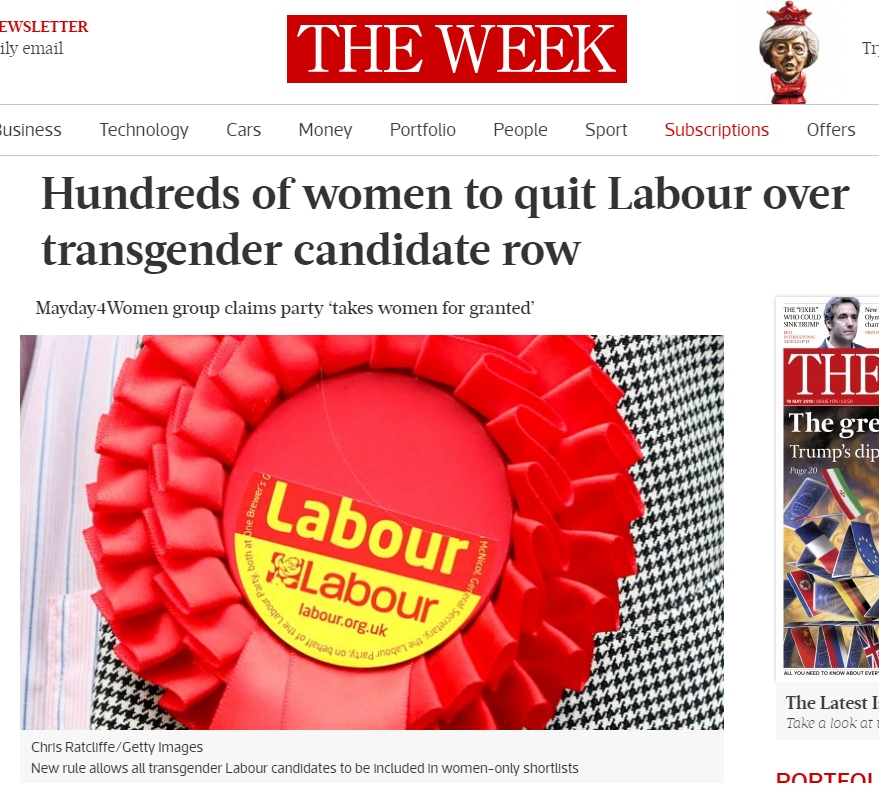 With polling currently on a knife-edge, that 24-point movement towards the Tories by women could easily be enough to swing the outcome of a general election if Theresa May really is sufficiently insane to call one in the autumn. The most recent like-for-like YouGov poll also has the Tories ahead among women.
(The Tories, of course, are the ones who are actually bringing self-ID forward as policy, but Labour have deftly managed to draw most of the feminist anger about the issue onto themselves, and it's hard to think of any other explanation that could be behind women's sudden large-scale desertion of the party.)
With no party in Parliament willing to represent the overwhelming majority of voters and oppose the tiny but extremely vocal – and often violent – minority demanding self-ID, it looks as though a microscopic number of people might be about to effectively determine the UK's entire future.