Whenever Scottish Labour rouse themselve to try to rally their handful of remaining supporters by whipping up some fake moral outrage – on this occasion about the Scottish Government giving a grant to an arms manufacturer (helped as always by an obedient Scottish press, and on this occasion by a fairly extraordinary on-air meltdown from Good Morning Scotland interviewer Gillian Marles) – we tend to just sigh and set the stopwatch going to see how long it'll take to backfire in a horribly messy explosion.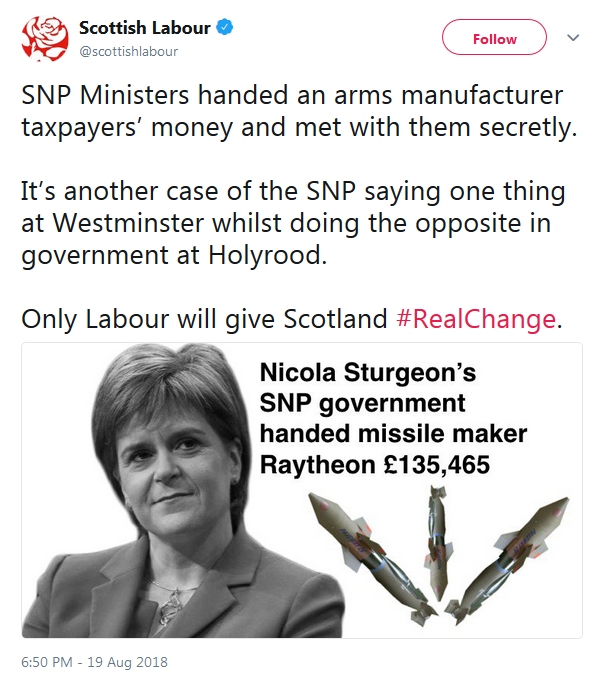 But this one was especially splattery.
Firstly, and despite the Sunday Mail and the Courier's ridiculous "CASH FOR BOMBS SCANDAL" headlines, the Scottish Enterprise grant turned out to be specifically and explicitly not for bombs, but for projects to help the company diversify away from arms manufacture – something it had already pointed out more than a month earlier, in a quote it wearily repeated word-for-word yesterday.
Secondly, details of the supposedly "secret" meeting had in fact been published on the Scottish Government website months ago, wherein its purpose was described as "to understand the work you are doing with Scottish Enterprise to diversify the site into more non-defence related activities". Our emphasis.)
Thirdly, of course, it was the UK government which had sold the Paveway missiles that killed the Yemeni civilians (including 40 children) to Saudi Arabia, as just a small part of the hundreds of millions of pounds worth of weapons it sells the dictatorship every year, totalling close to £5bn since the Saudi war on Yemen began.
And finally, to everyone's complete non-astonishment:

Imagine our shock and surprise, beloved readers, when it turned out that the Labour administration in Cardiff had recently given the suddenly-controversial arms firm more than THREE TIMES as much money as the Scottish Government had done, and for an entirely military venture rather than for peaceful diversification.
The Welsh Labour FM, in fact, turned out to be rather fond of meeting them: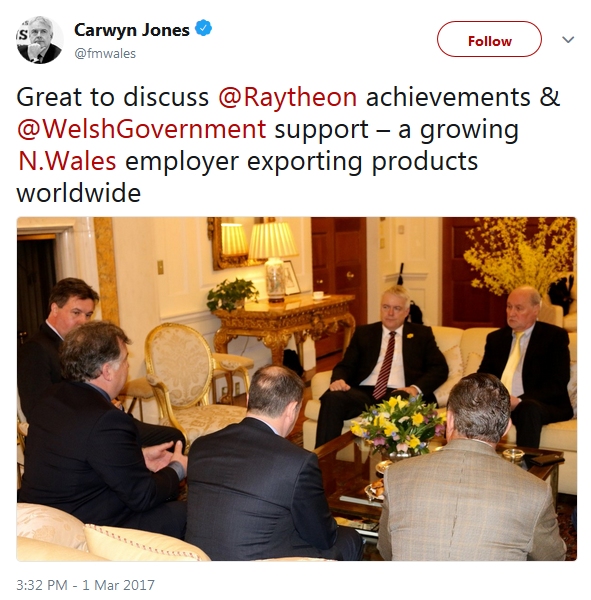 Until the next time, let's just raise the tiniest eyebrow and move on. Won't be long.