I went to the dentist this morning, and boy was I ever in for a shock when I got back.
So I guess we'd better talk about this for a minute.
Because as you can see from the clip above, the absolutely extraordinary truth is that Kezia Dugdale, the leader of the North British branch office of the Labour Party, spent the entirety of her allotted time at First Minister's Questions asking not about the NHS, or the economy, or education, or policing, or the colour of municipal flagpoles, but raging about a mean thing I – some idiot with a website who doesn't even live in Scotland – said about a Tory MSP on Twitter more than two months ago.
No, honestly. This was it:
It had caused a bit of a kerfuffle at the time, as disastrously stupid people who don't understand even the most rudimentary operation of the English language pretended to think it was "homophobic", most of them (one would presume) in an cynical attempt at a smear against myself and this site – something which has happened on a pretty regular basis ever since it appeared – aimed at reducing its readership and influence.
And one might presume that because it's plainly impossible to construct any rational English interpretation of those words which is fearful of, or prejudiced against, gay people. It's a satirical criticism of Oliver Mundell's public speaking skills, made in the context of my live-tweeting the Scottish Conservative conference, where I was saying similar things about almost everyone else on the stage. To the best of my knowledge Oliver Mundell is not gay.
(In essence it's identical to this joke on the premise of "I dislike you and I wish your father had never caused you to come into being" which had been made at the expense of Katie Hopkins a few months earlier, and which was retweeted and liked 147,000 times and lauded across socia media and the internet.)
In so far as it references his father, Tory MP David Mundell – who did come out as gay in 2016 – it's plainly not using his homosexuality in a derogatory manner. Indeed, the opposite is true – it expresses a wish that he'd embraced and accepted his gay self sooner, rather than living a painful lie with a wife and family and causing them and himself great and unnecessary trauma as a result.
Interestingly, David Mundell's own reaction to the tweet was to immediately try to turn it to his political advantage against Nicola Sturgeon, who is in no way responsible for my actions. He carefully avoided actually directly alleging that I was a homophobe.
And Oliver Mundell himself was even more circumspect – making no reference of any kind to sexuality and merely suggesting that the tweet was unkind, which it was:
Dugdale, however, lacked the two Tory politicians' basic cunning. She used the tweet in an attack in her Daily Record column a few days later, claiming (quite rightly) that "it is utterly unacceptable for someone to face abuse because of their sexuality". But nobody had done that. I'd been rude about – not even to – Oliver Mundell for being a terrible public speaker, not for his sexuality.
(I also make no secret of, and no apology for, my contempt for the party that both of the Mundells represent, or the reasons for it. But their sexualities are of no interest to me whatsoever. I care about what they do in their offices, not their bedrooms.)
The reason alleging otherwise is so offensive is that I've been a lifelong advocate of equal rights for gay people. Wings Over Scotland has only rarely addressed the issue because it's not really within our Scottish-politics remit, but on the occasions we've done so we've been unequivocally supportive of, for example, equal marriage.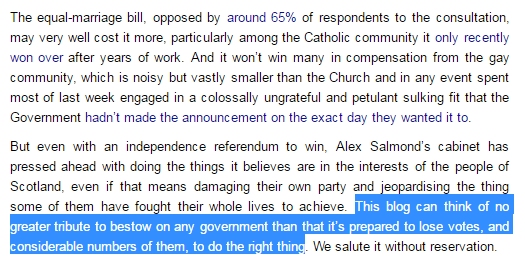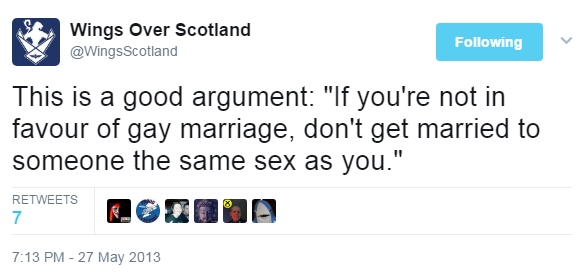 Dugdale's dragging up a stale, months-old slur was nothing other than a transparent attempt to distract voters from the spectacular trainwreck Scottish Labour is currently undergoing over its councillors. She threw a dead cat on the floor of the Holyrood chamber so that nobody would talk about the mess her party is in.
Also, of course, it was a desperate shot at trying to discredit a website that's been a thorn in the side of Scottish Labour for five years. Dugdale has long been furious that people trust Wings Over Scotland's forensic and fully sourced journalism, and that we regularly catch her out telling lies.
And obviously it was also an attempt to tar the SNP with the brush of my sometimes abrasive online persona, despite my having never been a member of, or even voted for, the SNP. Bizarrely, Dugdale referred to me as a "colleague" of the First Minister, who I've never met or had a conversation with, while frantically trying to draw attention away from the gigantic beams in her own eye.
It seems that today she finally lost all control of her hatred. We will be pursuing her in court over the defamation she repeated in Parliament today. And that's all we have to say on the subject for now.