And welcome. If you've come to our humble little site to see the nasty man at the head of the "highly controversial cyber organisation" described in this hilarious article, there's a couple of things you should probably know. Because – and we apologise if this comes as a shock to you – the Daily Mail doesn't always tell the truth.
"Self-styled 'Rev' Stuart Campbell who has become Scotland's leading pro-independence blogger. Despite living in England – he said last week: 'If Scotland is too spineless to walk away from this in 2014, having waited for over 300 years for one chance, then f*** Scotland too'"
I did say that, but not last week – I said it in January 2013.
The paper has also removed the "And" from the start of the tweet, which signalled that it was an incomplete statement, part of a wider context from which the Mail has chosen, for reasons best known to itself, to isolate it.
In fact it was nothing to do with independence at all, but a small aside at the end of a rant against the Liberal Democrats for their part in passing the disgusting "benefits uprating" bill which ensured that the poorest and most vulnerable people in the UK would get poorer and poorer over the next few years.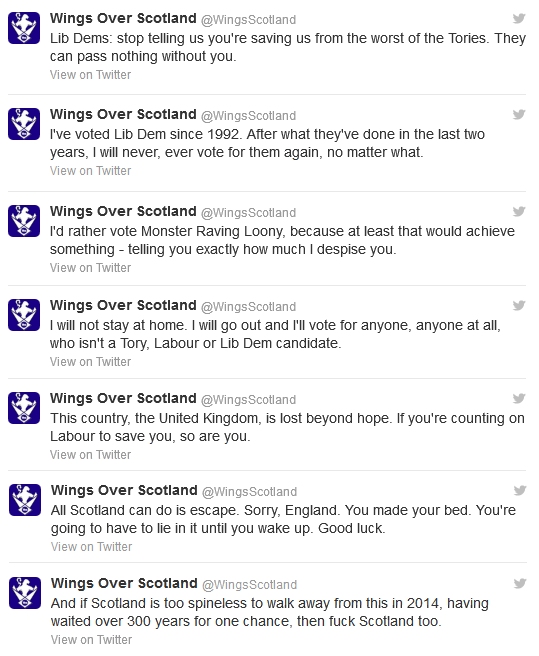 Of course, you're Daily Mail readers so you probably WANT the unemployed to starve to death, but it seems fair that you at least hate me for accurate reasons – for being a terrible bleeding-heart lefty liberal, not for trying to deny No voters a voice.
"Based just a few hundred yards from the Assembly Rooms so beloved of Jane Austen"
This is true. Although Bath is a very small city, and pretty much EVERYWHERE is within a few hundred yards of the Assembly Rooms.
"Wings Over Scotland is run almost single-handedly by the self-styled 'Rev' Stuart Campbell (no relation of cybertroll Jason in Blackpool) from a two-bedroom flat in a listed Georgian terrace in Bath, Somerset"
I don't live in a "listed Georgian terrace". I did once, many years ago. Still, it's better than the last time the Daily Mail did a smear piece on me, when it said I came from Denny, a town in central Scotland which to the best of my recollection I've never been to in my entire life, far less coming from there.
"The 46-year-old former video games journalist has become Scotland's leading pro-independence blogger after building up a following of about 7,000 Twitter users and churning out nearly 50,000 tweets"
In fact I have well over 14,000 Twitter followers and have "churned out" almost 74,000 tweets. Trust me, I didn't bash out the other 24,000 last night. I can't type that fast.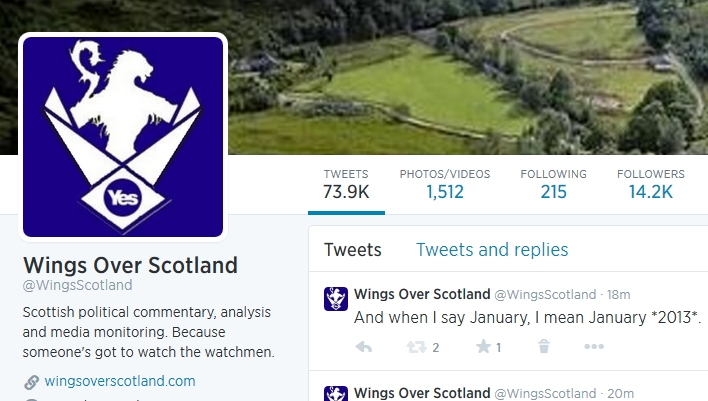 I actually reached 7000 followers in January 2014, and had 8000 by mid-February. So it's starting to look like this article was in fact written quite some time ago, isn't it?
"In an exchange with the sister of Hillsborough victim Thomas Fox, he said: 'If people stop when they get to a wall of human beings instead of ramming it, nobody dies.'"
I did say that – because it's true – as part of a perfectly civil conversation with the woman in question, in which we disagreed about some things but conducted ourselves in a calm and rational manner, ending with Lynne Fox thanking me for an honest and adult conversation and us parting on amicable terms. (Sadly her Twitter account no longer exists to link to, but I'm sure if you asked her she'd confirm that.)
Several newspapers have misrepresented my views on the Hillsborough tragedy as part of similar politically-motivated attempts at character assassination. One had to publish an apology and retraction for doing so only this week, and they were served with a defamation writ yesterday. The Mail has at least had the sense not to tell direct lies about it, instead trying to do the job with insinuation and innuendo.
"And away from politics, in an exchange on a video games forum, he launched into a distasteful tirade against another forum user, writing: 'I hope you get cancer and that your cancer gets AIDS and that you and your entire family die of being raped to death by rabid wolves in the middle of a choking chemical fire. Know what else? 9/11 was brilliant. I watched it all on TV and I laughed the whole time.'"
This, however, is pure 24-carat rubbish. The comment in question – made in February 2009, more than half a decade ago – was an ironic, sarcastic joke which set out to say the most offensive thing possible in order to illustrate a point. It's been selectively edited and taken out of context literally hundreds of times by people on the No side, but even diehard Labour and "Better Together" activist Duncan Hothersall – a man who dislikes me very much indeed – reluctantly acknowledged the truth:
So there you go. The article you read in the Mail today is full of errors, distortions and outright lies (there are several more that don't involve me, but let's keep this short). It was clearly written several months ago and then kept on file for the next time they wanted to whip up a hate storm against "evil cybernats" (and has been hastily padded out with bits copied from a Financial Times interview published earlier this month, because I told the Mail's reporter to take a running jump) but the lazy, incompetent hacks responsible were too lazy to even update their information.
You might, of course, still think we're all dreadful separatist monsters, and it's entirely your prerogative to do so. But do yourselves a long-term favour and be aware of how much you're being manipulated, misled and taken for fools to get you to that point.