There's an interesting article in today's Sunday Times, about a cunning plan by which the Scottish Government could bypass the veto of Presiding Officer Ken Macintosh and legislate for a second independence referendum – forcing a direct showdown in which the UK government would have to openly trample the Scottish Parliament and its electoral mandate.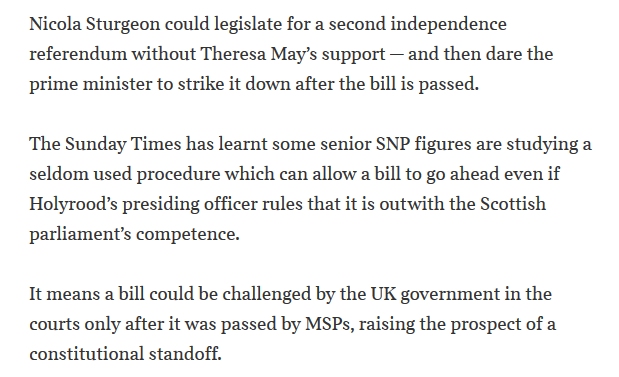 If pursued, it would reopen the current absurd argument in which the Unionist parties claim that the Scottish Government has no "mandate" to pursue a second referendum, despite mandates arising solely from the ability to win votes in Parliament.
(If an absolute majority for one party was required to pass legislation, Holyrood would of course have done absolutely nothing for most of its life.)
And that reminded us that our last Panelbase opinion poll was so vast we still hadn't finished releasing the results of it, including one rather surprising finding.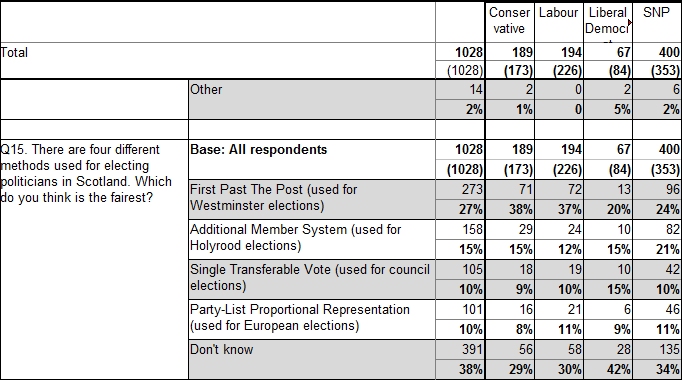 By a margin of almost two to one, the most favoured of Scotland's four different electoral systems was the widely-discredited First Past The Post, which gives a huge advantage to the most popular party at the expense of the rest and tends to produce extremely disproportionate Parliaments.
Yet oddly, it was voters of the party which would have the most to gain from such an arrangement in Scotland – the SNP – who were the least supportive of FPTP. A total of 42% of the Nats' voters backed some kind of proportional representation system, compared to 39% of Lib Dems (PR's traditional advocates), 33% of Labour voters and 32% of Tories.
The enthusiasm of SNP voters for fair representation for all just managed to edge PR ahead of FPTP when all three PR systems were combined, by 35% to 27%.  But for both Tory and Labour voters, FPTP was preferred to any kind of PR, despite the latter being almost the only reason they have any MSPs at all.
And if you take all Unionist voters together, FPTP is preferred to PR (all three variants combined), albeit by a very narrow margin:
FPTP: 34.6%
PR (any kind): 33.9%
Don't know: 31.5%
(Excluding DKs: FPTP 50.4%, PR 49.6%.)
By comparison, SNP voters prefer PR of some sort by 42% to 24%, a whopping 18% margin. (Excluding the DKs it's a resoundingly comprehensive 64% to 36%.)
Things then got even more intriguing. When we asked respondents if they'd like all elections in Scotland conducted under a single system instead of four different ones, the answer was overwhelming and went right across party lines.

So let's see how the SNP's mandate would shape up if the electorate had its way.
In 2016 the Nats won 59 of the 73 FPTP seats at Holyrood. If we multiply that directly on a pro-rata basis to fill Holyrood's 129-seat chamber, that would come out at:
SNP: 105 seats
Con: 12 seats
Lib Dem: 7 seats
Labour: 5 seats
Green: 0 seats
But we can be more precise. In the 2016 regional vote, where PR encourages and rewards votes for small fringe parties like the Greens, Lib Dems and Scottish Labour, the SNP still won every single region in a canter. (The closest was South Scotland, where they still thumped the Tories by 120,000 votes to 100,000. In most regions their winning margin was closer to 2:1.)
Councils helpfully publish the details of the list vote down to a constituency level, and thanks to the sterling efforts of alert Wings contributor Al Harron, who compiled all the data into a handy table, we can tell exactly how it would have gone. In that scenario Holyrood would have looked like this:
SNP: 105 seats
Con: 15 seats
Lib Dem: 6 seats
Labour: 3 seats
Green: 0 seats
Or for a bit of variation we could try combining the FPTP votes at Holyrood with the FPTP votes from the Westminster general election of 2015 (where seat boundaries are different), which would make Holyrood three seats bigger overall and give the SNP the most crushing victory of all:
SNP: 115 seats
Con: 8 seats
Lib Dem: 5 seats
Labour: 4 seats
Green: 0 seats
Remember, the Scottish electorate has told us that they want all elections conducted under the same system, that FPTP is their favourite of the four options, and Unionist voters as a whole prefer FPTP to any kind of PR.
Under those terms, by any measure the SNP would have in the region of 85% of all seats at Holyrood. (That's the equivalent of the current Tory government having 553 seats out of the 650 in the House Of Commons.) It'd be a position of utter dominance unparallelled in a democracy anywhere in the world in living memory. And it's what Unionist voters have told us they want.
When they talk about mandates, it might be worth keeping in mind.