So, some official and very brief Wings analysis, because we just watched an army of pundits on the TV all missing the bleeding obvious and talking as if a delay to Brexit was now a done deal.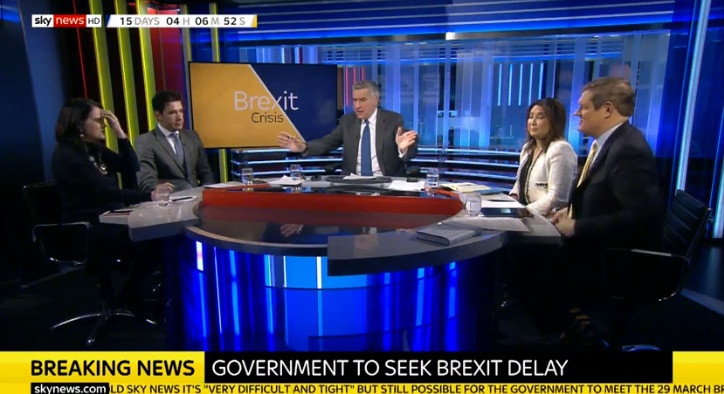 After tonight's series of votes in the Commons, all five of which were technically won by Theresa May, there are three possible outcomes. Let's whizz through them all.
————————————————————————————-
OPTION 1: BREXIT ON JUNE 30TH
Tonight's final vote mandated the government to ask the EU for an Article 50 extension to June 30th in order to implement the Withdrawal Agreement if it passes in Parliament by next Wednesday.
We can't see any chance of that happening, even if we assume the EU would grant it (which it probably would). 75 MPs would need to change their minds on the WA in the space of a week, and in so far as anything in the world makes sense any more, they're not going to. We could be wrong, but it looks a total non-starter.
OPTION 2: MUCH LONGER DELAY
This is the second outcome provided for by the motion. It requires the UK to come up with a very good reason for the EU to grant a much longer extension – realistically, the only plausible ones are a second referendum or a general election. The Conservative Party would absolutely implode if either of those things came to pass, and public fury would be considerable.
Even if there were to be an election it probably wouldn't solve anything anyway, but it's what we'd do if we were the Tories, because it'd tear Labour in two as well. Be that as it may, though, we can't see turkeys voting for this particular Christmas. The Tories would need a new leader and we doubt they fancy that battle right now, never mind the chance of losing their own seats.
So either the government will just fail to ask the EU for a long extension, or will do so cursorily, without a decent reason, forcing the EU to run out of patience and refuse.
OPTION 3: NO-DEAL BREXIT IN 15 DAYS
If that transpires, Brexit goes ahead on 29 March, as Theresa May has repeatedly and doggedly insisted that it would, but with no deal. The Tories will be able to blame the EU for refusing an extension, and much of the UK media will back them up.
Brexit will happen, however messily, so Theresa May won't go down in history as the PM who failed to deliver the "will of the people", which is the thing that terrifies her the most. Of three unpleasant options, no-deal is probably the one that does the least damage to the Tories, and they'll appeal to the electorate to deploy the Blitz Spirit and get through these difficult times together, yada yada yada.
————————————————————————————-
Option 1 is a dead duck. Option 2 rips the Conservative Party to shreds and requires the Tories to take responsibility for the consequences of their actions. Option 3 fulfils what they claim is their duty to enact the referendum result, with a hideous outcome but crucially one which can be blamed on someone else.
(Not just the EU but also opposition and rebel Tory MPs who didn't vote for the WA.)
Based on what you know of this government, readers, which of those do you think is the most plausible? Yeah, us too.