A large and imposing statue built in 1974 still stands today on Clyde Street in Glasgow. It depicts a woman called Dolores Ibarruri, known as "La Pasionaria", who was one of the heroes of the anti-fascist resistance in Spain in the 1930s.
The statue was funded by "the British Labour Movement", but Conservative councillors in the city protested angrily when it was erected and vowed to tear it down if they ever controlled the council (which cynical readers might consider an empty threat).
How times change.
On a smaller scale, a bench in Princes Street Gardens bears a plaque in the name of the Edinburgh City Labour Party reading "In memory of those who left this city to serve with the International Brigade in the Spanish Civil War".
But as with so many other things, the Labour politicians of Scotland's biggest cities now walk in step with their Tory counterparts when it comes to the subject of fighting incipient fascism in Spain.
Scottish Labour – with the sole honourable exceptions of MEPs Catherine Stihler and David Martin – have been almost totally silent as decent humans across the world have condemned Spain's brutal oppression and persecution of the entirely peaceful and democratic Catalan independence movement.
(Imprisoning all your political opponents on trumped-up charges of treason of course being Rule 1, Clause 1, Paragraph 1 of "Fascism For Beginners", closely followed by trashing polling stations and beating seven bells out of passive protestors.)
Incredibly, on the few occasions anyone from the party HAS spoken out, it's been to defend the Madrid government as it arrests and imprisons democratically-elected politicians for the medieval crimes of "rebellion" and "sedition" because they carried out the policies they stood for election on, citing "the rule of law" as their justification.
The Scottish Tories, naturally, are enthusiastically on board with this view.
And while it seems absurdly unnecessary to ennumerate all the gigantic gaping flaws in that argument – because a small child, or an unusually intelligent badger, could list them for you in 10 seconds – it appears that they're beyond Scottish Labour's finest minds, so forgive us if we take a moment or two to spell out the bleeding obvious.
1. ROSA PARKS
Arrested in 1955 for a violation of segregation laws in the Montgomery City code which prohibited black people from riding at the front of buses. Parks was never actually convicted, as the law was repealed after a mass boycott before her case could be judged, but she suffered discrimination and economic hardships for many years as a result of her protest.
2. NELSON MANDELA
First arrested and convicted in 1962 for inciting workers' strikes, Mandela spent 28 years in prison – mainly in a tiny barren cell on Robben Island – during which time it was illegal to even publish photographs of him in South Africa.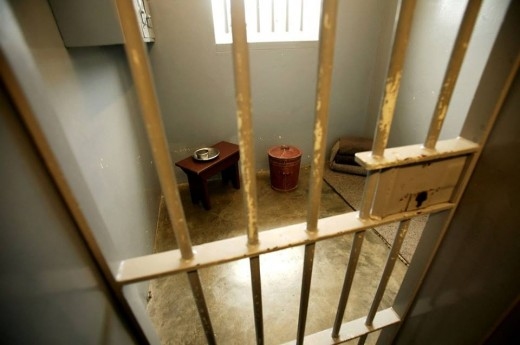 The Labour-run council in Glasgow renamed St George's Place – home of the South African consulate – to "Nelson Mandela Place" in 1986 to publicly register their objection to his continued incarceration, before he was finally released in 1990 and became the country's President two years later.
Tories, naturally, took a different position. Murdo Fraser, who we met above, was part of a group of Tory students who called for Mandela's execution.
And the UK Prime Minister in 1986, Margaret Thatcher, denounced Mandela as a "terrorist", a description we must assume Ian Murray endorsed at the time. The ANC leader had, after all, been convicted in a court of law.
3. SOPHIE SCHOLL
21-year-old-student Scholl's crime in early 1943 was simply to print and distribute some anti-Nazi leaflets at the University of Munich. She was tried and convicted by judge Roland Friesler under the rule of German law in the notorious People's Court, and executed by guillotine just four days after her arrest.
Ian Murray was yet to be born, but we assume he would have nodded gravely and regretfully acknowledged that justice had had to be done, and that the law of her country must be respected even if he personally disagreed with the verdict.
4. THE SUFFRAGETTES
The Women's Social and Political Union of the early 20th Century, which pursued the modest demand that women should be given the vote, was one of the most militant and unlawful protest groups in British history.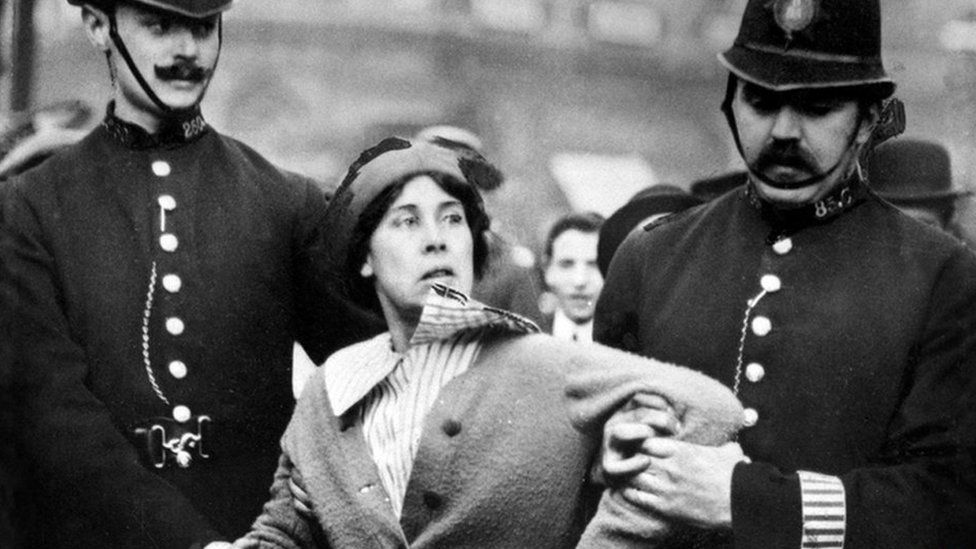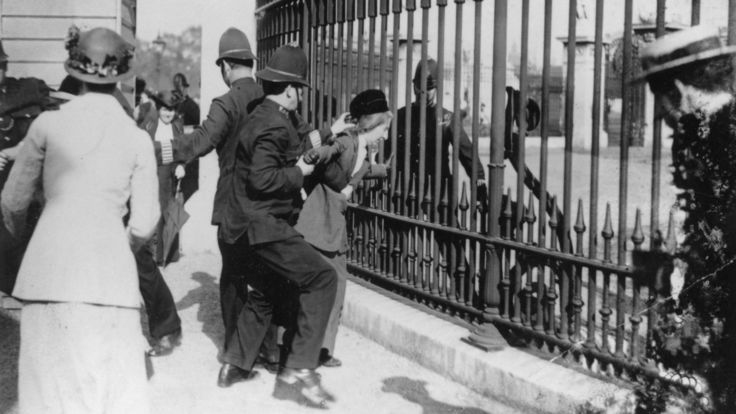 The organisation's Wikipedia entry notes of their activities that:
"the contents of letter boxes were set alight or corrosive acids or liquids poured over the letters and postcards inside, and shop and office windows were smashed with hammers. Telephone wires were cut, and graffiti slogans began appearing on the streets. Places that wealthy people, typically men, frequented were also burnt and destroyed. There were 250 arson or destruction attacks in a six-month period in 1913."
Countless Suffragettes were arrested, convicted and jailed for these offences, and were often brutally treated in prison when they continued to resist the rightful authorities, mainly through hunger strikes. (The barbaric practice of force-feeding prisoners continues today in the US concentration camp at Guantanamo Bay.)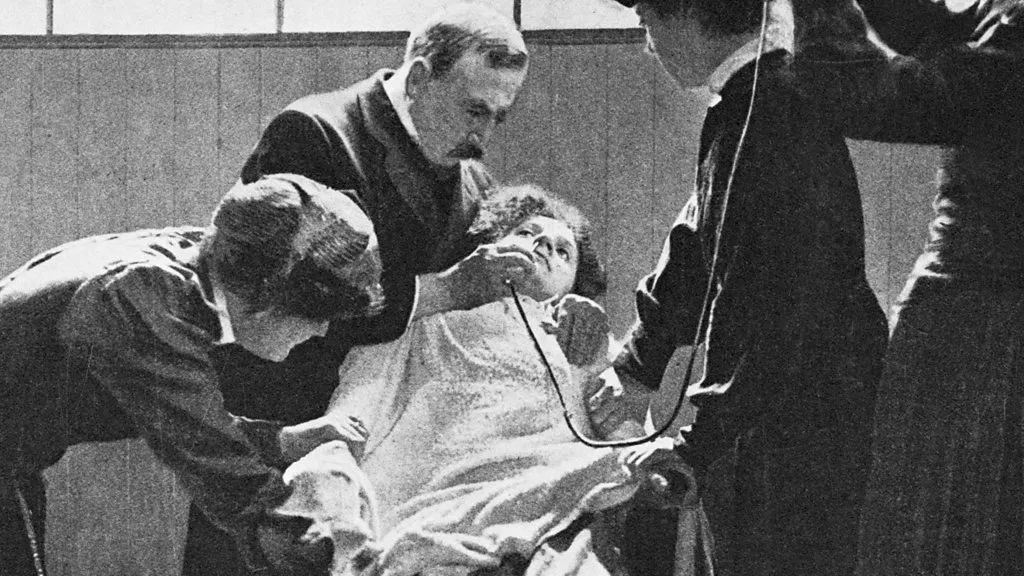 Weirdly, though, just a few weeks ago Ian Murray penned an effusive tribute to the Suffragette movement for the Edinburgh Evening News. We can only surmise that he was unaware of their criminal record.
5. MOHANDAS "MAHATMA" GANDHI
The world-renowned icon of non-violent protest faced considerable obstacles to achieving India's independence from the UK as a result of the 1919 Anarchical And Revolutionary Crimes Act (also known as the Rowlatt Act or the Black Act), which imbued colonial authorities with powers of "preventive indefinite detention, incarceration without judicial review or any need for a trial".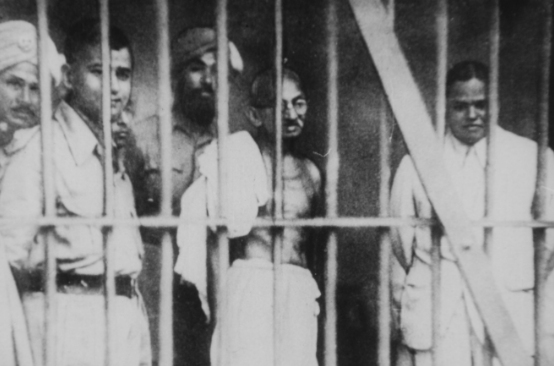 He was convicted and sentenced to six years imprisonment for "sedition" in 1922 – the same crime, quite by coincidence, with which Spain is charging Catalan politicians. When he led a peaceful mass march against a salt tax in 1930, over 60,000 of the marchers were arrested and jailed.
Gandhi was arrested once again in 1931 for agitating for independence, leading Winston Churchill to fulminate against what he called "the Hindu Mussolini". He would be arrested and imprisoned several more times before India secured its independence in 1947, and was assassinated less than six months later.
We can only guess that Ian Murray would have felt that the lawbreaker brought all of these events on himself with his pacifistic shenanigans.
6. THE TOLPUDDLE MARTYRS
In March 1834, a group of agricultural labourers in Dorset formed a society that would in modern terms be recognised as a trade union. (The entity which would of course eventually give birth to the Labour Party itself.)
A local landowner protested that the oath the men had undertaken was illegal, and they were duly arrested, tried, convicted and sentenced to seven years' transportation and penal servitude in Australia.
The law on such matters in 19th-century Britain was absolutely clear, and the populace was reminded of it sternly and regularly:
Presumably, therefore, were the UK's Conservative government to enact even more draconian anti-union legislation in the near future, Ian Murray would take a similarly unforgiving attitude to anyone disobeying it.
7. OSKAR SCHINDLER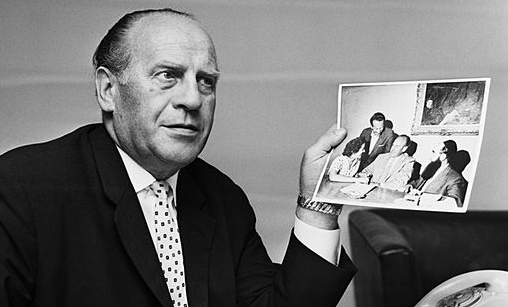 Got away with it. We're sure that as a responsible citizen Ian Murray would have grassed him up to the SS if he could have, though. The law's the law, right?
8. MARTIN LUTHER KING
The civil rights activist was arrested no fewer than 29 times during the 1950s and 1960s as he fought for equality for non-white citizens in the US – mostly for civil disobedience – and served numerous terms of imprisonment.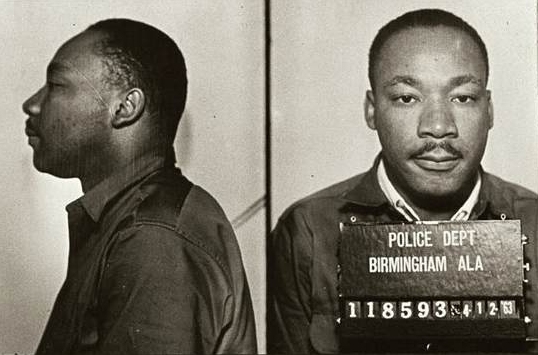 From one of his jail cells King penned a famous letter on the subject of whether the civil rights movement should obey the law, including these words:
"I have almost reached the regrettable conclusion that the Negro's great stumbling block in his stride toward freedom is not the White Citizen's Councilor or the Ku Klux Klanner, but the white moderate, who is more devoted to 'order' than to justice; who constantly says: 'I agree with you in the goal you seek, but I cannot agree with your methods of direct action'; who paternalistically believes he can set the timetable for another man's freedom; who lives by a mythical concept of time and who constantly advises the Negro to wait for a more convenient season."
King was assassinated in 1968, just eight years before Ian Murray's birth, so unfortunately the MP for Edinburgh South never had the chance to disassociate himself from King's tactics on social media.
9. JESUS CHRIST OF NAZARETH
A populist civil rights campaigner in the Kingdom of Judah (now Israel), Christ was arrested in the year 33, and tried and convicted of a contemporary equivalent of treason by a Jewish court.
The court then handed the religious activist over to the Roman legal authorities for punishment, who pronounced and carried out a sentence of death.
Almost 2000 years later, the UK still commemorates these events by providing citizens such as Ian Murray with a public holiday (this very day, as chance would have it) on which to reflect responsibly on the merits of the rule of law.
10. JEREMY CORBYN, LEADER OF THE LABOUR PARTY
Well, this is awkward.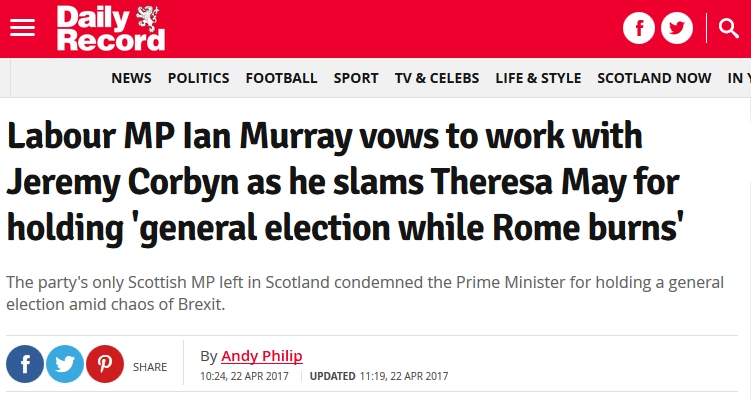 We're a wee bit confused now. We're sure there's just been a miscommunication somewhere. We'll get back to you when we get to the bottom of it, readers.